It has been an amazing year for the Patrick Gildea Hairdressing & Beauty Team.
This multi award winning team, took some time out to reflect on what has been a wonderful 2018.
Irish Hairdressing Federation Icon Patrick treated his talented team to a wonderful evening in the beautiful surroundings of Castle Grove Country House Hotel.
The night was filled with fun, laughter and reflection on what has been a very special year with more awards for the trophy cabinet –the salon was recognised as Best Salon In Ulster By RSVP magazine, talented Designer Rachel was shortlisted as "The one to Watch" by Fringe Magazine and the Salon was shortlisted for "Best Salon Interior in Ireland" by Fringe Magazine.
Allure Beauty at Patrick Gildea Hairdressing was also successfully launched using only premium brands such as Vita Liberata Spray Tan, Lycon Wax, Dermalogica Skin Care and Giorgio Armani Make-up.
The highlight of the night was undoubtedly the Award Ceremony when some lucky team members were presented with a certificate for excelling in various areas.
Patrick also made a very special presentation to Principal Stylist Vickie Harris who has worked alongside Patrick for over 20 years.
Commenting Patrick said "I have had the privilege of working with many great people over the years, I am honoured to have worked with Vickie who is so passionate about her hairdressing career. She has a wonderful connection with every guest.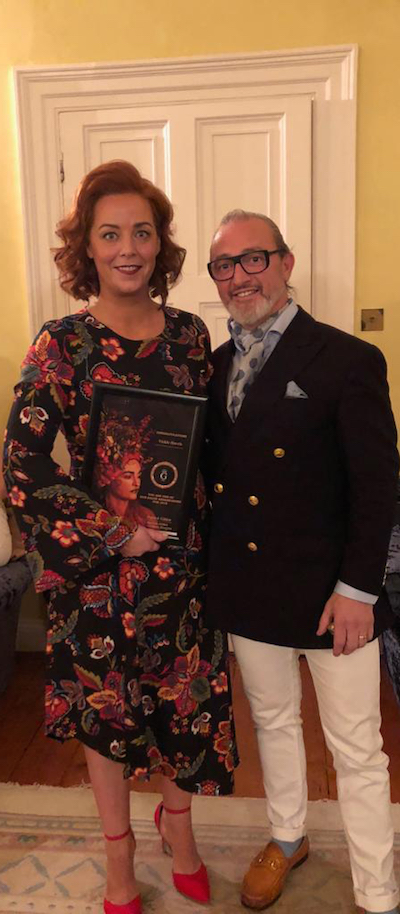 "It is really lovely to watch the younger members of the team learning from Vickie- of course her reputation as an amazing hairdresser needs no introductions.
"Vickie is such a genuine, lovely person who will always go the extra mile for her guests and her team members and even after all these years she still has a desire to keep learning and improving which is a great testament to the type of hairdresser she is. I am so honoured to have Vickie as one of our Salon Ambassadors and would like to personally thank her for all her hard work & dedication to our success".
A surprised Vickie was overcome with emotion as she spoke about how much this award meant to her and the fact that she is hairdressing 25 years this year made it all the more special. Vickie thanked Patrick for his inspiration and expressed her excitement for the future.
This is just another reason why everyone talks about this multi-award-winning salon.
If you are a guest here you will be familiar with the great atmosphere from the moment you walk through the doors – there is an abundance of energy, creativity and enthusiasm and while it is so professional it is by no means daunting – you instantly feel at ease and know that you are in professional hands.
Congratulations to the whole team at Patrick Gildea Hairdressing & Beauty, what an impressive year, we look forward to seeing what has yet to come!
For more information on Patrick Gildea Hairdressing see http://www.patrickgildea.ie or http://www.facebook.com/patrickgildeahairdressing
Tags: