A young Letterkenny man has developed a great appetite for work and progress with the help of Donegal ETB.
Jason Ward has recently been enjoying the heat of the kitchen at Oasis Bar in Letterkenny after returning to education. The motivated young man saw job opportunities for the taking in the local food industry and, with two ETB courses under his belt, he is looking forward to a bright future in the exciting culinary world.
Donegal ETB will host its 15th Further Education and Training (FET) Fair on Wednesday 23 January in the Radisson Blu Hotel, Letterkenny. The event is Donegal's largest annual education and training exhibition, with over 1,000 expected to attend.
From his own experience with Donegal ETB, Jason is encouraging many more to come along to the Fair and begin plotting their path to success. Taking up a course with the ETB can be 'life-changing', according to Jason.
Jason told Donegal Daily: "My learning journey with Donegal ETB started with a Level 3 Employability Skills course. As a member of the Traveller Community, I had no formal education and was very reluctant to join a course of any sort.
"When I started on the Level 3 Employability course I really wasn't sure I'd stick with it, but I was surprised to find it was actually a good experience and it gave me the confidence to go on and further my education.
"I was always passionate about food and I knew I wanted to work with food, so when the Level 4 Catering course was advertised by Donegal ETB I decided to apply. I knew also that there was lots of job opportunities in the food industry so that was also encouraging."
The Catering course contains a mix of practical cooking skills and theory. This mix, along with  the thought of assignments and exams were daunting to Jason at first, but his concerns were quickly eased by the helpful tutors.
"I was so nervous I wasn't even sure if I'd last a week on the course, but my Tutor Jackie was so supportive and encouraged me every step of the way, that it wasn't long before I found my rhythm and what worked for me," Jason admitted.
Jason flourished in the course and all his hard work paid off in the end. He soon used his work experience and skills to get his foot in the door of one of Letterkenny's most popular restaurants.
Jason said: "One by one I got through all the modules and successfully passed everything in July last year. I attended the awards night in November and received my full Level 4 award – that was a very proud moment for me.
"During the course we also had to carry out a work placement. I did mine with the Station House Hotel in Letterkenny and I really enjoyed it.
"Unfortunately, there was not a job opportunity with the Station House Hotel afterwards, but the experience, along with the course, really stood to me and within three weeks of finishing the course I had a job with the Oasis Bar in Letterkenny."
Jason is now on a mission help other young people and adults in Donegal find an interest in education and personal development.
"I am really enjoying working and I know I have a bright future in the food industry for the years ahead. I hope by telling my story that it encourages more people to take up courses with Donegal ETB as it really can be life changing," he said.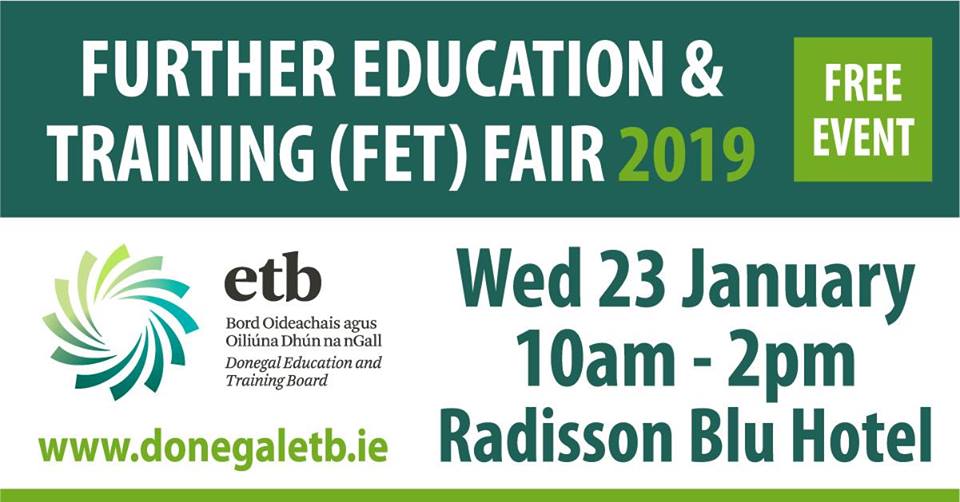 Donegal ETB's 2019 Further Education and Training (FET) Fair takes place on Wednesday 23 January in the Radisson Blu Hotel, Letterkenny from 10.00am-2.00pm. Come along to find out about the many education and training opportunities available in the county and find out how Donegal ETB can help you go further in 2019.
Jason's Specific Skills Training was co-funded by the Government of Ireland and the European Social Fund as part of the ESF Programme for Employability, Inclusion and Learning (PEIL) 2014-2020.


Tags: