A Donegal man with a Premier League winners' medal and a collection of memorabilia to rival some museums has had his Milford home become something of a tourist attraction this week.
Lifelong Manchester United fanatic Fergus McAteer was featured in the latest edition of Inside United, the club's official magazine.
Fergus, a Kerrykeel native now living in Milford, converted the attic of his home into a Manchester United shrine – 'Fergie's Bar', as it is known.
"He's surrounded by a horde of Red trinketry, paraphernalia and collectibles that could make the United Museum itself raise an eyebrow," the magazine says.
Fergus has quite the stash.
He has a programme from every final United have EVER contested – going back to the 1909 FA Cup final, when United won the Cup for the first time.
He has managed to bag a collection of personally signed and framed shirts from winning FA Cup final goalscorers.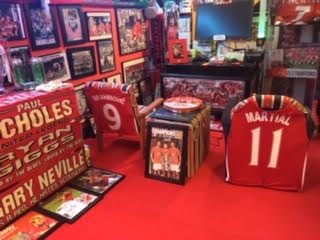 They're all there: From Norman Whiteside in 1985; Eric Cantona in 1996; right the way up to Jesse Lingard in 2016.
"It's fairly unique," Fergus modestly told Donegal Daily/Donegal Sport Hub this week.
"I have a savage amount of memorabilia. The guys in the magazine were taken aback by the scale and the collection. The phone hasn't stopped since the magazine came out this week.
"Cantona was my hero when he came in the 1990s. I got a chance to meet him so that signed jersey is one of my treasured possessions. I have a 1958 shirt too that is framed with an original photo of the '58 team, which is quite rare."
Possibly his most valued item is the 2007 Premier League winners' medal.
"It cost nothing!" Fergus proudly beams.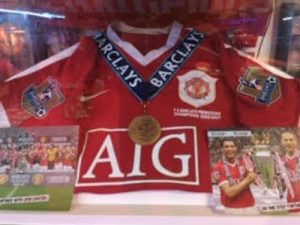 "At that time, clubs got maybe 50 or 60 medals and you had medals going all over the place to staff and what not. A fella in Manchester that I wheel and deal with came on this; I'm not sure how, but he offered it to me and I wasn't saying no."
When Fergus got married in 2003, he had in mind a plan to convert a room into a United shrine – and, so, 'Fergie's Bar' was born. It now contains what Fergus describes as 'significant and iconic' United memorabilia.
Fergie's Bar is a popular spot for local Reds to watch United games and Fergus is a regular match-goer. The standout memory, for sure, is the 2008 European Cup final in Moscow, when United overcame Chelsea on penalties.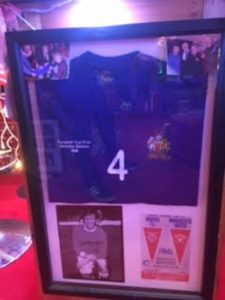 "That was pretty special," he says.
Since the departure of Alex Ferguson, United have gone through some choppy waters, but Fergus says Ole Gunnar Solskjær deserves an opportunity to put things right at Old Trafford.
"Everyone knows there's a big job there now," he says. "There is a project there and he needs the time to mould and build it his way. He needs to get the structure right first of all."
In 2015, Fergus got the chance to play a charity game at Old Trafford. One of his sons, Johnny, was a mascot. Fergus wore the United number 7 and the captain's armband, playing alongside the likes of Denis Irwin and Clayton Blackmore.
Needless to say, his jersey, armband and boots are hanging proudly in Fergie's Bar – in a protective glass case, of course!
Tags: