Best-selling American author, Mary Lou Quinlan, is bringing her emotional, one-woman hit play "The God Box: A Daughter's Story", to Donegal this June.
The performance, based on Quinlan's powerful New York Times bestselling memoir, will be staged at An Grianán Theatre on Monday 17th June and will benefit the Donegal Hospice.
Quinlan – named as one of Irish America Magazine's Power 50 Women – shares her personal story of a family in love, in loss and in triumph through her heart-wrenching show.
The play tells how after her mother's death Mary Lou discovered "God Boxes", small containers stuffed with hundreds of tiny notes, sharing her mother's innermost thoughts. They revealed her concerns about her kids' demanding careers, to private wishes for people she'd never even met, to concerns about her own health and everything in between.
The poignant notes, scribbled in supermarket queues, restaurants, and at the kitchen table, were her mother's way of releasing life's worries and hopes. The discovery of the boxes triggered Mary Lou's own unravelling, a journey to confront the greatest human challenge – learning to let go.
Co-written with Martha Wollner, an award-winning actor/playwright and director of NYC's LAByrinth Theatre, the play has been presented in theatres across the US, including a sell-out Off-Broadway run. In 2014 it enjoyed a 24-night run to rave reviews at the Edinburgh Festival Fringe.
In 2016 Quinlan took the hit play on a tour of Ireland raising funds for the Irish Hospice Foundation, a national charity striving for best care at end of life for all.
Mary Lou Quinlan is a remarkable woman. A hugely successful entrepreneur, she is widely known in the US for her marketing company, Just Ask a Woman, and as an adviser to over 100 blue chip companies on marketing to women. She was formerly CEO of a large NYC ad agency and has written four books and numerous national magazine articles in the US where she has addressed hundreds of conferences on women's issues.
She was a judge on Simon Cowell's show, American Inventor, in which people went before a panel to decide if their invention had what it takes.
Speaking from her home in New York, Mary Lou Quinlan said: "The tender care of hospice meant so much at the most critical days of my family's life. Sharing my mother's story is a way I can give back and raise awareness for this cause in Ireland, the land of Mom's ancestors and a treasured place to me and my husband Joe. I am so excited to be bringing this play to Donegal and look forward to meeting many incredible women – and men – who have been on the journey of loss."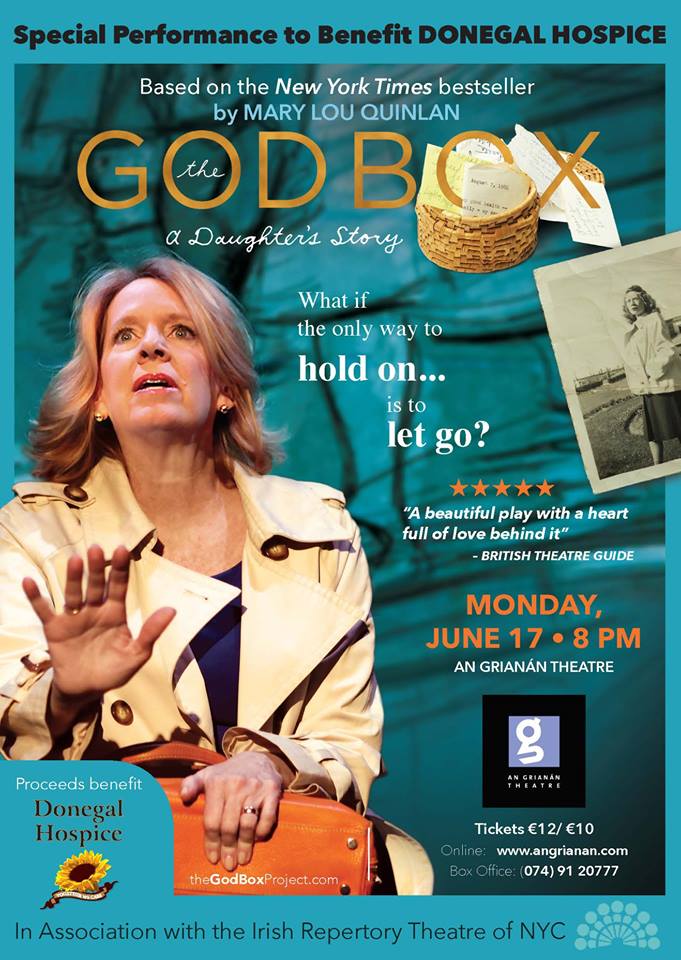 What:          The God Box, A Daughter's Story
Where:        An Grianán Theatre, Donegal
When:         June 17, 2019, 8 p.m.
Tickets:        €12
Proceeds:  Donegal Hospice
Tickets are available through An Grianán's box office at 074 91 20777 and online at www.angrianan.com
Visit www.theGodBoxproject.com for photos, videos and information.
Tags: