The Mary From Dungloe Festival has had a makeover and become an International Arts Festival. What does that mean to the visitors who come every year? Lots of new types of music events; more cultural offerings and definitely something for everyone.
Following a major overhaul of the iconic Festival in its 52nd year, there is a fresh new look. 
Returning to its roots, the Festival will feature over 80 events and performances spread over 10 days. Dungloe will come alive with sounds of Jazz, Rock, Brass, Hip Hop, Classical, Swing, Folk, Blues, Trad and Country. There will also be story telling, poetry, dance, theatre and loads of events for the kids too.  
Find the full programme now on www.maryfromdungloe.ie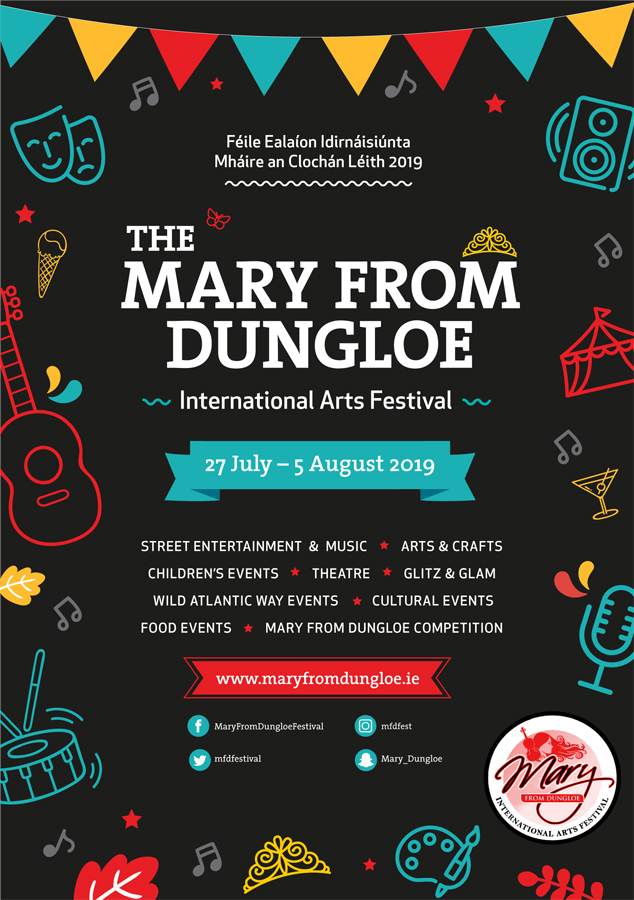 This year on the Gig Rig, the one and only Daniel O'Donnell will delight his fans by joining other legendary country music stars for a Sunday Afternoon Concert on July 28th. 
Goats Don't Shave will also be performing this year as the opening act for the Festival on Saturday 27th July.
At the Waterfront Hotel, there will be a number of events including the glorious Swing Time Starlets (Sunday 28th July) and the Festival Fashion Show (Tues 30th July) with the new collections from Paris.
In addition to enjoying local and regional musicians performing on Main Street every day, festival goers can attend workshops, exhibitions and theatre productions, including 'The History of Ireland' by Actor John D Ruddy and Irish Folklore Story Telling by Séamus Mac Annaidh, Novelist and Historian. 
The festival will also go green this year and there were will be an environmental and clean coasts workshop to attend. 
In true Festival Style, the organisers have added the Donegal Artisans Fair, featuring local craftspeople and artists who will demonstrate local skills as well as sell their one-off creations. 
There will also be The Dungloe Street Food Day, offering a large selection of speciality food trucks, accompanied by local buskers. Also for those who enjoy the outdoor life, there are sporting events, walks,and Wild Atlantic Way adventures. 
The contestants for the Mary From Dungloe 2019 crown are, as always, diverse and hail from all over the world. This year we welcome a Construction Project Manager, award winning Journalist and a contestant from India. The Festival will culminate in the Crowning Ceremony live on TG4 on Sunday August 4th. 
Head to Dungloe from July 27th to August 5th for another great festival!
See the full programme and ticket info on www.maryfromdungloe.ie
About The Mary From Dungloe International Arts Festival
The Mary From Dungloe International Arts Festival began 52 years ago and is one of the largest, longest-running events in Ireland. This festival features work from nationally recognized artists and local creators. For more information visit https://maryfromdungloe.ie/ or email mfdfestival@gmail.com. Tickets can be purchased from  https://www.eventbrite.ie/ or the Festival Office at 13 Main Street, Dungloe. 
Tags: