BRENDAN BOYCE says he 'zoned out' for the first 40km after he finished sixth in the men's 50km race walk at the IAAF World Athletics Championships.
In baking Doha heat, Boyce turned in the best performance of his career.
A remarkable race, during which he was never carded, the Finn Valley AC man finished the gruelling race sixth in 4:07:46.
Temperatures were beyond 30 degrees as Boyce and his fellow competitors raced on the Corniche waterfront in Doha from just before midnight in the Qatar capital.
"It was hot, but I totally zoned out for the first 40km, as if it was a training session," Boyce said afterwards.
"Then, I turned it into a 10km race, and that's the way it turned out.
"I just started picking people off then, the race plan was perfect, and Rob (Heffernan) made sure I was confident in what I was doing.
"Everything was just bang on. It didn't matter about the conditions, everything was prepared so well. "It didn't matter what the conditions were, I was going to be top six or top eight. That was the plan."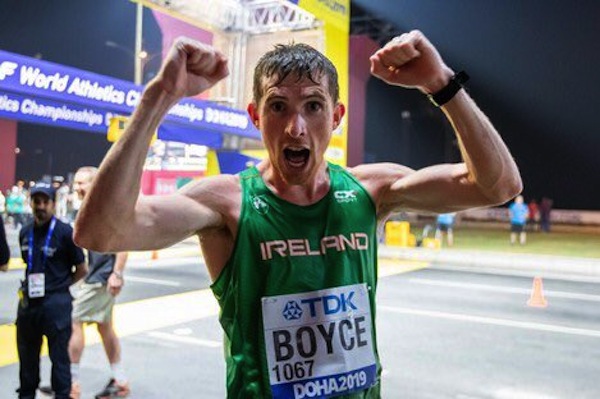 Boyce had predicted a top eight finish after a superb year during which he had already sealed qualification for the 2020 Olympic Games in Tokyo.
Of the 46 starters last night, 28 finished.
In a bid to deal with the roaring temperatures and piercing humidity, Boyce opted for iced socks and a scrum cap early in the race.
Boyce hailed the influence of his coach, the 2013 world champion Heffernan.
The Milford man said: "It's invaluable to have probably the best male athlete in the country, and even his coach Robert Korzeniowski, who was three-time Olympic champion was on the phone constantly.
"So who am I to argue with two of the greatest world champions in history?"
Boyce was never lower than 19th during the race and he is now looking ahead at a podium performance at next year's big rumble in Tokyo.
"I just love 50km," he smiled afterwards.
"Being Irish, we just love misery so 50km is perfect for me. Being out there and miserable for four hours – misery is happiness for me.
"Bring on Tokyo, I want to win that medal!"
Tags: