A group of five German media with a combined circulation of nearly 500,000 are visiting Donegal this weekend to take part in a Donegal walking press trip, hosted by Fáilte Ireland, as the National Tourism Development Authority in conjunction with Tourism Ireland – Ireland's overseas marketing body.
Visitor numbers from Germany are strong this year, with data showing 18% growth compared to 2018 figures. This demonstrates the importance of the German market for Ireland.
The journalists write for some of Germany's leading newspapers and began their visit at the stone fort Grianán of Aileach before heading to enjoy the scenery and views from Malin Head on the Inishowen Peninsula.
Fáilte Ireland research shows that German visitors are attracted to our scenery, coastal areas, cliffs, and rocky seascapes. They also enjoy exploring in nature and offering a variety of activities is a key motivator for them.
Brenda King, Fáilte Ireland's International Publicity Executive, stressed the importance of international media coverage for Ireland –
"Welcoming media, such as this group, to our shores plays a big part to ensuring Ireland and the Wild Atlantic Way are on the map when it comes to attracting German visitors. We believe that it is extremely important for visiting media to experience first-hand what the Wild Atlantic Way has to offer the adventure traveller.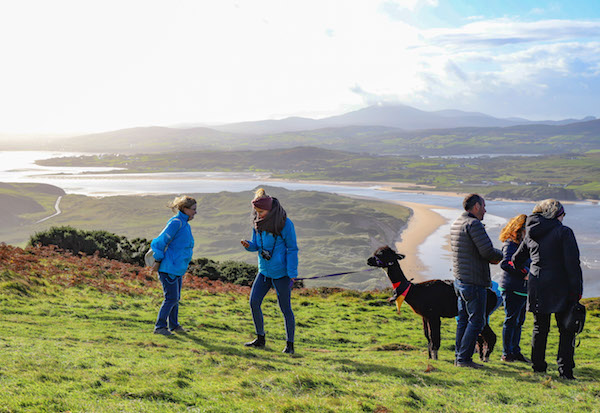 "The region around Donegal provides endless possibilities for walking and cycling and we are promoting this message heavily. By providing the visiting German media with a positive experience, the coverage created will be critical in attracting more German tourists to Ireland."
A number of activities have been arranged for the group to experience while on their visit to Donegal, such as the Wild Alpaca Way Walk; walking tour of Ramelton; meeting full time chef and part-time blogger Pauline Sugrue who runs the Wild Garlic Table cookery school; a walk along the Ballyhiernan Bay with guide Sean Mullan; visit to Glenveigh National Park; walking tour of Sliabh Liag with Paddy Clarke and a visit to the Distillery; meeting with representatives from the Donegal Food Tours.
Tags: