A YEAR after a devastating fire at the his yard resulted in the death of two horses, Donegal show jumper Kenneth Graham collected a cool €10,000 win bonus at the weekend.
Graham won the Horse Sport Ireland International Show Jumping Challenge after he won the 2019 Cavan Equestrian Centre International Grand Prix.
It brought him full circle, almost exactly a year after a blaze tore through Lenamore Stables in Muff. Two horses died in the blaze, caused by an arson attack.
Five more were saved by his girlfriend, Megan McGettigan, his groom, who won a €1,000 bonus at the weekend.
"It was tough to come back," Graham said.
"We had a lot of great friends and family to thank for getting us back to where we were. We got back up and running as quickly as we could.
"We were all determined to get back. It was hard for all of us. 
"It was nice to win a year on from that. For Megan, too, as she had to go in and take the five horses out. She got burned in the fire and had to get treatment. She saved a lot. Ten more minutes and all of the horses could have died.
"She works so hard in the yard. She got the Groom of the Year award a little while after that, which she deserved. It was nice for her at the weekend to be rewarded too."
Graham revealed that the damage – said to have been in excess of €100,000 – by last year's inferno could have been much worse, but for the quick intervention.
He said: "Ten minutes more and we could have lost much more. There were seven horses in there and two of them died. At the far side of the shed, there were 60 bales of straw. The whole place could have gone up."
Graham won on the aptly named Beir Bua (be victorious) in Cavan. He was the only rider eligible for the bonus – awarded for three podium places at the four Grand Prix meetings – and he did it in style aboard the nine-year-old grey.
"There was a lot of pressure for the weekend," he said. "You don't get to jump for that kind of money too often. 
"That was Beir Bua's first time at that level, too. Anything could have happened during it. I went into the lead half way through the jump off. The three before me went clear and when I was in the lead I was fairly sure that I would finish in the top three. There was a lot of talk and banter in the build-up to the weekend."
He needed one more podium place to get the bonus. Earlier in the year, he came third at Mullingar and won in Millstreet. Those podium places were earned on board George, owned by his father, Willie Lapsley from St Johnston.
"We had a great year," he said.
"Beir Bua is a nine-year-old, but doesn't have much experience. It was nice to do it on a horse that we produced. That was Beir Bua's first international grand prix.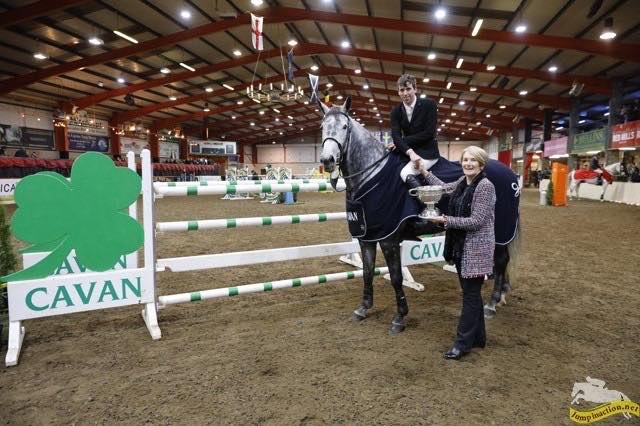 "We spend a lot of time with the horses, training them and producing young horses.
"That's the season over now. It was a great year in the end. The bonus is a new thing that has started and it's brilliant to keep riders competing. It won't be won too often I'd say because you need three podiums from the four events."
He was a late-comer to the sport although he always helped out with his mother, Geraldine, at the Lenamore yards. 
"I wasn't very keen, but once I got into it, I got the bug," he said.
Graham paid tribute to his family and friends for their support and also hailed the influence of Swiss pair Regula and Haymbert Wassmer, from Zurich, who have been invaluable.
Now, he'll take a break from competition over the winter but has earmarked an event in Spain in March. 
He said: "We always try and get away to compete two or three times a year. With everything else we had going on we didn't go this year, but definitely we want to get on the road again in 2020."
Tags: