FOUR of the biggest and very best live tribute shows in Ireland and the UK will come together to take the stage under one roof in just one weekend!
'TRIB BASH' comes to the Clanree Hotel in Letterkenny on the 14th & 15th February 2020. Tickets are out now from the Clanree Hotel reception desk and online at Eventbrite.
Trib Bash will showcase four of the most elite tribute shows touring the country and beyond at the moment which will include:
• Queen (Qween),
• Johnny Cash & June Carter (Cash Returns),
• Abba (The Bjorn Identity)
• Garth Brooks (Trevor Smith – Friends in Low Places)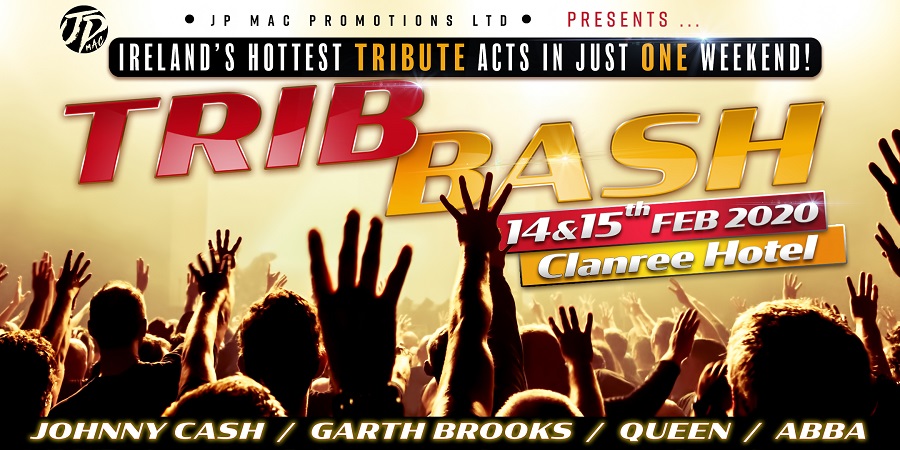 The weekend's award winning lineup consists of four acts which are currently touring the nation and further afield and are blowing audiences away with their spectacular authentic shows. Each of the acts are without doubt the closest thing you will get to their original counterparts, each with live performances and vocals that will blow the most ardent of music fans away.
Never under one roof in one weekend has a live music event like this taken place – being the first of it's kind Trib Bash promises to be one of the most exciting music spectacles in 2020 which will cater for music fans of all genres.
TRIB BASH 2020 LINE UP
FRIDAY 14th FEB
Garth Brooks: 'Friends in Low Places'
Johnny Cash & June Carter: 'Cash Returns'
SATURDAY 15th FEB
Queen: 'Qween'
ABBA: 'The Bjorn Identity'
Both Trib Bash Single-day tickets (€30) and Weekend tickets (€50) are available now from the Clanree hotel reception desk and online at eventbrite: https://www.eventbrite.ie/e/trib-bash-2020-letterkennytickets-74792011921
* All B&B weekend packages have now been sold out *
Tags: