Donegal has been listed among the ten most deprived regions of Ireland, according to a new report.
The county was ranked in 25th place on a list of deprivation scores from 34 Irish county and city councils.
Donegal, has a "substantial burden of deprivation" with a mean score of 1.067, according to the national deprivation index for Ireland 2016, published by Trinity College.
The deprivation index looks at the four indicators of unemployment, low social class, local authority rented housing, and car ownership.
Some of the most deprived areas of Donegal are the North Donegal Gaeltacht, Gweedore, the islands, south west Donegal and around Carndonagh in Inishowen.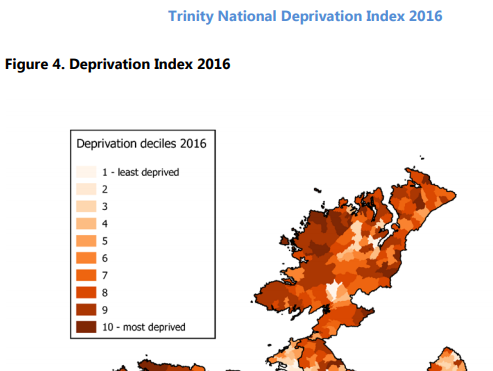 The report also noted large improvements in scores for parts of Inishowen and other areas between 2011 and 2016.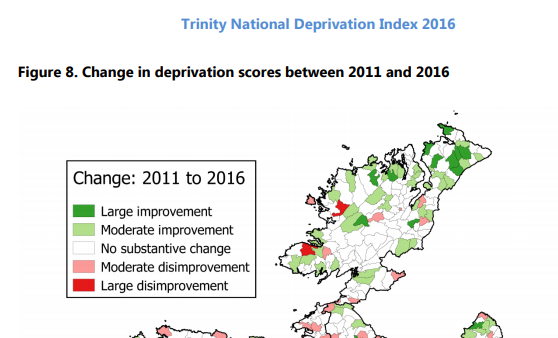 Researchers found that people living in the most deprived areas in the country tend to have a shorter life expectancy than those living in higher scoring areas. The difference in life expectancy between the most deprived area (Limerick City) and the least deprived area (Dun Laoghaire-Rathdown) was 6.4 years for women and 7.5 years for men. 
The report stated that deprivation can be improved through policy interventions, such as increasing the local authority housing and improved public transport to account for low levels of car ownership.
"Our analysis shows that although many areas improved between 2011 and 2016, some deteriorated. For over 20 years the index has been an important tool both for analysing health data and for supporting local and national-level health policy development," lead author of the report Dr Conor Teljeur said.