St.Eunans proved much too strong for a gallant Dungloe team in the Donegal U21 hurling final at Hibernian Park.
St Eunan's 5-13 Dungloe 2-4
By Charlie Collins at Hibernian Park
Dungloe were unable to reproduce the form that saw them beat Buncrana earlier in the championship. 
Leading by 2-09 to 1-0 at half-time the Letterkenny side rattled in three more goals in the opening two minutes of the second-half and it was game over as a contest. 
Although that was the case, the Dungloe lads, to their credit, kept trying right to the end, scoring 1-2 in the final ten minutes. 
St.Eunans captain Kevin Kealy topped scored with 3-3 and had good back-up from full-forward Cian Randles with 2-2 while Paul O'Donnell was excellent from frees. 
Kealy and Brendan Horgan had Eunans 0-2 ahead after 11 minutes but Thomas Harnett's long-range free deceived everyone and landed in the net to give Dungloe a one-point lead. 
However St.Eunans dominated after that set-back and four quick points in a row from Paul ODonnell, Russell Forde, Cormac Finn and Cian Randles had them three in front by the 20th minute.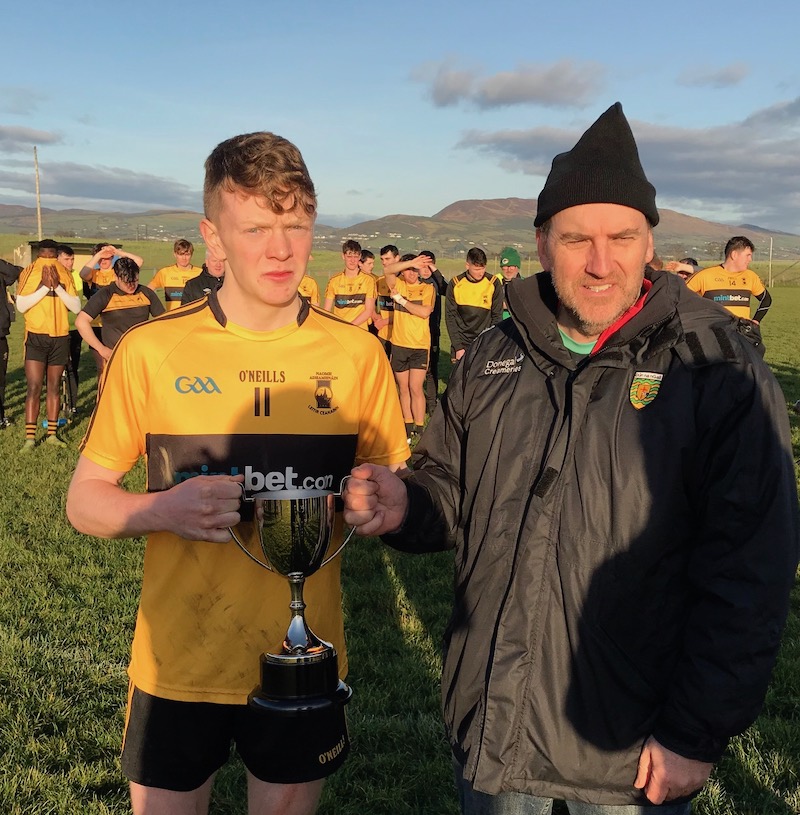 Kevin Kealy then produced a brilliant piece of skill, racing 60 metres and slamming the ball to the net.
Two minutes later Brian McIntyre's super long puck found Cian Randles who slotted the ball to the net at the second attempt. 
Two Paul O Donnell frees and an excellent Sean Halvey point left St.Eunans ahead by 12 points, 2-9 to 1-0 at half-time. 
Big leads can disappear quickly in hurling but any chance of that happening in this game ended in less than two minutes of the second-half. 
Cian Randles finished off St.Eunans first attack with his second goal.
Kevin Kealy raced through again for his second 30 seconds later and, less than a minute later, it was Kealy again on the charge.
Just when he looked to have run out of road he somehow managed to get a shot away which dropped in under the crossbar – 5-9 to 1-0 and game over. 
Thomas Harnett and Martin Mannion got Dungloe points, but O'Donnell, Kealy and Randles replied for Eunans.
Harnett converted another free and then Mannion finished off a good Dungloe attack with a well-taken goal. 
Dungloe's Brendan Boyle got their final point and fittingly it was the excellent St.Eunans captain Kevin Kealy who rounded off their scoring with a free to leave the final score 5-13 to 2-4 for his team.
St. Eunan's: Daire McBride, Mark McGinty, Darragh Doherty, Brian McIntyre, Oisín Randles, Ryan Hilferty, PJ McBrearty, Brendan Horgan (0-1), Sean Halvey (0-1), Cian Durack, Kevin Kealy(3-3, 2f), Paul O Donnell (0-4f), Cormac Finn (0-1), Cian Randles (2-2), Russell Forde (0-1). Subs: Gavin Forde for McGinty (38), Matthew Noonan for Forde (38), Calvin Aidoo for O'Donnell (44), Rory Doherty for Randles (45), Randles for Doherty (55). 
Dungloe: Joseph Doyle, Odhran Duffy, David Hanlon, Sean O'Donnell, James Harnett, Odhran McGonagle, Chris Boyle, Matthew O'Donnell, Thomas Harnett (1-2f), Joseph Greene, Lochlann O'Dea, John Boyle, Brendan Boyle (0-1), Nicholas Wherely, Michael Greene. Subs: Martin Mannion (1-1) for M.Greene (22), Harry Noble for Wherely (38), Darren O'Donnell for J.Greene (55). 
Referee: James Callaghan (Setanta).