MOSAIC, an early learning and care App that connects parents to their child's pre-school or crèche, is taking Donegal by storm. Since its launch, parents all over the county have been flocking to the Google and Apple stores to sign up to see their child's electronic storybook of learning.
MOSAIC is the brainchild of Inis Eoghain woman Avril McMonagle who is founder of Meantóir – a support service for early childhood education. Childcare services first started using the environmentally friendly platform in September last year which eliminates paper based reporting on children and makes significant cost savings.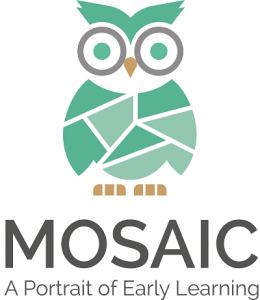 MOSAIC works through two separate Apps 'MOSAIC Educator' and 'MOSAIC Family'.  Mosaic Educator enables Educators to document children's learning and development through a uniquely designed Storybook of learning achievements, skills updates, transition reports, photographs and videos. The interconnected Mosaic Family App enables parents and nominated family members to receive these precious updates in real time directly to their mobile device.
The Donegal project is a finalist in the prestigious Education Awards 2020 in the category 'Best Use of Educational Technology/ICT Initiative of the Year' being announced in Dublin in February.
Avril commented 'This is a significant achievement for our project and for professional standards in early childhood education. We are up against some very big educational organisations in the final round but I am absolutely delighted to have got this far. '
This time last year, the idea of Mosaic was only rattling around in my head and to think that in under a year – not only is the platform fully operational- the feedback from Educators and Parents has been amazing and we are up for an award – I'm happy with that'!
As a once off promotion to celebrate Meantóir's first birthday, Mosaic Educator will be on offer to early childhood services with a 20% reduction until 29th February. Educators using the very accessible electronic storybooks are already saying that they will never go back to time consuming scrapbooks and photo printing again!'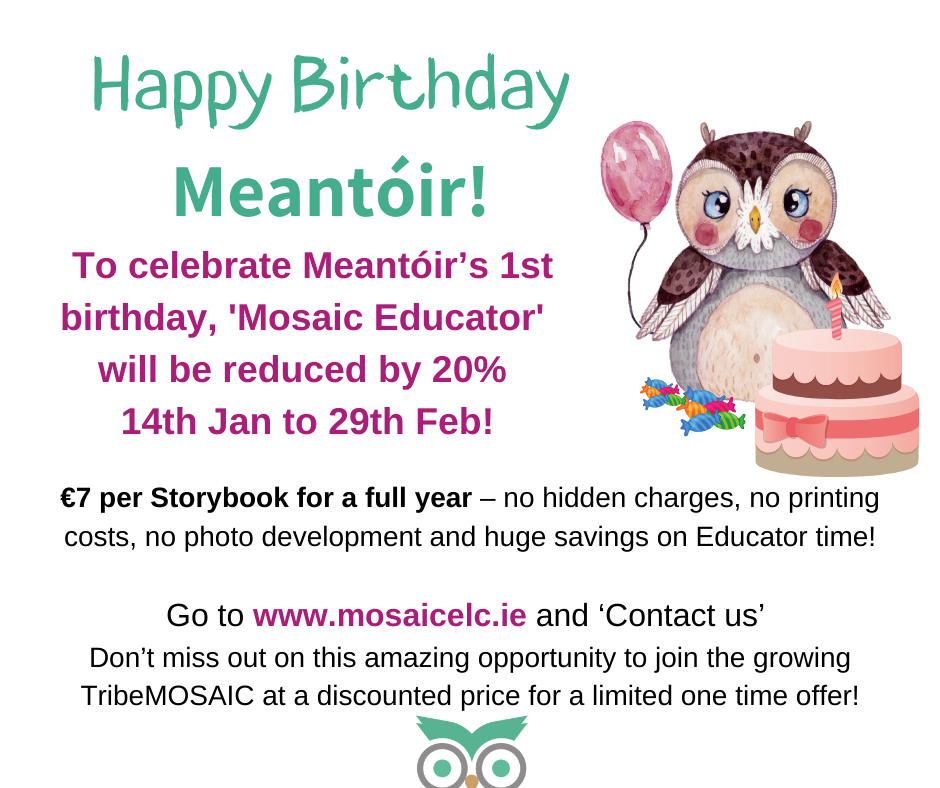 A 25 Storybook package under the promotion will only cost the early childhood service €7 for a full year (including vat) – no printing costs, no photo development and huge savings on Educator time! What's not to like!
So if you are an early childhood service and have heard the rave reviews about MOSAIC – now is your chance to give it a try – share your work with children to parents through a professional early education platform.
Simply go to www.mosaicelc.ie and send the 'Contact us' information at the bottom of the page.
We will then send you a link to the Managers purchase platform where you can choose a package to suit your service. Alternatively you can contact Meantóir on info@meantoir.ie for more information. Don't miss out – MOSAIC is the App parents will be asking you about!
Check out this short video of MOSAIC:
Tags: