Career Guidance Counsellor Rory White's column series continues with a look at Apprenticeships or Traineeships.
College is not for everyone and with recent focus turning to addressing the skills shortage in the country, Apprenticeships and Traineeships are back in vogue.  Even more so given the increased amount of options available.
So what are they?
Apprenticeships and Traineeships are programmes that combine both on-the-job training and off-the-job learning across a wide variety of career areas.  They are based on industry agreed standards and prepare the learner for a specific occupation and lead to qualifications anywhere from Level 4 right up to Level 10 on the National Framework of Qualifications.
How do they work?
Apprenticeships can last for anything between 2-4 years depending on the career area.  Traditional craft apprenticeships have a minimum duration of 4 years and begin on the job with the employer for a minimum of three months and then alternate between a training centre/Institute of Technology and back out on the job.

The graphic below shows the delivery model for traditional craft apprenticeships such as Electrical, Plumbing, etc.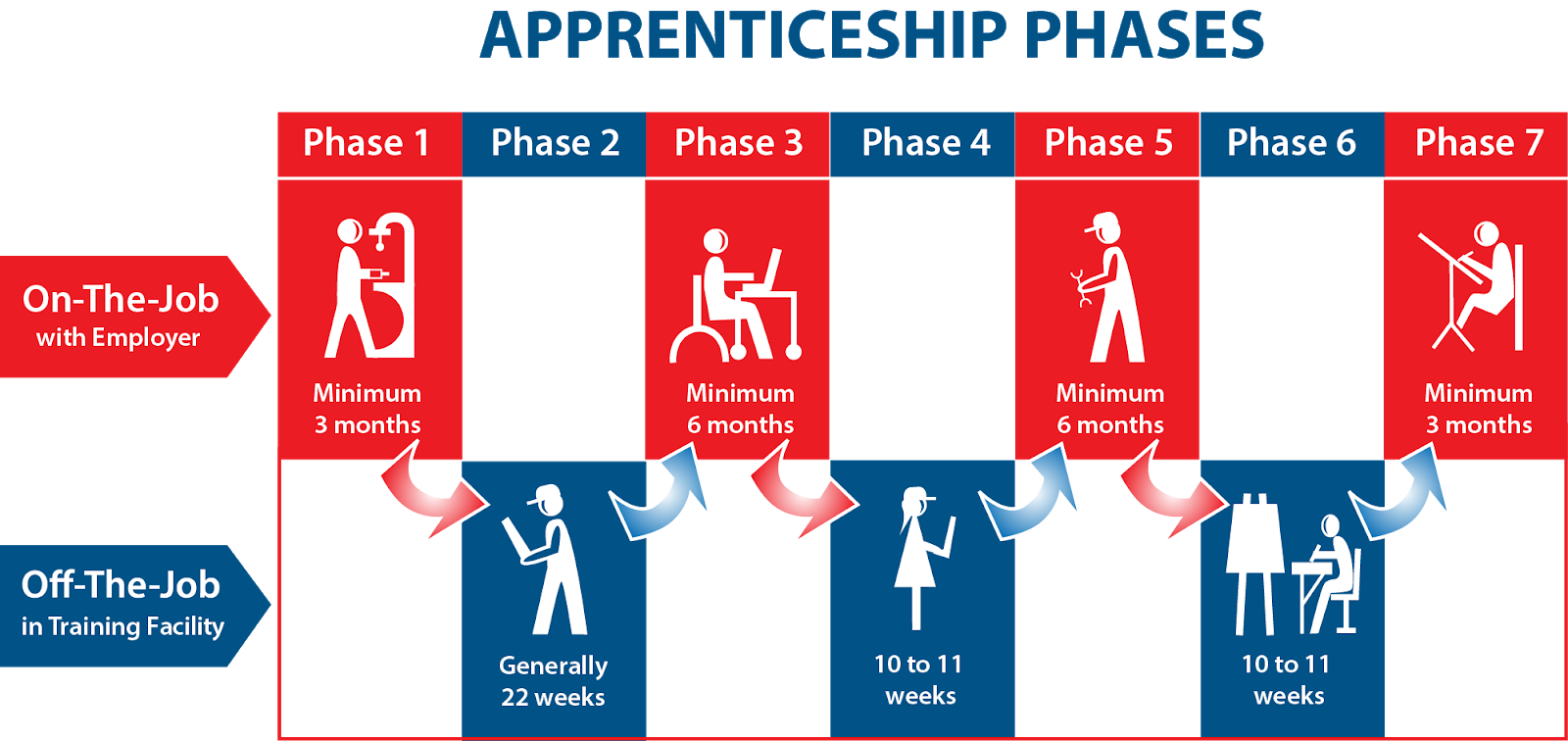 Traineeships, on the other hand, are much shorter in length (between 6-20 months) and are aimed at addressing the training and development needs of Irish companies (for example Pramerica has worked in conjunction with Donegal ETB to develop an Automated Software Tester traineeship to help address a need in their workforce). 
But are these qualifications not just for people who are good with their hands?
For many of the traditional craft apprenticeships, yes it could be argued that they are very practical in nature and suited to those with these skills.  However, those looking to enter these careers need to be aware that apprenticeships include practical and theory modules delivered in Training Centres and Institutes of Technology and that many employers recruiting in these areas are seeking apprentices who have completed their Leaving Certificate.
In recent years there have been many new apprenticeships added with many more in the planning.  Throughout the country you can now access new apprenticeships in diverse areas such as Auctioneering, Accounting, Insurance, Hospitality and ICT to name a few.

Likewise with Traineeships there is a growing number of options nationwide.  Donegal ETB continue to work closely with industry to develop traineeships and 2020 will introduce a number of new and exciting traineeships. Currently Donegal ETB offer traineeships in a wide range of areas including – 
Automated Software Testing

Beauty Therapy

Hairdressing

Construction Groundwork

Digital Sales and Marketing

Engineering Operations

Food and Beverage Service

Healthcare Support

Outdoor Activity Instructor

Special Needs and Intellectual Studies
So what requirements do I need to get started?
To begin an apprenticeship, you have to secure employment with an approved employer and the educational and age criteria varies depending on the apprenticeship.  Information on the criteria for the various apprenticeships is available on www.apprenticeship.ie.
Second level students would always be recommended to complete their Leaving Certificate first.  
What are the benefits?
There are many benefits to Apprenticeships and Traineeships, not least the fact that you get paid while completing them.  Earning as you are learning is a very attractive option when you take into account the potential costs involved with studying a four-year degree at a Higher Education Institution.  
For pre-2016 apprenticeships, the off-the-job training allowance is paid by the local ETB and are linked to the industry norms for each sector with travel/accommodation allowances also paid if eligible.  On-the-job payments are paid by the employer. 
For post-2016 apprenticeships, the employer pays the allowance for the duration of the apprenticeship. 
Allowances for Traineeships are means tested and can rise to €203 pw, again with travel/accommodation if eligible.
The obvious links with employers also means the likelihood of a job at the end of your qualification is very high.  
Finally, the blended aspect of the training alongside the learning is appealing to both learner and potential employer alike.
What would my career prospects be when I finish?
Ireland is currently experiencing quite a serious skills shortage.  Aside from the traditional craft apprenticeships (Think about how difficult it is to get hold of a Plumber, Electrician or Painter!) there is also very high demand across a wide range of professions from Construction to ICT to Financial Services and Hospitality among others.  Apprenticeships and Traineeships are very well thought of and are internationally recognised, so travel after your apprenticeship is also an attractive option.
Where can I get more information?
Interested students can speak with their school Guidance Counsellor who will point you in the right direction.  Donegal ETB's website, www.donegaletb.ie offers more information on both apprenticeships and traineeships.  Two national websites, www.apprenticeship.ie and www.traineeship.ie are the dedicated websites for all things apprenticeship and traineeship, while details for traineeship programmes and how to apply can be found on www.fetchcourses.ie. 
Alternatively, the excellent Donegal ETB staff based in the training centre in Ballyraine, Letterkenny (Tel: 074 91 20500) or the Gweedore training centre (Tel: 074 95 60500) are always more than happy to answer any queries and set you on the right track as will your local Intreo or Employment Services office.
---
Rory has been a Guidance Counsellor at Finn Valley College for the past 10 years and is a member of the Donegal Branch of the Institute of Guidance Counsellors. 
Applying for college or changing careers is one of the most important and exciting decisions someone can make, and Rory will be here to offer advice and top tips on the many options that are available.
Tags: