IT WAS about more than football on a dreadful day at The Burn Road as St Eunan's College booked a place in the quarter-finals of the Danske Bank MacRory Cup.
St Eunan's College, Letterkenny 1-5 Patrician High, Carrickmacross 0-4
By Chris McNulty at The Burn Road. Pictures by Geraldine Diver
On an afternoon when Kieran Tobin's 51st minute goal and a superb kicking display by Shane O'Donnell proved the difference on the scoreboard, football was almost secondary in many ways.
The memory of Callum Friel, the 17-year-old St Eunan's College student and team-mate who was buried on Monday past was honoured.
Callum lost his battle with leukaemia last Friday in St James' Hospital in Dublin. An illness he had borne with such courage for a year-and-a-half finally had its way.
As part of St Eunan's College teams, the Creeslough teenager was among the key prospects, scoring 4-17 during the Loch an Iúir competition – when they lost to Patrician High in the final. Just two years ago, Callum spearheaded the Treanor Cup-winning panel from his number 11 post, scoring 12 points in the campaign.
As the sheets of rain fell upon the Termon turf this afternoon, St Eunan's players warmed up, each wearing a top adorned with the number 11, which has been retired for the rest of this term.
Players lined up for an emotional minute's silence. In the St Eunan's College dressing room, Callum's picture looked down from the wall. 
A dozen or so of his team-mates carried  Callum's coffin on Monday. Five days later, he was with them for every inch for a game that was called off for last weekend following his death.
At half-time – when Patrician led the game by just 0-1 to 0-0 – refreshments were served which had been provided by a grief-stricken Friel family, some of whom were present.
A huge crowd braved the early moments of Storm Ciara, with the proceeds being donated to the Callum Friel Fund.
The participants did their best in wicked conditions, but a Sean Jones score on 26 minutes was all that was on the board at the interval.
St Eunan's College had 'keeper Emmett Maguire to thank by then. Maguire's kick-out was incepted by Jones, but the St Eunan's 'keeper stood well to turn the powerful shot over the crossbar.
In the early period of the game, Maguire saved from Kyle Connolly and got up to get his palms to Jones' follow-up.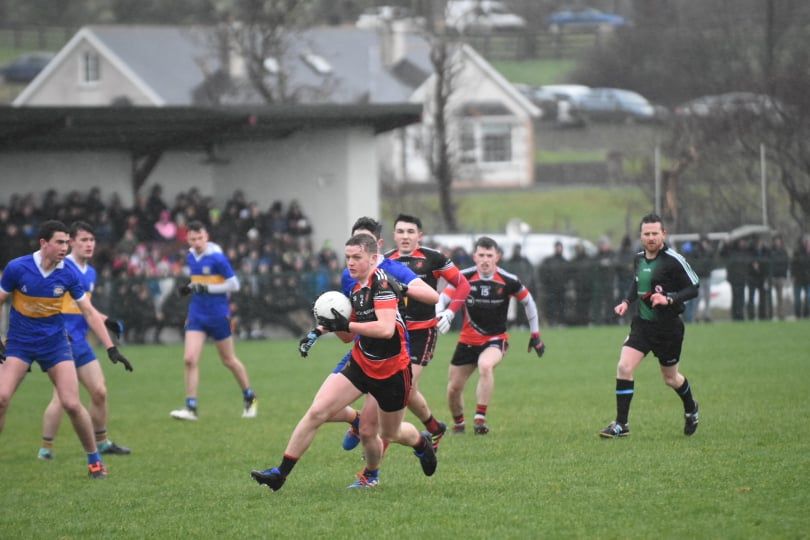 St Eunan's were against the elements, falling and blowing with all of their might from Doon Well, in the opening half and visits into Patrician territory were few. 
A brilliant interception by Kelan Dunleavy ignited St Eunan's midway through the first half and they were unfortunate not to profit from a clever one-two between Dunleavy and Oran Winston, with the latter firing wide.
Maguire did well again to contest a perilous ball into the edge of his square. With the towering frame of Liam McDonald for company, Maguire dealt as he could and the ball went wide off the Patrician forward.
Six minutes into the second half, O'Donnell got St Eunan's off the mark and Shane Monaghan added another to put them in front.
Patrician sensed that they might just be able to hang in there and, aided by sub John Oates' long-range free, they led with ten minutes to go.
St Eunan's, though, found a way when Tobin pounced. O'Donnell's free was contested by David Boyle and 'keeper Joe Kirk. The ball dropped invitingly and Tobin reacted quickest to fire home.
Jack Alcorn converted a free before O'Donnell landed a monster from 40 metres. Another majestic kick by O'Donnell from the left-hand side belied the weather as St Euna's took a five-point lead.
In added time, there was a scare when a foul on Diarmaid Marron saw referee Mark Loughran award a penalty to the Monaghan side. Swinburne took responsibility, but his kick was over the black spot.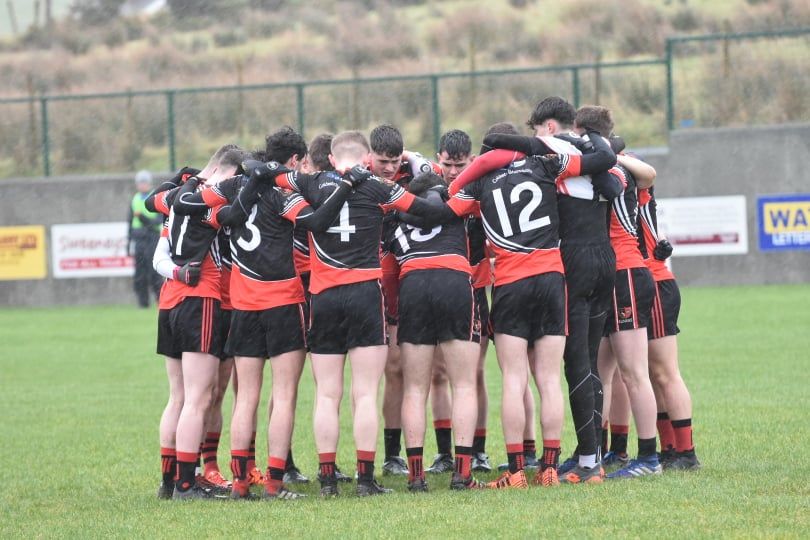 St Eunan's had done enough to seal a quarter-final against St Coleman's, Newry on Wednesday.
The reaction to the final whistle said it all: In one way, football hardly mattered and, yet, in another, it meant everything.
St Eunan's College, Letterkenny: Emmett Maguire; Conor Cassidy, Jamie Grant, Kieran Tobin (1-0); Dylan Doogan, Jack Gallagher, Conal McDermott; Kelan Dunleavy, Eoin Dowling; Emmett O'Boyle, Oran Winston, Cian McMonagle; Shane Monaghan (0-1), Jack Alcorn (0-1f), Shane O'Donnell (0-3, 2f). Sub used: David Boyle.
Patrician High, Carrickmacross:  Joe Kirk; Conor Cumiskey, Jack McGeown, Harry Corscadden; Ronan Grimes, Shane Hanratty, Dylan Byrne; Ryan Kennedy, Diarmaid Marron; Oisin O'Hanlon, Sean Jones (0-1), Donnach Swinburne (0-2, 1pen); Kyle Connolly, Liam McDonald, Ryan Farrelly. Subs used: John Oates (0-1f), Cormac Sheedy, Daire Povall, Ciaran Finnegan. 
Referee: Mark Loughran (Tyrone).
Tags: