RISING DONEGAL karate star Emma Dolan has gone up to number 12 in the word rankings.
The Royal and Prior, Raphoe schoolgirl is up to number 12 in the WKF world rankings.
Going to 12 in the rankings means she is now the highest ranked female Junior karate athlete in the history of Irish karate.
In February. Emma competed in the World Karate Federation Junior European Championships in Budapest.
Emma competes for Three Rivers Shotokan Club in Lifford. Her coach Martin McNamee and her club have extended their good wishes.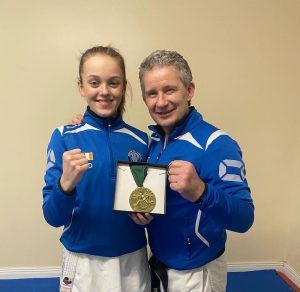 The Argary woman competed at the XI WKF Junior Championships in Chile in November, finishing seventh. There, Emma overcame her South African opponent 8-0 before claiming a 3-1 win over a competitor from Bosnia & Herzegovina. Emma was pipped 1-0 by a French girl, who won the gold medal.
Emma's seventh-placed finish was the highest place by a female from Ireland at any WKF World Championships .
Tags: