A 10-year old Donegal schoolgirl has made sure anyone entering her grandparents' home takes the necessary coronavirus precautions.
Manorcunningham girl Ava Gibson set up a hand-made cleaning station at the front door – making sure no-one passes without cleaning.
A pupil at Magherabeg National School, Ava has ensured the top level of detail at the home of Dessie (the well-known Lagan Harps FC stalwart) and Isobel Gibson.
Crafted from cardboard and neatly decorated, the station well stocked with hand sanitiser and tissues.
Any visitors are greeted by a firm 'stop sign' and a note warns: 'Please clean your hands on entry'.
Ava even went to the trouble of adding some instructions: 'Please take a tissue and use some hand sanitiser to try and prevent spreading germs,
For anyone feeling under the weather or unsure as to their condition, Ava (daughter of Jason and Tracy Gibson) has also helpfully listed the symptoms of coronavirus on the front-facing side of her station.
As Donegal's shutdown continues, Ava could be onto a winner.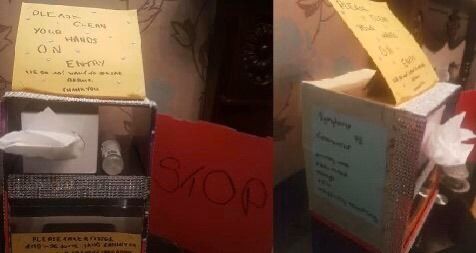 Tags: