Four more patients have died as a result of coronavirus in Northern Ireland.
There are 138 new cases in the region, bringing the total confirmed cases to 1,477.
The Public Health Agency has announced that 10,203 individuals have been tested up to 11am this morning.
The majority of confirmed cases are in the Belfast area, according to the latest figures released today: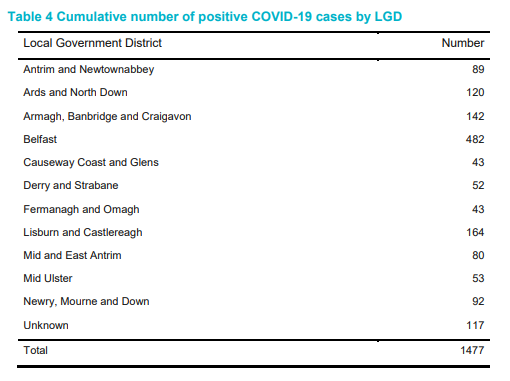 Ahead of the Easter weekend, the PSNI is urging the public to 'Stay at Home' for the Bank Holiday.
People with holiday homes are being told not to travel and adhere to current measures.
Meanwhile, a major garda operation is underway at the border to turn back holidaymakers travelling in from Northern Ireland.
On the garda measures, Chief Constable Simon Byrne said fines are also on the way for Northern Ireland: "You will see different policing patterns in Northern Ireland, in a similar way to the Republic in terms of extra police patrols of car parks and beauty spots.
"Also, where we can do so safely, we will be undertaking checkpoints to ask people why they are going about their business, where they are going, and if they don't have a key task, is this a reasonable and necessary journey within the guidelines, we'll be turning them around and if they don't comply we'll be issuing tickets from tomorrow."