A DONEGAL TD has hit out at how the government is dealing with the coronavirus pandemic – claiming that attempts have been made to 'silence' those in opposition. 
Killybegs-based Independent Thomas Pringle, in a lengthy statement, is highly critical of the government's stance on a number of measures.
Deputy Pringle believes that An Taoiseach Leo Varadkar 'made a PR virtue' out of returning to the Medical Register.
"I won't be silenced by requests from Government Minister's and department officials to 'say nothing about that' especially when all I see is photo shoot after photo shoot but no real action," Deputy Pringle said in a statement released to Donegal Daily.
"Just to be clear, this is what they are asking us to do behind closed doors. They're asking us not to criticise them publicly, not to raise the issues that the people of Donegal are bringing to me. Sorry, but I won't do that especially when I see a lack of action on the issues I and others have raised.
"This government is supposed to be leading us in this time of change. It is said that it couldn't have been foretold. However, it could and indeed the government identified that it could possibly be an issue but did nothing to prepare for it.
"In the National Risk Assessment 2019 the government identified it as a possible issue – but that's all it did. They did nothing to prepare for it even through advance planning or anything.
"That has led us to the situation we are in now where testing is failing, the protection of healthcare workers is failing, and we now see that nursing homes and congregated settings were not protected."
Deputy Pringle says that opposition politicians have 'for too long during this crisis been silenced and in the interests of the national fight against the virus said nothing so that the national focus can be kept on the battle.'
"Does that mean that we have to accept everything that Fine Gael do without question?" he said.
"I don't think so and am not willing to go along with that anymore, or give my blessing through my silence in the public interest either.
"I do not believe it is in the public interest not to question what this government is doing, when our Taoiseach makes a PR virtue out of going back to be a doctor for a half day a week. It would suit him better to leave the doctoring to doctors and maybe deal with some of the issues that he has helped create in our public system.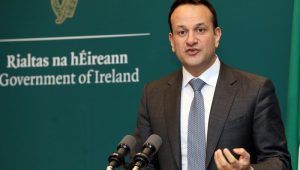 "I have consistently raised the state the dire state of our health service over my time as a TD. This chronic understaffing and underfunding is the root problem in dealing with a pandemic crisis of this nature.
"When you see hospital doctors and nurses having to make public appeals for supplies, you know there is something wrong with the Government's response."
Deputy Pringle hit out at what he called 'the shambles of the current testing system': "People are coming to me that have waited a fortnight to get tested and then in some cases over a fortnight to get the results.
"Opening testing facilities that then don't have the equipment to carry out the tests or indeed carrying out tests that just sit in boxes because there is not the capacity  o have them analysed, while all the time standing behind lecterns reading auto-cued speeches to the fawning approval of the national media, is not leadership. It is downright dishonest.
"A quarter of cases here are front-line medical staff. This is due to a lack of PPE. It needs to be sorted. We are literally killing those who are putting their lives at risk for us daily.
"We all have our part to play and since the onset of this, I have been part of the call for people to stay at home and to observe the restrictions for all our good. We will get a handle on this, and eventually we will get back to normal. But it won't be achieved by politicians such as myself sitting quietly in the corner saying nothing.
Deputy Pringle has again raised a number of matters he believes there has been a distinct lack of action on.
Constituents, he said, had expressed concerns surround income supports, employees from Northern Ireland have hit out at being refused Covid-19 payments.
"Farmers in the county in receipt of farm assist who have lost their outside incomes are being refused help or support of the covid pandemic payment," he added.
"The amount of people from this county and indeed across the country that this effects is huge.
"I'll not abandon them in order that Leo, Simon and co. can have it nice and handy at their press photo shoots.
"I won't shut up and stay silent to make life easier on the Government and shaft the people I represent."
Deputy Pringle has been very vocal on the matter of Irish people who have found themselves stranded abroad with no options, bar prohibitively-priced flights, for returning home.
He said: "The cheap PR from Minister Coveney would convince you that all that can be done is being done and that the DFA is getting these people home.
"Well, I have over 900 emails from our young people abroad that makes for very different reading.
"I've been able to support many of them with information and even just simply updates and checking in on them to see if they are all right. Something this Government is failing them on. If this is 'politics coming out' then so be it. I'll always continue to work for the ordinary people."
Tags: