A new fundraising competition has been launched to drum up support for ChefAid volunteer groups across Donegal during Covid-19.
The competition is being led by the Bluestacks Jamclub in Donegal Town to inspire singer/songwriters to share their talents online and generate funds for their local ChefAid.
To enter, solo artists can record a selfie video of their original song, tell people what their act is for and share the video online with a link to a local ChefAid fundraising page.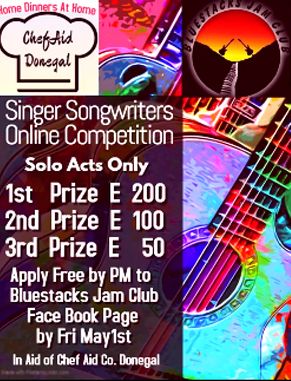 Donegal's ChefAid projects began during Covid-19 as talented local chefs came together to cook thousands of hot meals for the elderly and vulnerable at home. There are now branches in Donegal Town, Letterkenny, Ballyshannon, Killygordan and Inver and they are all in need of constant financial support to meet demand.
The Bluestacks Jam Club contest is one creative way to boost ChefAid funds and up to €350 in prizes is up for grabs in this giveaway. Entry is free.
Greg Gorman from the Bluestacks Jam Club recorded this step-by-step video with a guide on how singers can get involved:
Tags: