THE FUNERAL takes place this morning in Glendowan of the late Hughie Green, a stalwart of local soccer club Bonagee United.
Hughie, late of Dromore, Letterkenny, died on Tuesday at the Archview Lodge Nursing Home.
Aged 92, Hughie was a talented footballer in his youth, serving Bonagee United as a player and a manager.
Hughie was the Bonagee United Club President at the time of his death and the Dry Arch Park club paid tribute.
"He will be fondly remembered for his amiable manner and, indeed, for being a good friend and neighbour to all those in Drumany and surrounding areas," Bongaee United said.
"In December 2018, members of our club committee spend a night celebrating with Hughie on his 90th birthday in the nursing home, a night which was thoroughly enjoyed by all in attendance."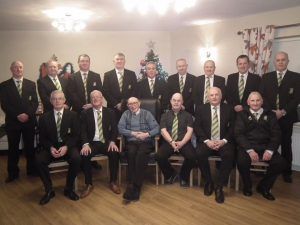 Hugie worked for many years at Kelly's Mills.
He is survived by his loving wide Sally, brother Eamon (Longford), sister Imelda (Bonagee), extended family, neighbours and friends.
Hughie's remains will leave his late residence this morning going to St. Colmcille's Church, Glendowan for Requiem Mass at 11am with burial in Templedouglas Cemetery.
Due to HSE & Government guidelines burial is strictly private.
Service can be viewed on www.churchservices.tv/churchhill
Tags: