THE sounds from home rang louder in Roisin McCafferty's ears last year.
McCafferty was in Chiang Mai in September when she listened in as Termon were battling to a county final win over Glenfin, securing their first win since 2015.
Six weeks later she was in a hustle in Myanmar, tuning in as Termon ran Donaghmoyne to within inches of an Ulster final.
The Burn Road was calling again.
"I was going a bit mental and in the hostel people were telling me to shut up," McCafferty says now.
"I was sitting in Myanmar, in south east Asia, trying to listen to the final, just wanting to be at home.
"It makes me want to go a bit further, train a bit harder. I missed it so much. These girls are my best friends. I've grown up with them and played football since we were three or four.
"I love going to war with them every day."
For the first time in five years – since 2015 when Termon won their last Donegal Ladies SFC title prior to last year's – on Sunday, McCafferty donned the maroon and white.
She hit two points in an encouraging display in the engine room as Sean O'Donnell's team overcame Moville in a belated Championship opener.
She said:  "I was happy enough. I'm getting there, getting up to the pace slowly
I was happy to get forward. I was lying back a bit at the start. The girls played well there, everyone put in a big shift. It was a massive effort.
"That was my first competitive game for Termon in five years. It's great to be back at the Burn Road. It's like a carpet. You couldn't beat a Championship Sunday at the Burn Road with the sun shining."
McCafferty was one of the stars when Termon became All-Ireland queens in 2014, defeating Cork side Mourneabbey in the final.
After 2015, she played three years with John Mitchells in Liverpool, winning a British title along the way.
"I missed Termon massively," she says.
"Especially on the big Championship days, I missed being with the girls. John Mitchells were really good to me and I enjoyed playing with them. We won a British Championship.
"There is just something about playing with your home team. It's just magic."
The bloodlines always decreed that she'd lace up the boots. Her cousin, Christy Toye, is a legend of Donegal football, an All-Ireland winning fans' favourite. Johnny McCafferty, another cousin, played Championship football for Donegal in the early noughties.
McCafferty made her Donegal senior debut at just 16.
She played in the 2008 Division 2 League final defeat, but was a Minor All-Ireland winner the following year. In 2010, she played in goal and kept a clean sheet at Croke Park as Donegal defeated Waterford in the All-Ireland Intermediate final.
A former Donegal captain, she was back between the posts in 2018 for Donegal, commuting from England, as they won an Ulster title.
She is a lifelong friend of Donegal star Geraldine McLaughlin, who scored 5-6 on Sunday in a stirring display.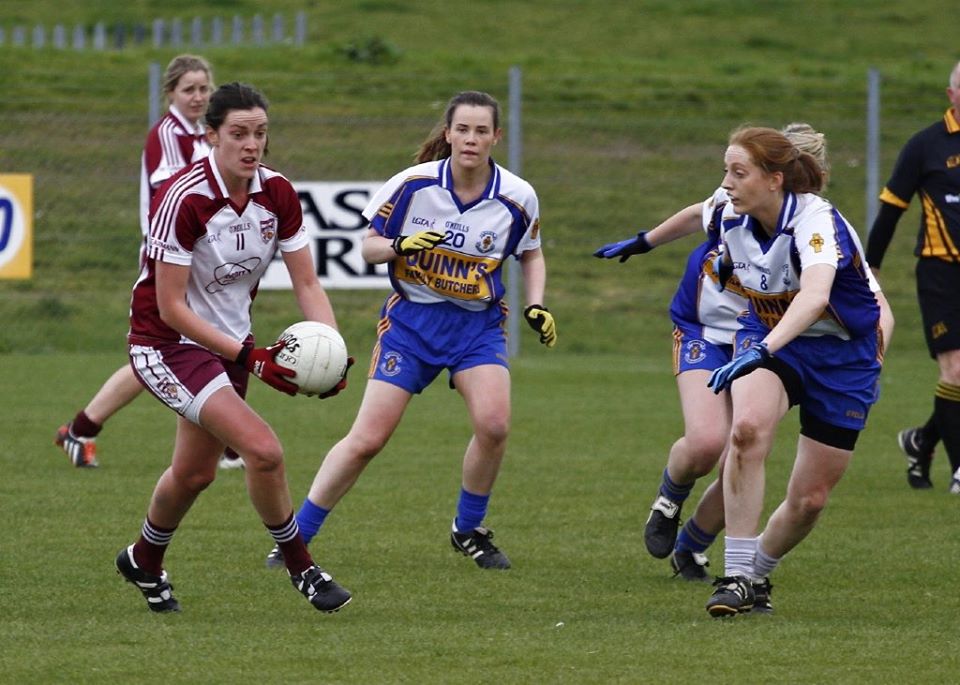 McCafferty said: "She's unreal. It's crazy what she scores. We do look to her. Other girls are standing up too. She's just unbelievable. She puts in as hard a yards as anyone. She doesn't cheat. She eats right, trains right. She gets the rewards for what she does."
McCafferty slipped seamlessly back into the Termon midfield at the weekend and is now aiming to go through the gears as the Burn Road brigade launch another assault on silverware.
She said: "I think as a team we play and bond so well. We know what we're doing, we work hard together – and that's massive for any team."
"It's a good start. The young girls coming into us are mighty. It's such a different team to the one I played on five years ago. There's a great standard there. We set ourselves the highest standard and everyone is pitching in hard.
"We have 30 girls there and anyone could come in and grab a spot. There's no place for anyone who isn't working.
Tags: