Ronan McLaughlin was the winner of the Donegal Atlantic Way Ultra 555 this morning with a record time to boot.
The Muff native completed the gruelling course in an excellent time of 17 hours, 21 minutes and 21 seconds, rolling into Letterkenny. McLaughlin beat the existing record of Cormac Keeney, set in 2018, by one hour and 22 minutes.
McLaughlin, in 2017, powered to victory in a time of 19 hours19 minutes 40 seconds.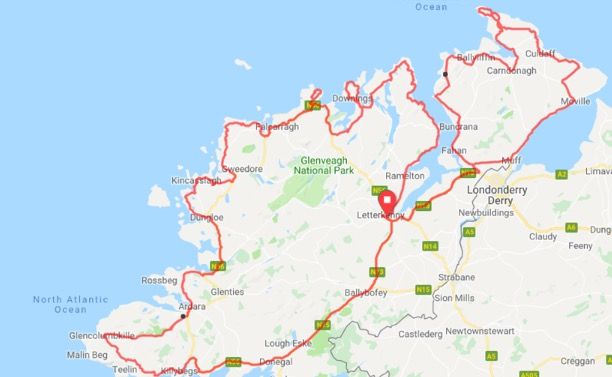 Second to complete the course this morning was Glenswilly's Mark McGinley, in a fantastic time of 18:21:15 – continuing the 21-year-old's excellent progress in the saddle. Rory Devin from Buncrana was third in 18:36:10.
In the two-person event, Adrian Mc Dermott and Johnny Kane of Team LK Bikes were the winners in 17:46:41. Dean Lockhart's crew won the four-person event in 16:22:24.
Results:
555K SOLO
23
Ronan Mc Laughlin
17:21:21
Finish
16
Mark Mc Ginley
18:21:15
Finish
19
Rory Devlin
18:36:10
Finish
4
Brendan Cassidy
19:33:09
Finish
15
Christopher Beattie
19:34:32
Finish
2
Aidan Fallon
19:58:33
Finish
21
Gavin O Connor
21:02:43
Finish
18
Colm Richardson
21:04:12
Finish
10
Alisdair Robinson
21:53:42
Finish
14
Paul Birchall
22:29:30
Finish
24
John Gilleran
22:38:26
Finish
8
Andrew Agnew
22:38:31
Finish
17
Adrian O Sullivan
22:53:24
Finish
11
Graham Sterritt
23:11:27
Finish
13
Ciaran Breslin
23:26:23
Finish
6
John McFadden
24:44:15
Finish
20
Conor Dunne
24:59:04
Finish
22
David Dougan
25:13:59
Finish
5
Gerard Callaghan
25:39:32
Finish
3
Patrick Morning
26:31:54
Finish
9
Chris Doherty
27:29:10
Finish
7
Francis Fury
27:34:42
Finish
1
Mike Burke
28:47:07
CP11
555K 2-PERSON TEAM
30
Team LK Bikes
17:46:41
Finish
28
McGreggor & O'Doherty
17:48:15
Finish
32
Team R & R
18:53:59
Finish
27
Galway DHKN Ltd
20:23:46
Finish
26
Fitton & Mannering
20:32:48
Finish
25
Smokey Spokes
21:44:18
Finish
29
Team Jack #85
25:06:25
Finish
555K 4-PERSON TEAM
34
Dean Lockart
16:22:24
Finish
42
Dads Army
16:52:45
Finish
33
The Friary Wheelers
19:03:55
Finish
45
Spin The Wheel
19:32:45
Finish
36
Team Ardera
19:42:46
Finish
35
The Cranford Chancers
20:02:16
Finish
40
The Pacers
20:30:42
Finish
37
Mountain Goats
20:35:05
Finish
48
Mc Cafferty's
21:17:24
Finish
39
Team HEXAGONS
22:48:14
Finish
41
US Pulsetal
22:56:17
Finish
44
Team H8 Lawlors
24:37:54
Finish
46
The Lost Boys
03:16:01
CP2
Tags: