Letterkenny Institute of Technology (LYIT) recognises the difficult final year it has been for the Leaving Certificate class of 2020. Students across Ireland will receive their Leaving Certificate results on Monday 7 September.
LYIT support staff are available to offer advice and support to all students during this time. The 'Just Ask' initiative from LYIT will ensure that students have all the support that they require to make the next steps on their journey go smoothly. 
LYIT Schools Engagement Officer Fiona Kelly has this introduction to the week's events and supports available:
The transition to third level education is normally an exciting time for students as they embark on their new journey. Students this year should be given extra supports to ensure that this transition is an enjoyable experience.
President of LYIT, Paul Hannigan says; "It is going to be a different year for us but we have been working endlessly to ensure it will be an enjoyable year. Student support is very important to us here at the Institute and I encourage students and parents to engage with our support staff to address any questions they have at the upcoming virtual events".
There will be a total of six events taking place from Monday 7 – 14 September – all aimed at supporting Leaving Certificate students, their families, teachers and advisors. These events will be online events and will take place on various platforms from Facebook to Instagram, and on the LYIT website:
Monday 7 September
Leaving Certificate Results Advice Line
Leaving Certificate Guidance Podcast
Friday 11 September
CAO Offers Helpline @LYIT
Synergy Careers Advice Session
LYIT Live Facebook Q&A – "CAO Offers – What Next?"
Monday 14 September
LYIT 'S CAO Virtual Information Day
Fiona Kelly, Schools Engagement Officer encourages everyone to reach out and avail of the supports and advice available during the next fortnight. "The 'Just Ask' initiative invites anyone to engage. Whether you are a Leaving Certificate student, parent, guardian, Guidance Counsellor or advisor, our support staff are here to advise and assist you with your next steps. Staff from all nine departments as well as admission and student support staff will be available to discuss your next steps".
If you would like to find out more about any of these events visit https://www.lyit.ie/News-Events or contact fiona.kelly@lyit.ie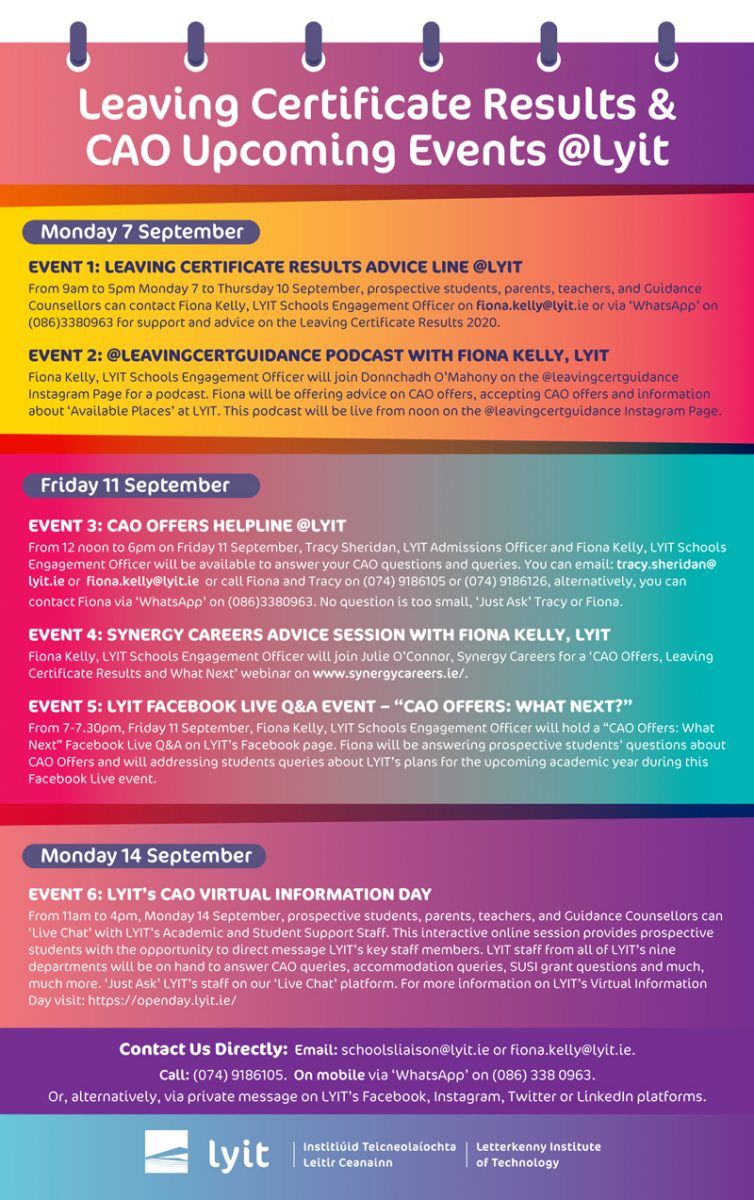 Tags: