Country star Nathan Carter is singing the praises of Donegal this week after visiting one of the county's best-loved beaches.
Carter, 30, took some time to enjoy the impressive Murder Hole beach in Downings.
And he was keen to tell his fans to do the same:
"Couldn't recommend visiting Murder Hole Beach enough! Stunning place!," Carter wrote on Facebook.
He was so chilled out that he decided to do some beachside yoga too.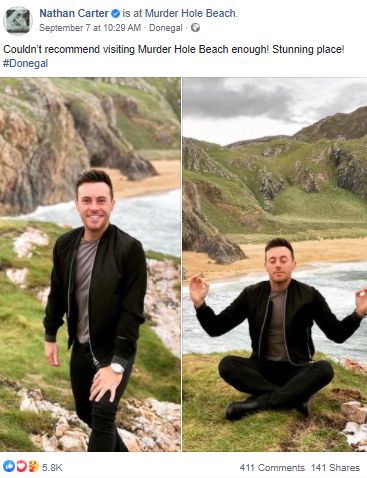 This is not the first time that the star has promoted the natural beauty of Donegal. In 2019, Carter and the High Kings took a music video to new heights when they climbed Sliabh Liag in south Donegal for a stunning shoot. Plus, Carter rocked out on Rossnowlagh beach for his Wagon Wheel music video back in 2012.
Tags: