Make Way Day is back for 2020 with 29 local authorities taking part in this year's virtual campaign.
This year we will not take to the streets due to Covid-19 but rather host a virtual meeting at 11 am on Friday 25th September.
On the day individuals and members of local disability and community groups will come together with their local authority in a virtual meeting to tell their story and highlight awareness for 'Make Way Day'.
The objective is to build a digital 'Make Way Day' story to positively impact the lives of people with disabilities and to reflect a culture where people with disabilities are given optimum choice, control and respect.
We are inviting the community to take pictures of the obstacles encountered on our streets including badly parked vehicles, bicycles, sandwich boards and other ill-placed hazards. Most obstacles are a result of thoughtlessness and genuine lack of awareness.
We encourage you to post pictures on social media – #MakeWayDay20
Show your support by sharing and re-tweeting posts and encourage friends and family to do the same.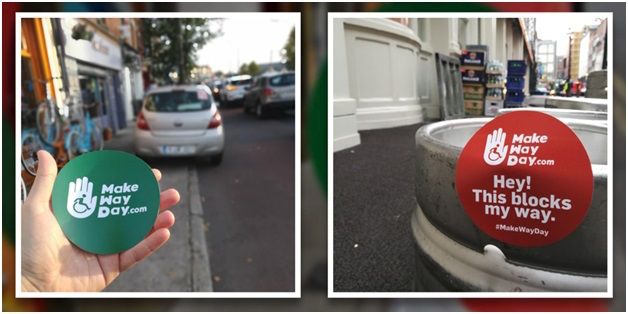 Background – Make Way Day
The reaction to the first campaign in 2017 was phenomenal. Make Way Day was viewed by over 750,000 people online and featured on RTE TV news throughout the day.
A number of local and national radio shows, newspapers and online magazines also ran the story.
Within 48 hours, 8,000 people had signed an online petition to make #MakeWayDay a national event.
DFI circulated a motion to local authorities calling for them to support a Make Way Day in their area in 2018.
The campaign was awarded the Public Relations Institute of Ireland, PRII, Public Awareness Campaign 2018.
This year 29 local authorities have passed motions in support, most are actively holding meetings on the day.
The Roads section of An Garda Síochána has come out in support.
Tags: