The Buncrana Electoral Area has recorded a significant rise in Covid-19 cases, according to the latest local incidence rates.
The Lifford-Stranorlar area had Ireland's second highest levels of Covid-19 transmission in the last fortnight, but rising rates in Inishowen have also become a cause for concern. 
The COVID-19 Dashboard provides data on the incidence of Covid-19 by local electoral area on a weekly basis.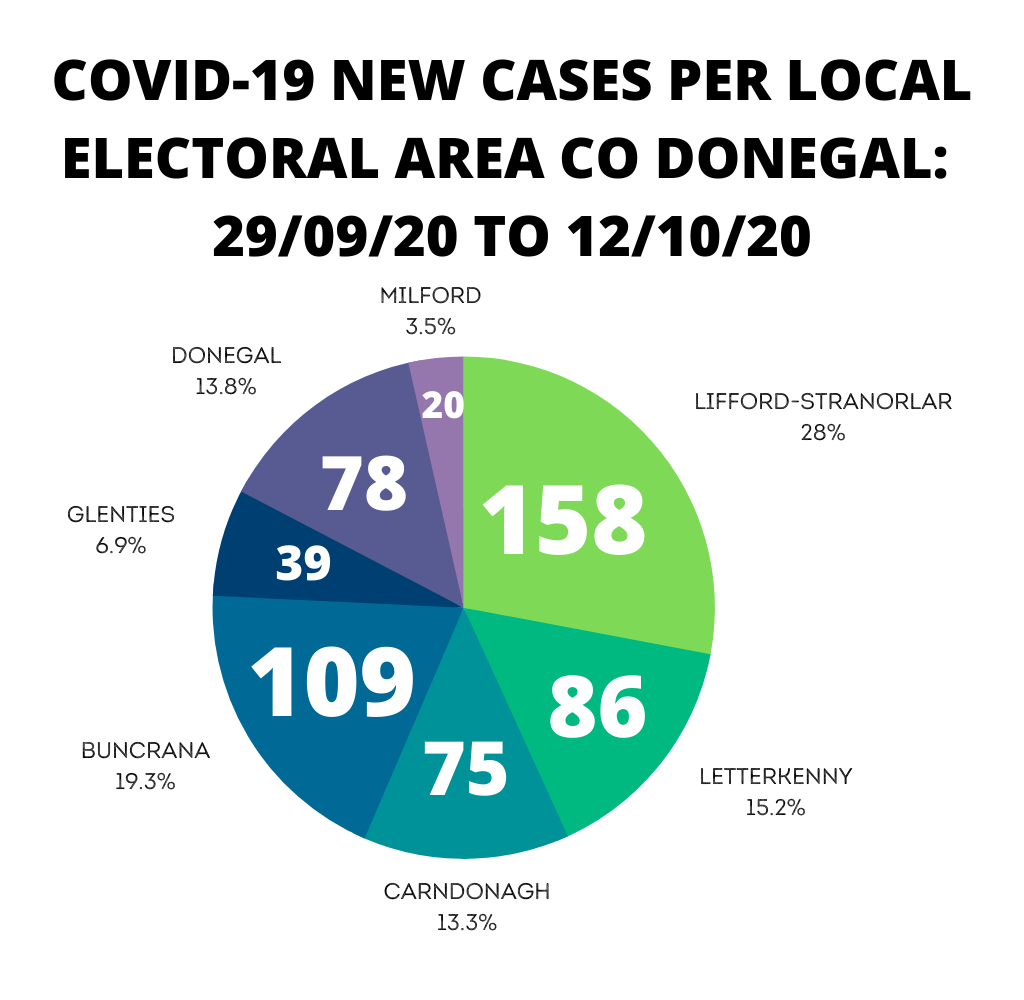 There were 109 new cases of Covid-19 in the Buncrana area in the two weeks up to 12th October – marking a 101% increase on the 54 new cases detected in the previous period up to 5th October. Buncrana's 14-day incidence rate per 100,000 rose from 241.4 to 487.3.
Carndonagh recorded 75 new cases between 29th September and 12th October, while there were 59 cases in the previous two weeks. The incidence rate stands at 442.1 cases per 100,000.
Ireland's national 14-day incidence rate was 177.2 per 100,000 last week, but this has now risen to 217.9 per 100,000.
Transmission rates in Lifford-Stranorlar remain at a dangerous level. There were 158 new cases of the virus in the area in the last two weeks. The incidence rate of 610.3 cases per 100,000 is the second highest in the Republic after Ballyjamesduff in Cavan, where the 14-day incidence rate has shot up to 651.1 cases per 100,000.
Letterkenny was the only area of Donegal to show signs of improvement. There were 86 new cases of the virus confirmed in the area in the most recent two week period. The incidence rate has decreased from 332.3 to 288.7 per 100,000.
The Donegal local area has had 78 new cases and the incidence rate has increased to 294.4 per 100,000. 
Two areas of Donegal had below-average rates: The Glenties area recorded 39 new cases in two weeks up to 12th October. The incidence rate is 163.1 per 100,000. Meanwhile, Milford had 20 new cases and recorded an incidence rate of 145.2 per 100,000.