RUGBY has once again started back for the coming season at Finn Valley Rugby Club .
The Finn Valley Rugby Club committee have been tasked with wading through the regulations, not only from the IRFU but also to ensure the club's strict adherence to public health guidance since they have returned.
The girls only started last year and immediately they began to make an impression, winning the majority of their matches at both Mini and U-14 level. There is an enormous amount of talent in the Finn Valley area.
The area has already got two internationals, Larrissa Muldoon and Laura Feely, as well as one Ulster Player, Shannon Heapes – who is at present helping Allen McCrea with the girls under age training.
Finn Valley Girls age 9-15, (u12s, u14s, & u16s) started the ball rolling a few weeks ago and numbers have been growing steadily. Girls are training in pods to adhere with current public health measures.
The under 12 boys will be starting this Saturday 21st November, coached by Damien McGlynn. Full contact is not allowed yet, therefore in the first few of weeks until everybody gets used to taking hits, pads are used instead. These are cleaned on a regular basis and every precaution is being taken to ensure the equipment is safe.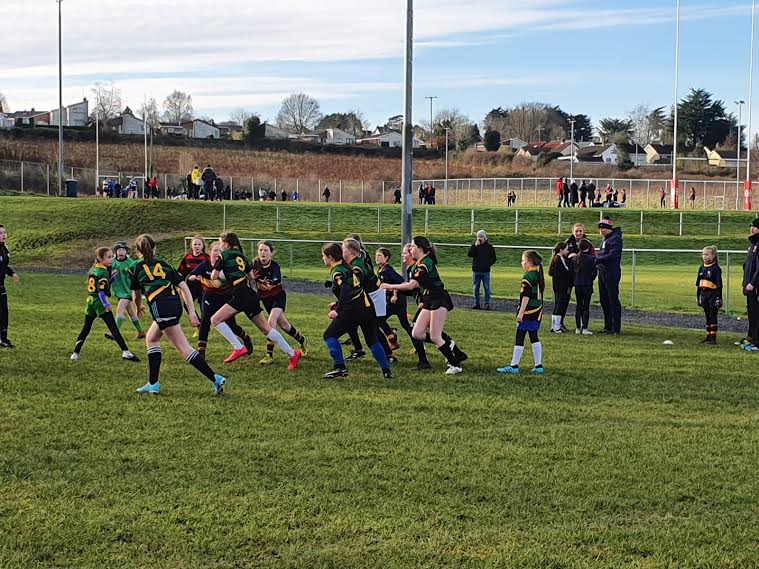 The girls are coached by Allen McCrea who has been coaching for the best part of the last 40 years. He is helped during the week by Tommy Greally, another veteran from Letterkenny Rugby Club.
The girls are divided into two pods, which will be increased to three pods shortly as soon as the U-16s come on site. The younger girls 9-11 are in the youngest pod most are veterans of last year which was out first year in existence.
The older girls aged 12-15, have already really impressed and amazed their coach with the amount of work they have been putting in over the summer
Any girl interested in having a go? It is not as physical as you might think, Please contact Allen McCrea (086) 3325955.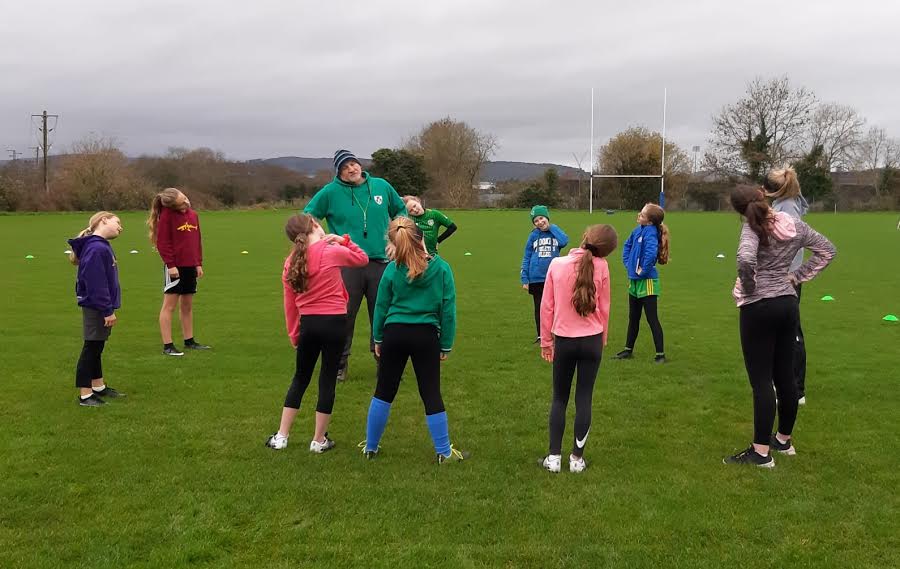 The older boys groups aged 12-13 & 13-15 have now been training on a Wednesday evenings for the last two weeks and numbers are encouraging.  We hope to field both a full u-14s and u-16s out in the next couple of weeks. Coaches are Sean Douglas and Shane Gallagher.
The club still needs new recruits, so if you fancy a go come down to Finn Valley or contact Sean Douglas 0876345965
Coaching Sessions take place at the Finn Valley Athletic Club whom we thank for use of Playing fields etc.
Saturday Morning Training sessions
Girls ages 9-11 Report at 9.30am, ready to start 9.45am-10.45am Coach Allen McCrea
Girls ages 2-15 Report at 10.45am, ready to start 11.00am -12pm Coach Allen McCrea
Tuesday Evening Training sessions
Girls ages 9-11 Report at 6.15pm, ready to start 6.30 pm -7.30 pm Coach Allen McCrea
Girls ages 12-15 Report at 7.15pm, ready to start 7.30pm -8.30pm Coach Allen McCrea
Wednesday Evening Training sessions
Boys – u-4's & u16's Report at 7.15pm, ready to start 7.30pm -8.30pm Coach Sean Douglas
Parents and Players please note the following procedures in place for the safety of all at Finn Valley Rugby:
•All players need to answer medical questions before they start training
•All players to come togged out use of indoor facilities is not allowed