Liam O'Donnell measures out two metres with his feet. "That's the distance for the photo-call this year',  he announces.
"You stand over there, Jim, on that line and I'll stand here on this one. How's that now Brian?' Liam calls.
Liam is Liam O'Donnell, manager of the Letterkenny Community centre and Jim is Jim Lynch, editor of the Letterkenny and District Christmas Annual.
By Brian McDaid
In the background is the community centre where many of the articles and photos contributed have arrived by post over the World Wide Web or just handed in.
Not too far away near the  Port Bridge, local company Browne Printers are presently loading the pages on the printing press and this year's annual will be available in shops around the town soon.
One of the last pieces included in this year's annual is that of the sad passing of Joe Kelly whose funeral was on Tuesday in Letterkenny this week.
Sad as these are the Christmas annual tries to remember as many of the town folk that pass that year.
This, the 2020 edition of the Christmas Annual will be the 39th edition.
Recently I was involved in a project to preserve most of the 39 front covers of the town's Christmas annual over the last four decades which will soon be on show on the walls of the community centre.
Working on these front covers triggered a lot of memories of different years living and growing up in Letterkenny, this year Santa is on the front cover looking into Letterkenny from a rooftop complete with his COVID mask.
For me, it's my late uncle Miah Deeney that comes to mind when I see the Christmas Annual every year. He was one of the town's folk that read the Christmas annual from cover to cover. He kept a set of the annuals up to he passed away in 2004.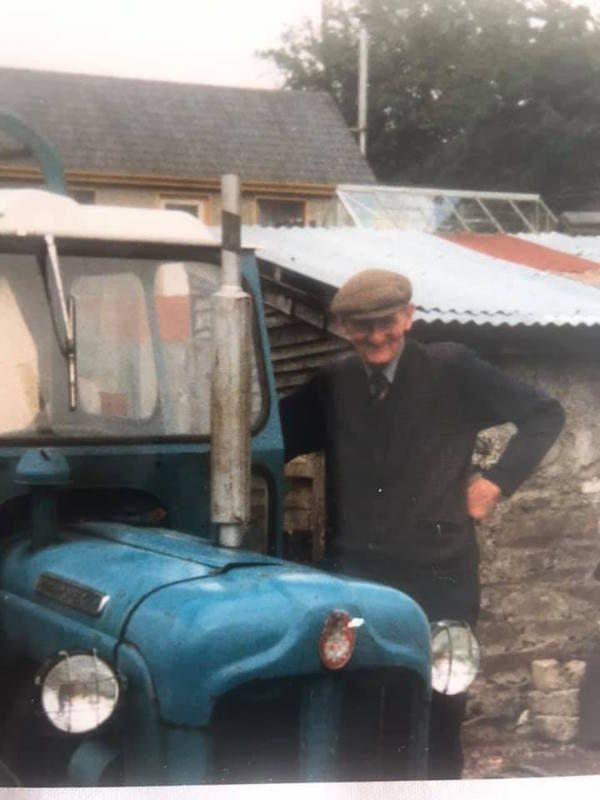 Every so often I get lost in Letterkenny memories thanks to Miah and the work that the Community Centre did to preserve the local man and woman and the history of our wee town.
Even a few of our motoring column write-ups  will appear in this year's annual including the many generations of Tommy Keys and their tractor and the story of Dunne's Stores Butcher Tommy Teas who retired from the trade this year.
I have included a small video of the press launch along with a few pictures of the front covers over the last 39 years with the address from the editor Jim Lynch for the forthcoming 2020 annual.
As you will read it's set to be a great gathering of town's memorabilia be it photos, poetry , or memories,
Also included is a slide show of a few of the different front covers of the Christmas Annual over the years.
Editor Jim Lynch's address:
Welcome to the community and I hope you all enjoy this 39th edition of nostalgic memories, 400 photos of people and events, local social, researched history, sports reviews and profiles, poetry, past and present events, personalities, buildings old and new, and a list of interesting anecdotes.
Your efforts and contributions are recorded as a library of 39 annuals for posterity and research and they explain who we are. Within a fast-growing diverse society, this is a valuable resource. The annual is a vital link between home and emigrants, anyone away from home. We know how much you look forward to getting it. Again, we appreciate all the loyalty out there – contributors, buyers, sellers and advertisers.
This year has been difficult for us all, but despite restrictions of COVID-19, you responded with your usual generosity of spirit. The pandemic brought the world to its knees, superpowers had to surrender to it. We witnessed a universal commitment to discover a vaccine, and yet, we continue to wage wars, crimes on humanity, allow hunger, discrimination, ethnic cleansing, and loneliness. Hopefully, newly elected President Biden will unify, heal, – "A time to sow, a time to heal".
Many of our friends, many of our relatives have suffered due to restrictions imposed on us, all for the common good. Many of these could be described as unchristian, unbearable such as: separated broken families, suspended church services, isolation and solitary confinement, watch a loved one die from the other side of a perspex sheet, refrain from travelling to a funeral, a grandad waving from a distant window, isolation of a lone pensioner, consultation in a bereavement, a lone parent with agitated children on the 10thfloor. So many human needs are denied. Not since penal times were we denied going to mass! Yet we have been a resilient people for the common good, in general we did as requested.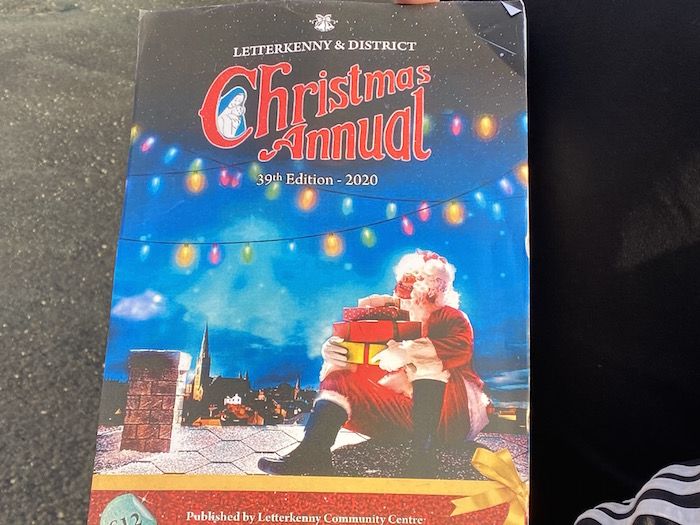 Even our Santa, on this cover, is wearing his mask! Our senior citizens deserve our support – that's the generation that survived two World Wars, rationing books, Spanish Flu, and lean times. We all became fitter, enjoyed the open air and the countryside, and more creative, despite commercial lockdown. Will "click and collect" become the norm, will church service attendance be the same? We had drive-in bingo, why not drive in mass? Our needs have become simpler, basic again.In a section "We Remember" many, not all, of our friends who had died are submitted in pictures. Our sincerest sympathy goes out to every family who had someone deceased in our community. The few written tributes are those who have contributed in the past to this annual, community centre members such as Jessie's wife, Kathleen, Pat Dawson, Con O'Halpin, Fr. T. Curran, Fr. McHugh, and Vinnie Corrigan.
As I write, the news of the sad death of Joe Kelly of Wolfe Tone Place, son of Ann and Frank has filtered through. He was a very successful young father who became Global Vice President of Huawei in China. The Annual must have nostalgia. K. Kelly researched the family tree of the Dohertys of The Central, a very prominent family, in the commercial, social and political life of the town. Read about that connection between The Central, Railway Tavern, Blake's Bar, Old Barracks now Wolfe Tone Bar. You may remember buying a bar of Blackjack, Sailors Chew or Macaroon Rosha's No. 26 Upper Main Street. Dermot McDevitt brings us out the backyard behind Rosha's! M. Molloy and his sister Tina, take us down memory lane! Remember the cow dung on Main Street during the Oldtown Fair! Two lads on the milk carts of Larry and Maurice Graham described early morning deliveries of the frozen milk bottles to your doorstep. Have you forgotten about the discipline caused by fear from those dreadful teachers of the past? John McArt recalls memories of his late dad bringing the light to Donegal.
There were fewer cars on the road when the late Time Foley patrolled on his A.A motorbike and sidecar! Brendan Delap went on holiday as a young man, he is still a fit long distance walker! It was the talk of the Burma when our neighbour "Big Phil" converted a Swilly Bus into a caravan. "Wee Phil" drove buses in U.S.A also. Back then it wasn't "click and Collect", – no money in the bank, but there was a system called "Hire Purchase" (H.P) – without it back then we would have been cold, hungry – recall those days in "The Travelling Salesman." How locals looked forward to the Panto in the Devlin Hall. Pearse McMenamin takes us backstage during the first one in 1958. "Next dance please" in the Devlin, to the music of Frank O'Hara, when he sang "Sweet Caroline" here or in America fans couldn't get enough! I am impressed again with Niall O'Donnell's deep, informative and comprehensive research into the international success of our proud local family "The Pattersons". I have to say, I was filled with nostalgia and tears when "A Light went out in the Burma the Day Kathleen Died" was submitted. My late mother was a character, so many anecdotes survive and she hasn't been forgotten.Local social history, the local fabric, has been spinned and woven into stories researched and carefully documented by Hugh Devlin, Eamonn Harkin, Sean Boyle, Caroline Carr, John McArt, B. McDaid, and Kieran Kelly. Articles such as Oldtown Fair, Spanish Flu, Dohertys of The Central, Ambulance Drivers, E.S.B, Memorial Stones in Leck, Bloody Sunday in Croke Park, Convoy Woollen Mills, The First Columban Missionaries to China are indeed informative. You will find them Interesting.
For some reason, personality submissions this year are popular. Perhaps we have all been reflecting on each other during the pandemic! A time to appreciate what we have given to our community. The personalities mentioned, have indeed been "Legends in Their Own Lifetimes" – the three Johnnies associated with the O'Donnell Pack, Tommy Keys, Fergus Cleary, Sally Blake, Tim Foley, N. O'Boyle, the Pattersons, Frank O'Hara, Dan McTeague, Seamus Hoare and Harry Walsh.
It is also time to congratulate local girl Ciara Doherty the new presenter on the Tonight Show on Virgin Media. We wish continued success to Enda Nicholls, Kevin Gallinagh in his 40th year in business, Ballyraine F.C. You can sail into the sunset with Pat Doherty on his journey with the "Banana Boat Song" into the West Indies!
In particular, I am delighted to introduce you to Rev. David Houlton and his wife Rev. Heather of Conwal Church. Their article "There and Back Again" gives us a great, personal insight and story. It has everything – love story, divine inspiration and calling, so many connections with Columba both here and in faraway places, their backgrounds, travel, and you will enjoy it with admiration.
Local sports clubs use the magazine to document their annual activities. We had the World Tug of War Championships in The Aura this year. Sean Boyle and Paul McGovern highlight GAA teams and personalities. Eric white interviews KyleMaloney and Paddy Walsh plus Harry Walsh under the spotlight. The connection in the beginning between LCC and the Athletic Club is verified by T. McDaid, and as usual, M. Crossan submits photos of young athletes in competitions.
As the local authority adopts another development plan, we look forward to projects such as remodelling of the Market Square, a new transport hub in Oatfields or the E.S.B sites, civic use of the old courthouse, refurbishment of Lower Main Street, connecting the Cultural Corridor, a new bridge to relieve traffic congestion, Cathedral Quarter proud of the mural looks forward street refurbishment and Brownfield site.
We are approaching the end of Level 5 in this pandemic and vaccine will be available.  All of us are longing for the joy of normality, as we go into advent. It is time again to write those Christmas greetings, light the tree, put the crib on a prominent place, exchange greetings of joy and peace, and give something we value to the ones who appreciate the gesture.
I feel Christmas will be different – we want to connect, make it simple, sing from our yearning hearts with peace of mind, value each other again – a spiritual rather than materialistic Christmas. All our needs are simple this year, it might only be that smile, wave, hello, a kind word that we have almost forgotten to give.
Remember, don't forget about that hidden soul down the road, those alone who really are isolated during the Christmas season, locals who can't get home to their loved ones, without family here.
The memory of Dan McTeague singing "O Holy Night", the community carol singing and the lit candle annual carol trail  from the Presbyterian Church stopping at all the churches for a reading and a song, followed by tea in Conwal Parish Hall, all create that joyful atmosphere. Please God will we have it all again.
I wish you joy, good health, peace and spiritual comfort within a caring family or company, wherever you are – in Letterkenny, at home, or away from home. May you enjoy many contented hours around your fireside, during the festive season, reading this annual. God bless you and your extended families.
Tags: