Bluebird Care, a leading homecare provider based in Letterkenny, has announced it will be creating 40 new jobs due to an increased demand for services locally. 
Bluebird Care Donegal are recruiting 30 Health Care Assistants in a mix of full and part time roles. While suitably qualified candidates are preferred consideration will be given to those with no qualifications but who are interested in a career in care.
Bluebird Care have launched an innovative "Earn while you Learn" programme. The programme is for individuals looking to change career paths and secure a QQI Level 5 qualification. Full training will be provided.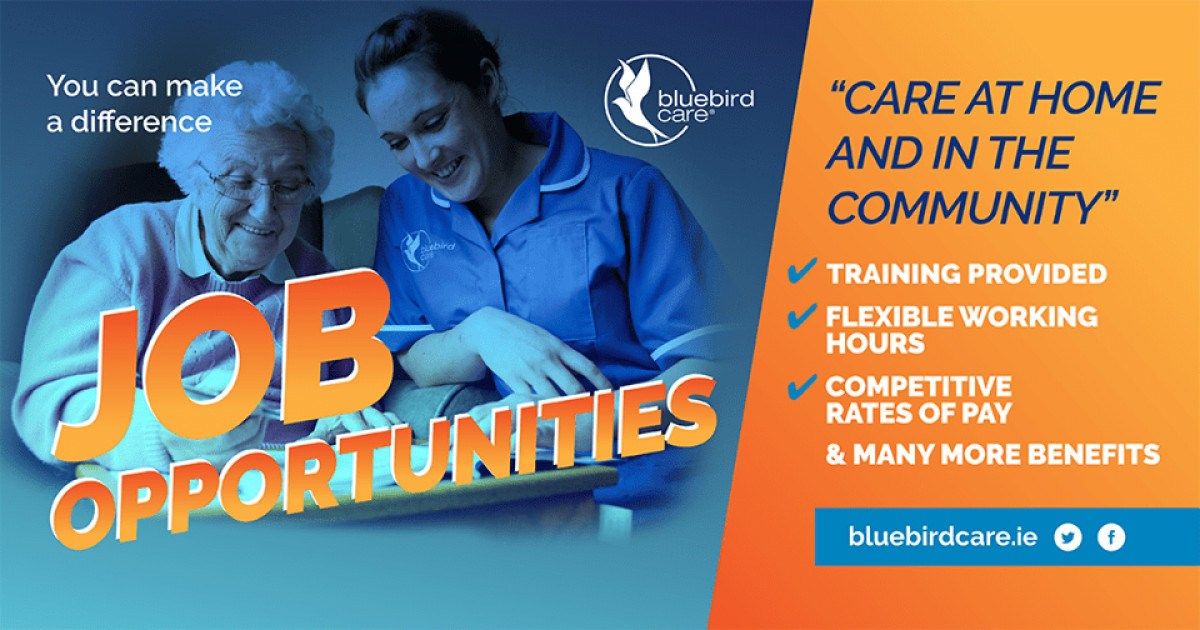 Owner Marty Kelly commented: "We're proud of the high-quality professional service we provide across the county. We're delighted to announce that we are seeking to recruit a number of new staff in the coming months. These additional staff will allow us to increase our capacity and the professional range of services we provide to our customers. We're encouraging anyone who may have an interest in working in this exciting care sector to contact us to learn more about the work we do."  
Marty continued: "Bluebird Care are committed to providing high-quality, safe and effective care in our client's own home which is, more often than not, their preferred place of care. Our unique and dynamic working environment allows for rewarding and flexible employment opportunities for potential key staff. With this in mind, we're delighted to begin recruiting caring and compassionate people to join the Bluebird Care team."
Additionally, Bluebird Care are also seeking to employ 10 nurses with the following backgrounds – General, Intellectual Disability & Paediatric Nursing for both part time & full-time hours mainly to care for children. 
If interested in finding out more, contact their Letterkenny office on Donegal@bluebirdcare.ie or call 07491 29562.  To see more of what Bluebird Care has to offer visit  www.Bluebirdcare.ie
Tags: