Sponsored Post:
Donegal Daily's feature series with Letterkenny Institute of Technology continues as we hear the stories of current students and their experiences on LYIT's many courses in the run-up to the CAO deadline on February 1st.
Tracey O'Flaherty, is a third-year Bachelor of Science (Hons) in General Nursing student at Letterkenny Institute of Technology (LYIT). Tracey returned to education as a mature student in September 2018.
Originally from Gweedore, when Tracey left secondary school she studied a Degree in Forestry, however, she never worked in this sector and spent many years working in quality control roles before moving to Australia in 2007. She did return to Ireland in 2009 but when the recession hit, she made her way back to Australia and remained in Australia until 2015. 
Tracey always had an interest in Nursing, her two great-aunts were both nurses and were such an inspiration to her, and in January 2018 she applied to study Nursing via the CAO as a mature student.
Tracey commented, "At the time I applied for Nursing I was actually living in Edinburgh, we made the move back to Donegal in March 2018, and I did the aptitude test for Nursing when I came back. I began studying Nursing at LYIT in September 2018 and I remember my first day so well. I met Rory McMorrow in Admissions at LYIT and he settled my nerves, getting into the swing of education again was a learning curve. To be honest, my return to education would not have been possible without the support of my mother, father and husband, they have been the most incredible support."
Tracey added, "As a mature student you do have to work hard but the support you get at LYIT is incredible. The lecturers are beyond supportive, their doors are always open and having studied in another university before I know that these type of 'lecturer-student' relationship don't exist in every university or college. The craic is also good too!
"As a mature student you really have to be dedicated and committed to your studies.
"I have found my placements brilliant and the support that Dr. Louise McBride, Head of Department of Nursing and Health Studies has given to us during our Covid-19 work placements has been really appreciated.
"I have really enjoyed my 'Nursing Skills' modules, the facilities, the experience and the equipment at LYIT is state-of-the-art. The mock hospital at LYIT really gets you ready for your clinical placements, you get chances to practice your skills before going into 'real-world' situations."
Tracey further added, "If I was giving advice to other mature students applying to Nursing, I'd say 'don't doubt yourself'. Yes, it does take a bit of juggling to make things work, but at LYIT you have everything you need to succeed. You are capable of succeeding. My experience on the wards has been incredible and the Clinical Practice Co-ordinators in the hospital have also been an amazing support. I would encourage any mature student thinking of returning to education to go for it, I have loved every minute of my time at LYIT."
LYIT's Department of Nursing & Health Studies offers a wide and varied range of Level 6/7 and Level 8 CAO programmes. 
(story continues below)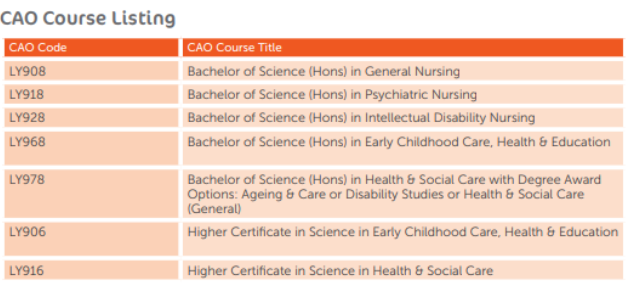 To find out more about the Department of Nursing & Health Studies CAO programmes available at LYIT visit: https://www.lyit.ie/Study-at-LYIT/Find-a-course/?lvl=100 
To explore your CAO options further and to hear more about the Department of Nursing & Health Studies programmes, watch the You Tube video here: https://www.youtube.com/watch?v=i6_Fu7flEQY&t=2s 
At LYIT, your future is our focus.
Tags: