Update: The girls at Loreto Letterkenny have raised 2,871 euro for Daffodil day so far, and are hoping to reach 3000. Any donations, big or small, would be greatly appreciated. All proceeds go to the Irish Cancer Society. 
Loreto Letterkenny's Virtual 5k for Daffodil Day is well underway.
Transition Year students are hosting an online campaign this weekend in support of the Irish Cancer Society's biggest fundraiser.
The usual street sales cannot take place this year, but students are promising to go the extra mile to keep the support strong. Visit the donation page here: http://www.justgiving.com/daffodil-day-loreto-letterkenny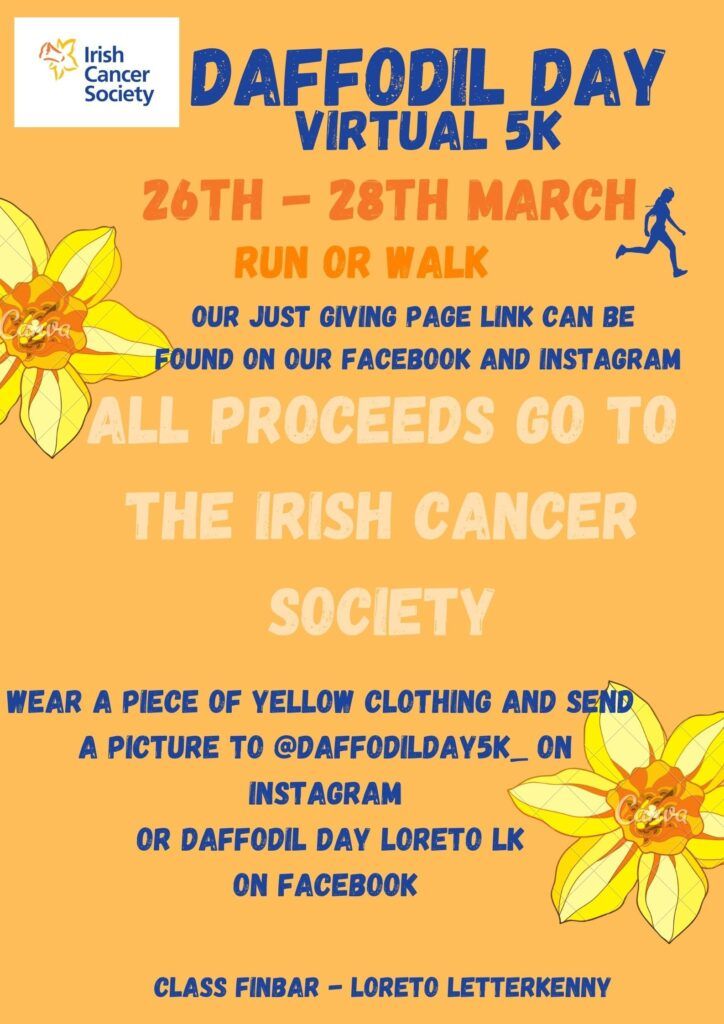 Students Kate O'Connor and Maire MacGabhann explain what their mission is about:
We are running a virtual 5k fundraiser in aid of the Irish Cancer Society, for Daffodil Day. It will be on the 26th – 28th of March. You can walk or run.  All of the proceeds will go directly to the Irish Cancer Society. We would greatly appreciate all donations, as every little counts. We all know someone who has been affected by cancer.
This year Daffodil Day is on the 26th of March. Daffodil Day is a day for us all to give hope to people affected by cancer. Funds raised during Daffodil Day are used across the country to help the 44,000 people who will hear the words "you have cancer" each year.
Your donations will ensure the Irish Cancer Society can continue to provide free services, such as the Freephone Support Line, the Night Nursing Service, counselling, and so much more.
Together we can ensure that no-one has to go through their cancer journey alone. 
Everyone is welcome to join in and do a 5k in their local area. To take part or sponsor students as they complete their challenge, please visit:  http://www.justgiving.com/daffodil-day-loreto-letterkenny
Tags: