Ireland's Chief Medical Officer Dr. Tony Holohan has said the Covid-19 situation in Donegal is extremely concerning.
Donegal recorded another 29 cases today, bringing the 14-day incidence rate to 295 per 100,000 – almost three times the national average. There have been 467 new cases in the county in the past two weeks.
"This is extremely concerning for public health doctors locally," Dr Holohan said today.
The CMO make a plea to the public and local leaders to work together to reduce the spread of the virus, adding that reopening plans would not have been recommended if the whole of Ireland had the same rates as Donegal.
"It's safe to say that if we had anything like the situation that pertains in Donegal pertaining to the rest of the country, we would not have been recommending these measures," he said.
"We still have a window of opportunity as we run into next week, for people in Donegal at political level, at a local leadership level, leaders in civic society, sport, media and anybody with any influence in that part of the country to mobilise and come together.
"It's important that the people in Donegal, in respect of many measures we are talking about here, we are genuinely concerned about the situation that pertains in that part of the country."
"We are calling on community leaders in areas such as Donegal, where the virus is still circulating at dangerous levels, to encourage the people there to stick with the public health measures, especially if they are vulnerable or have yet to be vaccinated," Dr Holohan said.
"January was a difficult time for us as a country, but particularly tough for those in Donegal. It is important that we look forward now and work together to reduce incidence nationally, but also in our own locality. Your individual actions for the good of your neighbours and community do matter, and they will make all the difference."
The Letterkenny and Milford local electoral areas have been revealed as the worst affected regions for Covid-19 in Ireland.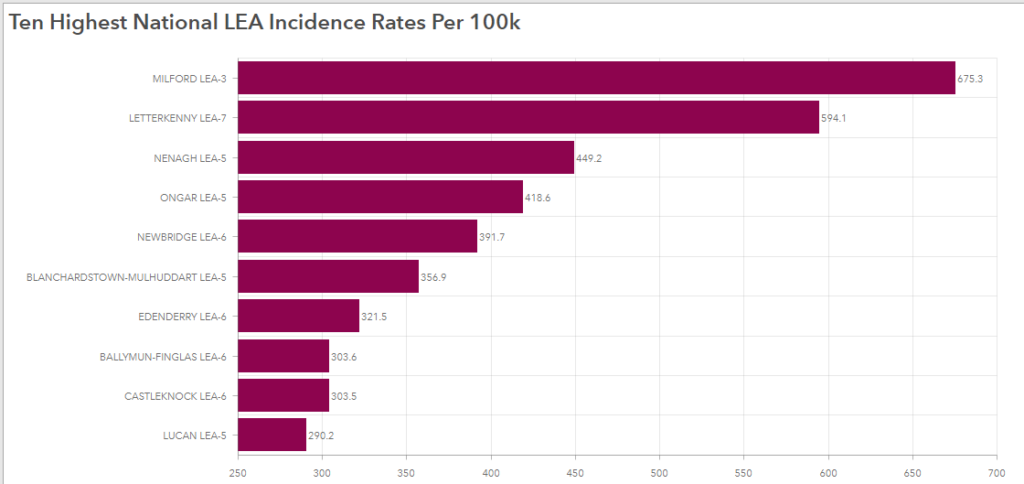 NPHET reported a further four Covid-19 deaths and 545 new cases of the virus nationally today.
Dr Tony Holohan added: "The easing of restrictions is a welcome and deserved turning point in our collective efforts to get through this pandemic. It is a step closer towards the shared national goal of suppressing COVID-19 and protecting the vulnerable."
Professor Philip Nolan, Chair of the NPHET Irish Epidemiological Modelling Advisory Group: "Business owners, employees and customers have received welcome and much-awaited positive news regarding the restarting of our economy. However, it is extremely important that everyone take this time in anticipation of reopening to review their safety practices and protocols. This is for the benefit of us all, but critically for those who they employ.
"Remember that you have a duty of care to those that work for you, and your patrons and clients. Reopening comes with it the responsibility to mitigate the risk of COVID-19 spreading in your establishment.
"We are all looking forward to seeing one another again for a browse, a coffee, or a meal. But we must do so safely, and in new ways, to ensure this virus is kept at bay for the coming months as vaccination levels continue to increase."