Training for rugby started again on Tuesday 27th April.
The Girls started on Tuesday evening and the Boys started on Wednesday evening. Both groups will train on weekdays and on Saturdays mornings.
It was great to see so many girls and boys interested, and I am sure that both Mammies and Daddies were delighted to see their children getting some much needed exercise.
At present we are only allowed play touch rugby, but it is the perfect time to brush on basic fitness, passing skills, Line defense etc.
This is the perfect time for anyone to start playing rugby or even see if they are suited to rugby. There are different age groupings with three groups for boys and shortly there will be four groups for the girls.
One of the things that will amaze most people is that we are finding that the smaller boys and girls are really getting in to playing. In older days everyone reckoned it was the big guys who played rugby, but give me the little ones who can step around the big ones.
Rugby is so much safer than it used to be and there are strict rules regarding tackling and rucks.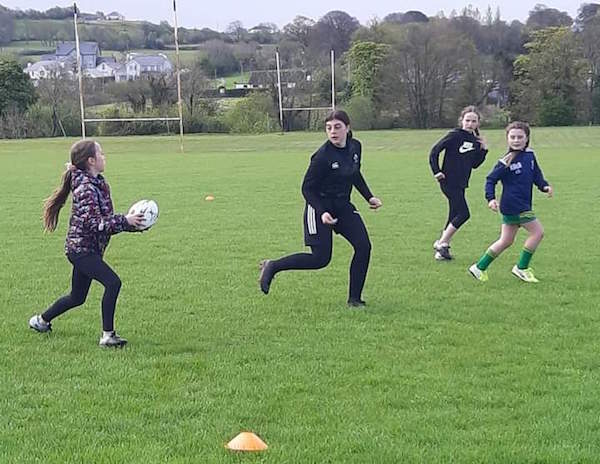 Also the rugby that we play is a far cry from the professional rugby we see on television especially the male version
It was great to see Ireland Ladies team do so well recently in the home internationals. At present Ballybofey has one girl (Laura Feely) in the main team and we have Laurissa Muldon who is a veteran international, in terms of caps, ready to come back in again as soon as she is fit.
If you have a boy or girl who might be interested in playing rugby regardless of size or ability, now is the time to send them down to the Finn Valley Centre. Times are included below…If anyone would like to know more ring me Allen McCrea 086 3325955….Anyone from 9-17.. Any size or build.
Tuesday
Girls
Register Pitch
U12's
6.15-3.30 pm
6.30-7.30 pm
U14'S/U16's
7.30-7-40 pm,
7.40-8.40 pm
Wednesday
Boys
Register
Pitch
U12's
6.45-7.00 pm
7.00-8.00 pm
U14'S
6.35-6.45 pm
6.45-8.00 pm
U16/U18'S
6.35-6.45 pm
6.45-8.00 pm
Saturday
Girls/Boys
Register
Pitch
Girls U12's
9.30-9.45 am
9.45-1045 am
Boys U12's
10.15-10.30 am
10.30-11.30 am
Boys U14'S/U16/U18'S
10.35-10.45 am
10.45-12.15 am
Girls U14'S/U16/U18'S
10.50-11.00 am
11.00-12.00 pm