Most of us enjoy a nice summer swim.
But Rosses man Jason Greene is planning something a little different and it's all in aid of children who are less fortunate than most.
Jason plans to swim the length of Cruit Island off Donegal's West coast which is approximately 6 kilometres on the June Bank Holiday Weekend.
Every cent he raises will go directly to the Children's Health Foundation Temple Street.
Now one would think that Jason might have a personal reason for choosing the children's hospital.
He is lucky enough not to have needed the services of the hospital for his own family but he knows many who have.
Jason said "I am doing it because I can do it and as a father I am lucky to have two healthy children. There are a lot of kids and their families who are unfortunately not in that position.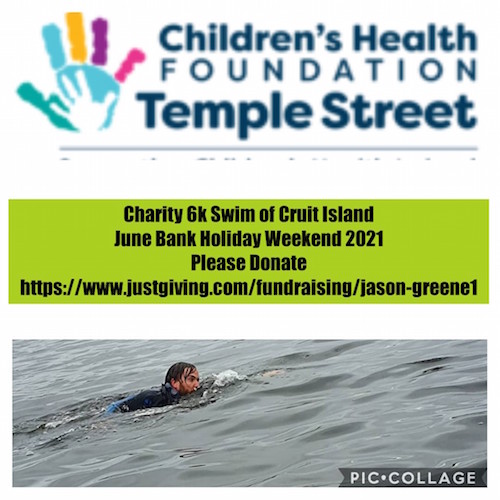 "For those children you would want them to have the best medical care available and that is something which Temple Street provides with the help of donations.
"As a parent you always have a fear at the back of your mind about the health of your children and you can take solace in that there are places like Temple Street Hospital available.
"So that is why it is important that people donate so we can keep Temple Street a world class hospital for sick children's medical needs."
Jason is an avid swimmer but now plans to put his love of the sea to good use.
He adds "I generally like to keep fit and always love getting out on the sea around the Rosses so it's better that I put it to some good use other than just for my own enjoyment.
"So I have been putting the miles over the past couple of months in the sea with the aim to complete a 6km swim at Cruit Island on the June Bank Holiday with the hope I can reach a donation's target of €1,000."
Let's get him well past that and recognise this amazing act of kindness by logging onto https://www.justgiving.com/fundraising/jason-greene1  and giving what we can.