A SHEET of parchment paper and a 1.8mm 9 carat gold medal have little in common.
And, yet, those items, representing very different achievements of the owner, are intrinsically linked in a house at Bomany.
Michael Murphy's Degree in Physical Education with Biology takes an equal pride of place alongside the Celtic Cross he collected after captaining Donegal to the 2012 All-Ireland.
In many ways, it means more.
At 31, he is Donegal's captain for an 11th successive season and the fire burns as bright as ever.
So, too, does his thirst for knowledge.
That took him to University of Ulster, Jordanstown last year to begin a Masters in Sports and Exercise Psychology.
"It was an area that I was interested in grasping the theoretical side of in terms of my own playing career," he says.
"I was starting to get a knowledge of the physical side, the tactical side and the mental side was something I always wanted to figure out a bit more.
"Even just the time to go back to learn, at 30, it was a good time to go back. I was just beginning to really try to mould what way I thought that things had to be done. Whether that was my own sporting career or life in general…going back to college really broadened my horizons again.
"You have nothing figured out whatsoever. You have so much more to go and learn. Learning in the course was brilliant. In terms of life, it brought me to say: 'there is a whole lot more to go after here.' It gave me a new lease of life. It brought me down to a lower rung of the ladder where I had to start climbing again."
Education and sport have always been interlocked in Murphy's life.
Recently appointed as Head of Sport at Letterkenny Institute of Technology, that has perhaps never been truer for Murphy.
"I'm coming 32 and, unfortunately, won't be playing football forever.
"I'd like to be able to contribute to life and society then in a different way. I don't want it to be a case of: 'Right, Michael, that's the football career over, away you go and disappear'."
*****
IN A lecture theatre at DCU, Murphy surveyed the room.
He left home, on the outskirts of Letterkenny, as one of Donegal's brightest stars.
Even if football was how he was known, he was determined that he wouldn't be solely defined by it.
The challenge presented itself starkly when he went to college in Glasnevin.
"I had to stand on my own two feet, sit the course and get assessed like everyone else.
"Going to DCU, I was just known as the footballer, maybe seen as a person who wasn't smart enough to study a course: 'He'll not be able to study that, sure it needed 480 or 500 points'.
"I got in through an elite entry scheme and there was a points concession. I was over the moon to get in, but there was always this thing nagging away at me: 'Are you fit enough to keep the sporting ambitions alive and do this course?'
"It was a level playing field once I got in – and I was conscious of that."
During the 2007/08 school year, Murphy, ready to sit his Leaving Certificate exams at St Eunan's College, went for an interview at DCU.
Professor Niall Moyna sat opposite and delivered a blunt assessment. It was his belief that Murphy would not pass the first year of the PE and Biology course as he wasn't sitting biology for his Leaving Cert.
Murphy captained St Eunan's College to MacLarnon Cup victory in 2007 and had broken onto Brian McIver's Donegal senior team by the time he left the Letterkenny school.
Murphy repeated the Leaving Cert, this time armed with biology, and was accepted into DCU.
"There were no concessions once you were in. I was shy within the course, I suppose, but I think the competitive side kicked in.
"I loved it. I was learning about sport, physical activity and physical education. Being able to study something I loved was brilliant. I still remember the modules and the components; they've shaped me and where I am."
The doubts swirled often through his four years at DCU.
During those times, he captained Donegal to the 2012 All-Ireland and won two Ulster titles.
The satisfaction of returning to Glenswilly with that piece of paper meant just as much.
"Being in that course from 19-23 gave me a belief as a person more than any victory on the pitch.
"I was just known as Michael Murphy the footballer, but now I was standing on my own two feet with a degree."
The winter of 2012 was a blur, through functions, dinner dances, official openings and appearances with Sam Maguire. Murphy wasn't just the captain of the side; he rocketed a goal in the early minutes of the final. The very earth beneath Croke Park shook when he blasted to the Hill 16 net to begin Donegal's defeat of Mayo.
When the dust began to settle, he briefly contemplated deferring his final year at DCU, but went with the gut.
"Going back into the class in DCU, it brings you back to having to prove yourself again. You weren't known as the captain who won the All-Ireland. You're the student on a level playing field again. I liked that."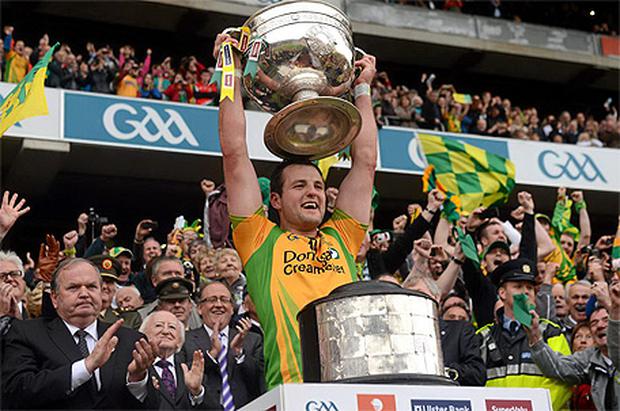 *****
SAM Maguire was wrestled from Donegal's grasp on a haunting afternoon at Croke Park in 2013.
The scoreboard told of an August Bank Holiday massacre: 4-17 to 1-10.
Mayo eased to a 16-point quarter-final win. It felt as if Donegal's music died.
For a while, it felt like square one.
He had a lot to figure in his own mind about himself, too.
Murphy tried his hand at teaching in the early months of 2013. He enjoyed his time at St Mary's in Tallaght. He could feel sort of anonymous, but the toll of the commutes proved too much.
"It was tough coming down from the All-Ireland and not performing anywhere near the levels. It was frustrating.
"I had to recalibrate that August. It was just a case of: 'It can't end like that'. We had to figure it out and drive on.
"I wanted to figure out my career options and where I was going, but I also had to commit to training. I was based at home, with no stiffness from traveling or excuses about the commute. I remember that winter trying to push things on. Jim committed again and there was a new vibrancy in 2014."
McGuinness's backroom changed that winter and there was a newness to Donegal again.
They soared through 2014 as they had done two summers beforehand.
In a seismic All-Ireland semi-final, they toppled Dublin. That electrifying game remains Dublin's last defeat in Championship football.
"There were a lot of the same traits as in 2012. We were reinvigorated."
The levels dipped in the weeks that followed, though. Donegal were beaten in a poor final by Kerry. Their chance has yet to come again and that loss remains one that 'grates' with Murphy.
By then, he had become a shopkeeper. Michael Murphy Sports & Leisure opened at the height of 2014's summer. With 10 staff working in what has been retail's most challenging year, the experience has been an eye-opener.
"There have been learning experience to the cows come home."
"I was really in at the deep end with no knowledge or experience so I had to learn on the go.
"Since lockdown, I've had to learn about the online side of it. I want to know about it to know what's going on.
"There are so many things to take across to football: You're trying to organise a group of people to go in the one direction; there is the planning behind that; on the financial side you're working within budgets; you're operating and working with staff."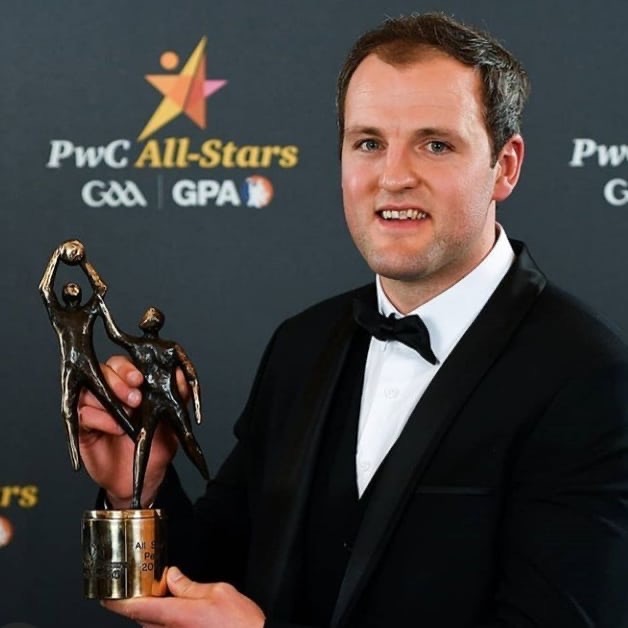 *****
THE lightbulb moment arrived when he was at St Eunan's College.
In transition year, still unsure as to his future direction, Murphy completed a GCSE in Physical Education.
"To realise that, no, you can actually study sport, was incredible," he says.
"When we did the GCSE in PE, that was the first time I realised: 'You can study sport'. I just had it as this extra-curricular thing you did, maybe you coached a team or something, but without anything beyond that."
Murphy came from Glenswilly National School and stayed seven years at St Eunan's College.
"Education was important. Mum always organised me to make sure I had work done. She took the interest in what subjects I was doing, what I was doing in them and how I was doing.
"That's something I'm very appreciative of. To have someone take that interest and check in was important. I was at an age, say from 12-17, where you want to push boundaries and see if there's a way you can get away with not doing something."
Anyone under Jim McGuinness's watch who might have been tempted to test the boundaries was in for a rude awakening.
Almost instantly, excuses were removed.
Murphy was one of a strong cohort of Donegal players based in Dublin when McGuinness took on the county under-21 job.
Murphy was still finding his feet in college life when McGuinness arrived with his plan.
Every Tuesday, McGuinness would drive to Dublin and take the capital-based players for training.
They had no floodlit facility and trained under an orange street light.
"We did that the whole way around until the clocks changed in March – the first time we had light was in the lead-up to the All-Ireland semi-final against Tipperary," Murphy says.
"Jim really showed how he meant business. The simple excuses were: 'I'm up here at college and can't make it down the road' or 'I'm training with the seniors and we're doing this'. Jim put those excuses out of the way.
"I had played a couple of years and the under-21s was very much a secondary support act to the seniors. When Jim came in, he put it on a pedestal the same as the seniors."
There was a strong Donegal group in Dublin that included the likes of Michael Boyle, Antoin McFadden, Peter Witherow and Martin McElhinney.
The course is now available at LYIT and he smiles as he thinks about the wrench of leaving Glenswilly.
"It was huge, as an only child who was at home the whole time, to do that.
"Leaving Donegal to go to Dublin was massive for me. To be able to get an opportunity to do PE here – like the course that's available here now – would have been a Godsend for me."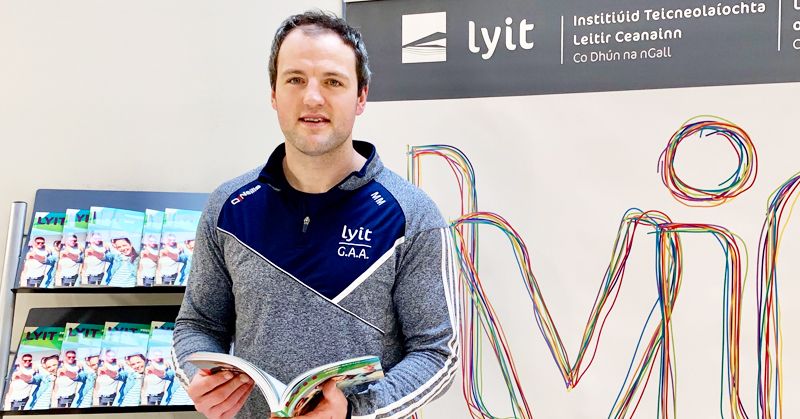 *****
EVERY night, he takes a note.
Learning as he goes, Murphy has drawn a huge amount from the managers he's played under.
It's all documented.
"Even now, any team I'm involved with I have my book that I come home to and write down the game or the session and the messages that were there.
"At Glenswilly, I took an under-15 when I was 18. I was always fascinated by how to develop a session, how to plan towards something."
He does it with his own sessions, too.
"More so," he affirms.
In 2017, Murphy trained with top French rugby side Clermont Auvergne as part of the AIB-backed TV programme The Toughest Trade.
Murphy switched places with former Welsh rugby star Shane Williams.
It was no ordinary week, either, as Murphy joined in as they were preparing to play Bordeaux Bégles. There he was, alongside players like Aurélien Rougerie and Morgan Parra.
"You wouldn't believe it.
"I go to a professional rugby outfit and was basically professional player with full access….God, we'd never allow this in GAA, a French rugby player to come in on the week of a Championship game!
"I was doing run-throughs with them. They were actively telling me where to go and what to do.
"I was taking down simple messages about how to structure warm-ups, ideas they were doing. If it worked for them, I was wondering how it could transfer across.
"I thought from I was 25-30 that you just had to find one way of doing something. At 22, there was the one way for me. I got to the pinnacle when I won the All-Ireland and thought there was one way."
*****
MICK Murphy's involvement with Donegal's development squads helped sow the seeds for the young boy in tow.
Michael Murphy tagged along to training, spending the evenings fetching footballs from behind the target and returning them. All the while, he was watching. Learning.
"I was football mad, dreaming of playing with Donegal and being successful with Donegal. I had that dream since I was really young. I was always trying to figure out the way of getting through."
When he moved into the development squad himself, he looked ahead.
Karl Lace, Eamon McGee, Neil McGee, Christy Toye and Colm McFadden – graduates who he had caught footballs from just a couple of years previously – were now on the senior ranks.
Murphy's time would come.
"I immersed myself in trying to get better in every way possible, with my physicality, my skills, whatever it was going to take to get onto that squad.
"Then, once I was on it, it wasn't enough. I wanted success.
"I always visualised going to games. As a supporter, I remember them all. There were always the tough days and it always seemed to be against the same teams."
He was just eight years old when he stood at Clones and watched Donegal lose an Ulster final to Derry.
There were tough days in the early moments of his own senior career. Indeed, it was 2011 before Donegal won an Ulster Championship match.
The arrival of McGuinness lit the touch paper.
"My ambition was just superseded by Jim. We were on the same wavelength. 'Let's get at this. Full-on. Let's go for it.'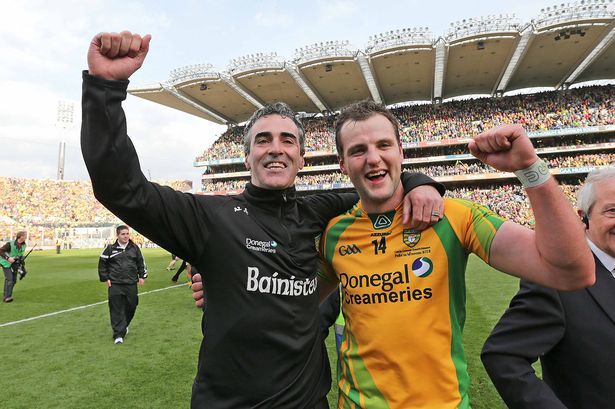 *****
HE looks out from An Dánlann, the sports centre at LYIT he now calls in base, and wonders of the modern youth.
The world and its habits are very different now to when he spread his own wings 12 years ago.
"It's still people," he muses.
"You're guiding or trying to be guided. A lot of things are changing – we can work remotely or study remotely – but you still have to create the environment for the relationships to flourish.
"Whether I'm connecting to a Donegal team-mate, or to a student here, a lot of it is about building a connection, figuring out how do we help or push things on.
"It all comes back to the ways we can engage with people. It may be through different platforms, but it's still about building those relationships."
You wonder what drives him, the Masters-holding All-Ireland winner with the successful sports shop and an attractive day job.
"Donegal," he says.
"Donegal is still the driver for me.  Anything I do is to try and put Donegal on the map or keep Donegal on the map. That's still the motivation.
"I have a love for football and a motivation for Donegal."
Tags: