The GAA in Inishowen has thrown its full weight behind campaigners to get 100% redress for MICA victims.
The campaign to get full financial compensation for those whose homes have been destroyed by faulty building blocks is now intensifying.
Huge protests in both Buncrana and Letterkenny at the weekend have caught national attention.
A now the GAA in Inishowen have supported the cause.
CLG Bord Inis Eoghain issued a statement on the matter last night.
Chairman Gearoid O Ceallachain said "CLG Bord Inis Eoghain of wish to express their full support for the countless families, across every Parish in Inishowen, who have been so traumatically affected by the MICA crisis and their request for 100% redress.
"As we prepare to return to our games, having hopefully emerged from a pandemic which has caused deaths, illness, hardship, stress and anxiety in all areas of Inishowen over the past fifteen months, the joy of some restoration of normality has been overshadowed by the harrowing and stressful situation which our GAA community and their family members now find themselves in."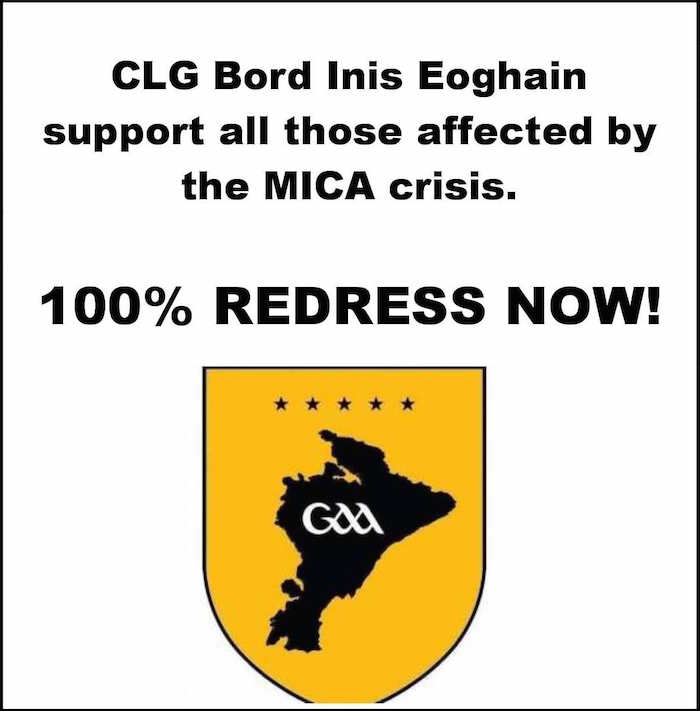 He added that the situation is now causing serious stress levels among both young and old people alike in the local community.
He said "Anxiety and stress levels, some of which were already evident throughout the pandemic remain extremely high, especially among many of our younger members as they witness the reaction of their parents and grandparents who watch their homes crumble on a daily basis. This is causing the health and well-being of numerous members of our GAA family in Inishowen to be severely impacted upon and generating a major cause for concern."
"This intolerable situation cannot be allowed to continue indefinitely and we are therefore calling for immediate and remedial action on the MICA crisis from all our elected representatives."