Sponsored Post
A new Donegal gin company has landed on shelves thanks to two grounded aviation professionals.
Take one Irish Aviation company, with two aviation professionals, then add a turbulent pandemic to the mixture, what do you get? Runway 28 Irish Gin – a brand-new Aviation themed premium Irish Gin, with a just a hint of pepper.
Co-director MarieAnn Mc Loughlin Dwyer, with a background in both aviation and product development, and wife to one of Ireland's many grounded commercial airline pilots, researched, studied and blended in collaboration with master distiller & recipe experts at Listoke Distillery in Co. Louth, to craft and create Runway28 Premium Irish Gin.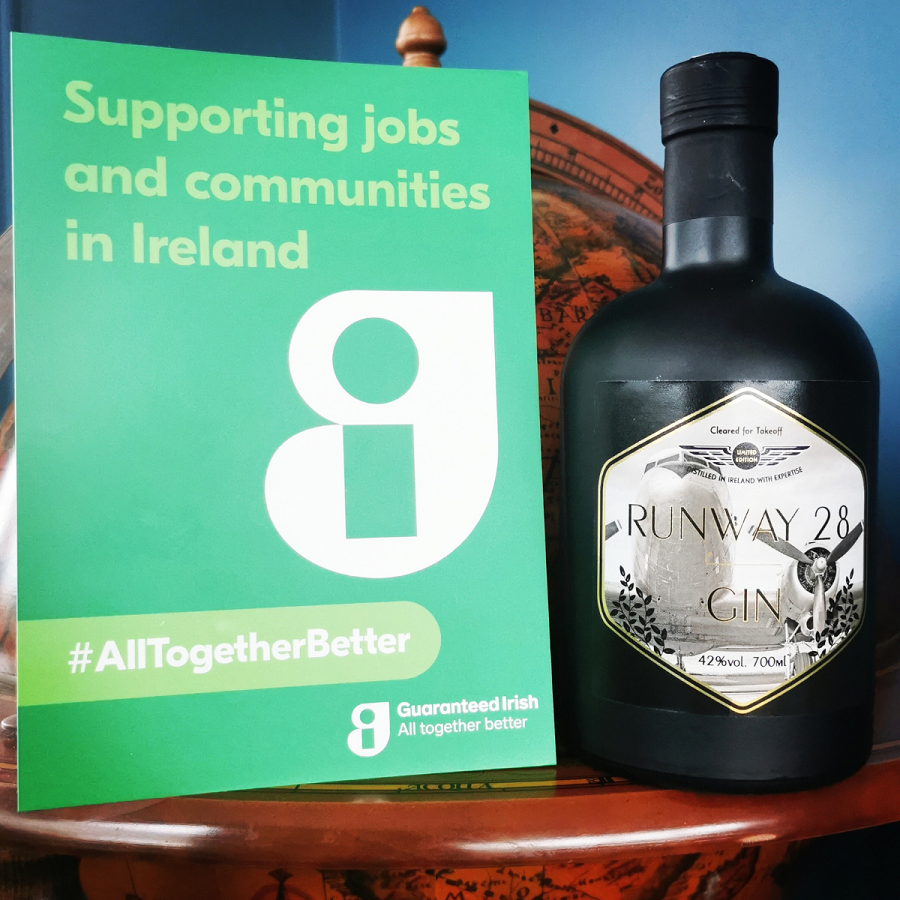 "Runway28 Gin is a classic mix of earthy botanicals, with a hint of pepper. I wanted to celebrate and commemorate our small nation of pioneers, the spirited Irish, to highlight our unique nature and tradition, our ability to adapt, forge forward, and get creative, especially in the face of massive disruption," says MarieAnn.
The recommended serve is: Premium Runway 28 Gin, (blended with  just a hint of pepper) with the addition of a dash of tonic, ice of course, and a slice of  lemon or lime.
Runway 28 Premium Irish Gin is available to purchase online at www.runway28gin.com, and the Donegal stockists are Siopa Mhicí, Gallagher's Food Store, Gweedore, Co. Donegal.
MarieAnn experienced received the warmest of welcomes for the new launch at Siopa Mhicí.
She said: "According to legend, the majestic ice-created glen (The Poisoned Glen of Donegal, situated in the glorious Gweedore terrain) earned its name from the demise of one ancient giant King Balor, within the kingdom of Tory, whereupon his poisoned eye powerfully split the massive rock landscape, which formed its now majestically formed hollow.
"The less interesting truth however, is that the local people were inspired to christen their uniquely beautiful surroundings as The Heavenly Glen, An Gleann Neamhe, only to have an English mapper carelessly list it (forever) as — The Poisoned Glen.
"But take heart as people, both local and further afield, continue to be inspired by this mesmerizing and breathtakingly spiritual location. One example would be the local & globally successful group Clannad, who were inspired to include a track entitled "Poison Glen" on their 1990 album "Anam", as indeed were the Irish folk band "Altan", a band formed in Co. Donegal, who released an album called "Gleann Nimhe" in 2015.
"But for me, the founder of a company called Runway 28 Irish Gin, what had taken me along the road of ancient warriors, and the gateway to spiritual beauty along this Donegal Glen, (on a Thursday evening after work?)
"Perhaps not a King's mission, but nevertheless journeying home (via The Heavenly Glen) after attending a "meet the staff" event post product listing at the renowned Gallagher's Food Store, Siopa Mhicí, located in Gaoth Dobhair (Gweedore), I realized that I had certainly experienced the nobility of a county, the hospitality of a people who conduct business as if welcoming you into their home. People who embrace visitors with the ease of true warriors, storytellers, and as the authentic gate-keepers of this, their true Donegal culture of kindness, which has become famous across the globe.
"In the words of Seán Mc Bride, "For there's no place on earth just like the homes of Donegal"."
MarieAnn adds: "Runway 28 Gin has given me a great opportunity to merge my experience from various industries. Aviation & Product development have been two work arenas that I've loved – I'm grateful, and excited to find out where this new venture will take me!"
Runway 28 Premium Irish Gin is available to purchase online at www.runway28gin.com, at Siopa Mhicí, Gallagher's Food Store, Gweedore, Co. Donegal, also at D-Six Off License Harold's Cross, Rathmines, Dublin 6, Peggy Kellys Beer Garden, Harolds Cross, Dublin, and also on-site at The Listoke Distillery Shop, Co. Louth. Enjoy at The Runway 28 Rooftop Bar at The Carlton Hotel Dublin Airport.
Find Runway 28 Gin on Instagram, Facebook, and LinkedIn.
Enjoy alcohol responsibly.
Tags: