STEVEN McAlary from City of Derry AC was the winner of this morning's Glenmore 10 Mile.
The race, hosted by Finn Valley AC as part of the club's Golden Jubilee Series, drew a good attendance.
McAlary won in 51 minutes and 36 seconds.
Eoin Mullan from Omagh Harries was second in 52:33 with Finn Valley's Dermot McElchar third in 54:40.
Rosses AC's Helen McCready took the women's race, winning in 63:41.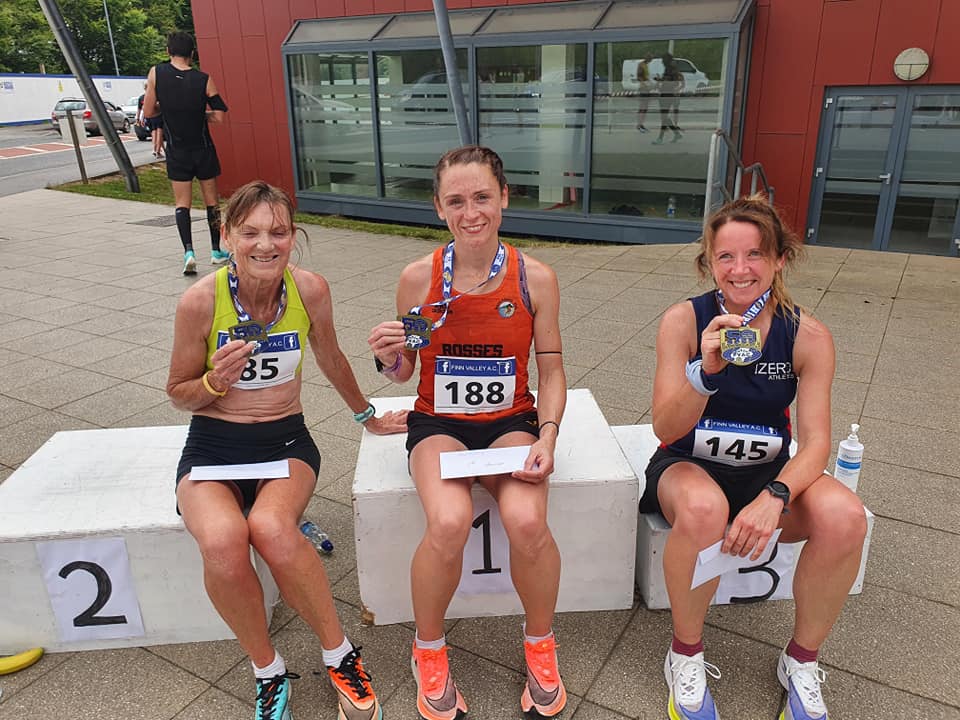 Glenmore 10 Mile 2021
Finn Valley A.C.Golden Jubilee
Place Bib Name M/F Club ChipTime
1. 169 McAlary, Steven M City of Derry Spartans AC 51:36
2. 224 Mullan, Eoin M Omagh Harriers 52:33
3. 156 Mc Elchar, Dermot M Finn Valley Ac 54:40
4. 231 O Donnell, Charlie M Rosses AC 55:06
5. 140 Lynch, Martin M Milford 55:17
6. 123 J Mcelhill, John M FINN VALLEY 55:50
7. 253 Scully, Gary M nenagh olympic 56:33
8. 230 O Donnell, Shane M Rosses 57:54
9. 147 Martin, Connor M Sperrin Harriers 57:56
10. 246 Porter, David M Inishowen AC 58:58
11. 29 Callaghan, Aidan M 24/7 59:14
12. 237 Ogrady, Patrick M Drogheda & District 59:17
13. 179 McCarroll, Conor M knockmany running club 59:27
14. 174 McBride, Conor M 1:00:12
15. 268 Trimble, Patrick M Rosses AC 1:00:43
16. 48 Conwell, David M Killybegs Ac 1:00:56
17. 160 MC GIRR, FERGUS M 1:00:56
18. 164 Mc Lucas, Martin M Inishowen AC 1:01:04
19. 238 Otoole, Paddy M Westport AC 1:02:17
20. 7 Bates, Andrew M knockmany running club 1:02:25
21. 44 Conlon, Neil M Boyle AC 1:02:47
22. 78 Donnelly, Eamonn M Omagh Harriers 1:02:54
23. 205 McLaughlin, Paul M Sperrin Harriers 1:03:00
24. 229 Murray, Damien M enniskillen running club 1:03:11
25. 97 Gallagher, Declan M Rossas A. C. 1:03:25
26. 188 McCready, Helen F Rosses AC 1:03:41
27. 168 Mc Nulty, Shane M FINN VALLEY 1:04:02
28. 3 Aldridge, Darren M corran ac 1:04:26
29. 257 Slater, Dave M Enniskillen RC 1:04:51
30. 214 McNulty, Mark M Newry City Runners 1:04:53
31. 271 Ward, Mark M Rosses AC 1:04:58
32. 154 Mc Dade, John M 1 zer01 1:05:00
33. 76 Kelly, Conor M Melvin Walk Jog Run 1:05:03
34. 16 Bradley, Frankie M Rise 1:05:16
35. 23 Brett, Brendan M corran ac 1:05:40 Toland Darren Finn Valley AC  1:05:45
36. 259 Somerville, Derek M Omagh Harriers 1:05:46
37. 105 Gilchrist, Rob M enniskillen running club 1:05:45
38. 269 Ward, Sharon F 1:05:52
39. 85 Evans, Donna F Clones AC 1:06:11
40. 235 Oconnell, Keith M Rosses 1:06:26
41. 158 Mc Ginley, Declan M Rise Running Club 1:06:38
42. 258 Smith, Ronan M Annalee AC 1:06:52
43. 24 Browne, Malcolm M 1Zer01 1:06:59
44. 145 Malone, Tara F 1ZER01 Athletics Enniskillen 1:07:17
45. 43 Coleman, Kieran M corran ac 1:07:25
46. 19 Brady, Ciara F 1:07:43
47. 223 Moore, Adrian M melvin wjr 1:07:42
48. 167 Mc Monagle, Paul M Letterkenny A.C 1:07:46
49. 133 Korba, Erik M 247 Triathlon Club 1:08:26
50. 20 Brandon, Seamus M Foyle Valley AC 1:08:29
51. 270 Ward, Fearghal M Omagh Harriers 1:08:56
52. 119 Hegarty, Paul M Rise Running Club 1:09:10
53. 251 Robb, Dwain M No club 1:09:20
54. 121 Houston, Dawn F Eglinton Road Runners 1:09:29
55. 233 O Hagan, Damian M KNOCKMANY RUNNERS 1:09:28
56. 266 Thom, Raymond M Sperrin Harriers 1:09:56
57. 108 Gormley, Eimear F lac 1:10:51
58. 12 Boner, Denis M Rosses AC 1:10:58
59. 102 Gartland, Tommy M KNOCKMANY RUNNERS 1:11:07
60. 163 MC LAUGHLIN, CONOR M Finn Valley Ac 1:11:09
61. 74 Doherty, Noel M tir chonaill 1:11:21
62. 27 Byrne, Kay F FINN VALLEY 1:11:33
63. 131 Kerrigan, Brian M Clann na nGael WJR 1:11:56
64. 232 O Hagan, Grainne F KNOCKMANY RUNNERS 1:12:20
65. 117 Heaney, Niamh F Omagh Harriers 1:12:27
66. 100 Gamble, Pat M Rise Running Club 1:12:50
67. 236 Odonnell, Martin M 1:12:54
68. 38 Cassidy, John Paul M Rise Running Club 1:12:59
69. 165 Mc Manus, Gerard M Rock runners 1:13:02
70. 87 Fee, Cathal M 1:13:30
71. 281 Mc Cafferty, Karen F 1:13:40
72. 212 McMullan, Georgina F KNOCKMANY 1:13:52
73. 115 Harkin, Paddy M 1:14:02
74. 261 Stagg, Joe M corran ac 1:14:38
75. 143 Maguire, Oonagh F KNOCKMANY RUNNERS 1:14:37
76. 9 Beirne, Helen F Boyle AC 1:14:46
77. 22 Brennan, John M Boyle AC 1:15:35
78. 245 Patterson, Dean M 1:15:39
79. 155 Mc Devitt, Terry M 1:16:16
80. 46 Connolly, Eamon M Aghyaran Athletics 1:16:30
81. 55 Cunningham, Ciara F Killybegs Ac 1:16:43
82. 114 Hannigan, Paddy M 000 1:16:33
83. 45 Conlon, Jacci F Boyle AC 1:16:50
84. 95 Gallagher, Paul M Pro-Fitness 1:16:55
85. 39 Catterson, Alan M fin valley 1:16:56
86. 56 Curran, Tony M Falcarragh road runners 1:17:27
87. 186 McClay, Brian M Inishowen AC 1:18:03
88. 153 Mc Crory, Paddy M Carrickmore 1:18:13
89. 130 Kerlin, Elaine F Omagh Harriers 1:18:21
90. 249 Pritchard, Ryan M Omagh Harriers 1:18:22
91. 101 Gartland, Imelda-Rose F Rock runners 1:18:25
92. 72 Doherty, Barry M 1:18:30
93. 243 Ohara, Maggie F 1:18:31
94. 10 Bell, Eilish F 1:18:48
95. 4 Allen, Geoff M springwell 1:19:00
96. 175 McCabe, James M 1:19:28
97. 151 Mc Colgan, Aoibheann F Inishowen AC 1:19:30
98. 162 Mc Kinney, Ownie M Inishowen AC 1:19:22
99. 92 Gallagher, Michael M Run for Fun Letterkenny 1:19:31
100. 13 Bonner, Noreen F FINN VALLEY 1:19:49
101. 159 Mc Ginty, Liam M FINN VALLEY 1:19:51
102. 150 Mc Cluskey, Barry M springwell 1:20:04
103. 116 Harte, Ed M Melvin 1:20:29
104. 264 Sweeney, John M 1:20:42
105. 152 Mc Crory, Paul M No Team 1:21:00
106. 250 Reid, Georgina F Run For Fun 1:20:55
107. 125 Keating, Aine F FINN VALLEY 1:21:02
108. 118 Heaney, Niall M Omagh Harriers 1:21:27
109. 206 McLaughlin, Siobhan F Inishowen AC 1:21:38
110. 220 Megannety, Eoghan M Run For Fun 1:22:39
111. 34 Cleary, Liam M Lifford Strabane Ac 1:23:00
112. 60 Devlin, Edward M 1:22:56
113. 273 Wilson, John M Letterkenny Athletic Club 1:23:39
114. 135 Larkin, John M tir conaill 1:23:35
115. 208 McMenamin, Andrea F Tír Chonaill AC 1:23:54
116. 5 Barber, Benny M Foyle Valley 1:23:56
117. 170 McAteer, Seamus M Springwell RC 1:24:49
118. 81 Doohan, Melissa F Boyle Athletic Club 1:26:14
119. 28 Callaghan, Ciaran M 1:26:08
120. 203 McKeown, Lorraine F knockmany running club 1:26:37
121. 137 Leese, Janeen F Foyle Valley AC 1:26:50
122. 124 Kavanagh, Tom M Swinford 1:27:26
123. 149 Mc Caffrey, Tracey F Rock runners 1:27:35
124. 75 Dolan, Eugene M Derrylin Rockers 1:27:40
125. 196 McFadden, Brian M Foyle Valley 1:27:53
126. 190 McCrossan, Dermot Colm M 1:28:16
127. 209 Mc Monagle, Noel M City of Derry Spartans AC 1:28:16
128. 80 Doogan, Paul M Individual 1:28:11
129. 240 Odonnell, Joanne F NFFC 1:28:40
130. 260 Spencer, Dean M Run for Fun Letterkenny 1:28:50
131. 70 Doherty, Bridgeen F Run For Fun 1:28:58
132. 66 Doherty, Aine F Rise Running Club 1:29:10
133. 178 McCaffrey, Siobhan F Rock runners 1:29:32
134. 172 McBarron, Maria F Rockrunners 1:30:02
135. 93 Gallagher, Joanne F 1:30:21
136. 94 Gallagher, Diane F K.c.r. 1:30:42
137. 62 Diver, Sean M Individual 1:31:17
138. 218 McShane, Amanda F Tír Chonaill AC 1:31:19
139. 21 Breen, Carole F Rock runners 1:32:15
140. 42 Charlesworth, Paul M 1:33:08
141. 171 McAteer, Erin F 1:33:16
142. 63 Diver, Seamus M Individual 1:33:50
143. 111 Grant, Tony M Foyle Valley AC 1:33:44
144. 138 Lorinyenko, Sean M Tír Chonaill A.C. 1:34:01
145. 88 Feeney, Grace F 1:33:53
146. 104 Gavigan, Gráinne F Pro Fitness 1:34:12
147. 41 Chambers, Donna F KCR 1:34:51
148. 26 Byrne, Colette F tir chonaill 1:35:06
149. 204 McKiernan, Siobhan F Rock Runners Derrylin 1:35:13
150. 77 Donaghey, Gloria F Finn Valley Ac 1:35:32
151. 58 Curry, Tanya F Rock runners 1:35:28
152. 18 Bradley, John M 1:35:48
153. 198 McGinley, Mark M Foyle Valley 1:36:51
154. 219 Meehan, Kate F Foyle Valley AC 1:36:56
155. 8 Bayle Courtney, Sadhbh F North Fermanagh 1:37:51
156. 122 Houston, Susan F 1:39:39
157. 242 O'Gorman, Eileen F Milford AC 1:40:26
158. 189 McCrory, Maggie F kc runners 1:41:21
159. 187 McColgan, Michelle F Castlefinn Running 1:42:24
160. 37 Carson, Joann F na 1:42:57
161. 31 Cannon, Jarlath M 1:43:39
162. 217 McQuade, Seana F 1:44:42
163. 226 Murphy, Maria F Rock runners 1:44:58
164. 113 Hall, John M 1:45:11
165. 112 Hall, Kathleen F 1:45:12
166. 65 Doherty, Agnes F 1:46:20
167. 161 Mc Guire, John M Aghyaran Athletics 1:46:22
168. 47 Conway, Martin M 1:46:42
169. 106 Gillespie, Teresa F 1:47:58
170. 99 Gamble, Ita F Rise Running Club Derry 1:48:52
171. 68 Doherty, Fiona F 1:49:07
172. 129 Kerlin, John M kc runners 1:50:33
173. 227 Murphy, Jj M FVF4L 1:55:09
174. 274 Wilson, Amy F 1:57:05
175. 275 Wilson, Joseph M 1:57:06
176. 254 Shanahan, Tracy F 2:08:52
177. 30 Campbell, Andy M SOLACE (Mental Health) 2:09:34
178. 222 Moiloa, Dineo F FVF4L 2:21:57