Sponsored Post
"There's no better time to enter the food industry than now" – and if you're thinking about biting the bullet with a new idea, guidance is out there.
The Department of Tourism at LYIT is launching a new Higher Diploma in Food Product Innovation & Enterprise commencing this September. The programme will be delivered 100% online. If you want to develop a new and innovative food business idea, this is for you.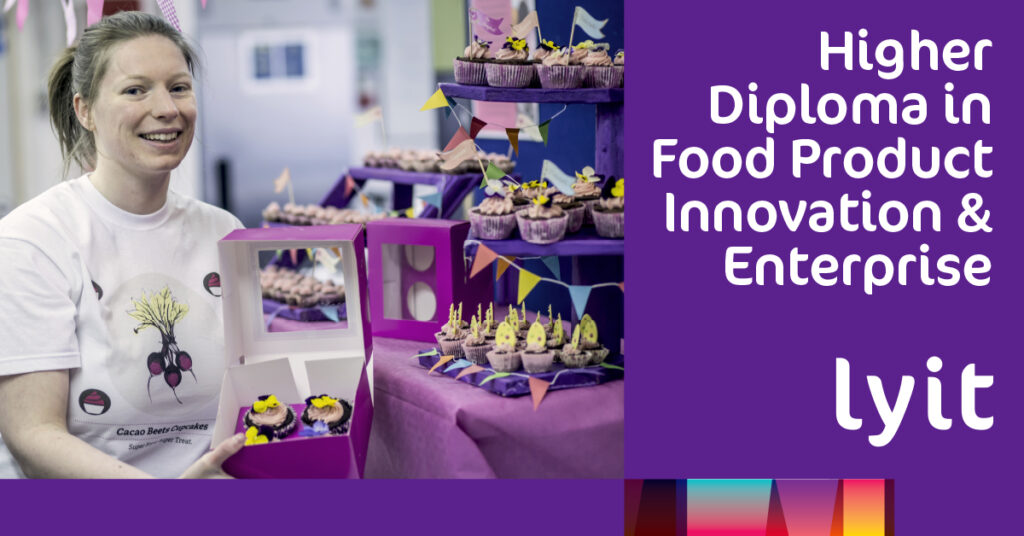 Donegal has no shortage of exciting food products and experience and is home to several brands including Silky Whiskey, Shine's Tuna, Filligans, Donegal Rapeseed Oil, Football Special soft drinks and Kinnegar Brewing, to name but a few.
"There is a lot of good quality stuff being done," says Libby Carton, co-founder of Kinnegar Brewery. "It's a hidden strand of what we have in Donegal, but there is evidence of things bubbling to the surface. Donegal has been a fairly conservative place in terms of our taste in food and drink but that's really changing. We are as curious and as willing to try new things as the next county."
The Higher Diploma in Food Product Innovation & Enterprise provides the resources for people to carve concrete plans for a new product launch with the support of industry experts. A great idea is all well and good, but many entrepreneurs need support paving a pathway to success. 
"You have to look at what the market needs and adapt yourself to the world," is the advice from Chef Daniel Lambert, a graduate from LYIT Tourism School, Killybegs. 
Daniel Lambert was a full-time chef in one of Donegal's top hotels. When the pandemic hit, his innovation was born out of necessity. With no work, he took to TikTok to share food tip videos and mouthwatering homemade dishes. He caught the attention of Dublin radio station FM104, who asked him to share lockdown recipes. Amazingly, overnight, his video had one million views. Now, almost 200 videos later, he has over 300,000 followers and 3.3 million views on the TikTok app.
Daniel has formed a business model to make a living from this largely untapped platform. He works with Irish stores and food boards to create adverts and has enjoyed TV appearances in Ireland and the US.
"I had to reskill myself, I found my gap in the market very early, it's a little gem that I have now. I know it's not going to last forever but it was a way for me to get my name out there. I studied Food Marketing as part of the course at LYIT and that really boosted my skills in this area, and I was able to develop a game plan".
When taking a leap with a product, Libby's advice is 'don't be afraid'.
"Think about what you can sell instead of what you can produce. Nobody in their right mind would have started working on a brewery in 2011, the clientele wasn't there, but we created our market," Libby said.
"Be open minded. Be curious. Something we always say is start a little bit in reverse about how some people think. Some food producers and entrepreneurs focus on what they can produce and they forget about what they can sell."
At first, the market for Kinnegar was not as strong in Donegal. The beers were much more popular Dublin, Cork and Galway to begin. Then, Donegal drinkers developed a taste for contemporary craft beer and Kinnegar became a household name.
Libby says: "'Made in Donegal' is a really great thing for a company to be able to say in Ireland. There is such a positive brand identity in Donegal – it amazes me how positively disposed towards Donegal that people are."
Daniel also makes his business suit his market. His background is in fine dining, but he knew that his audience wanted hearty recipes they could reproduce at home during lockdown. The food industry, Daniel says, has both its opportunities and a lot of room for improvement. He believes the industry must be remolded to deliver better rates of pay and working conditions for culinary staff. The emergence from lockdown is already bringing about change.
"There's no better time to enter the food industry than now – there is demand and now, as a chef, you can name your price. It's very rewarding. It's a life skill you can take with you anywhere. It also teaches you a lot about life, discipline, timing and how to build relationships with people. I would encourage any young chef starting out to bite the bullet and do it" says Daniel. 
The Higher Diploma in Food Product Innovation & Enterprise programme is co-funded by Local Enterprise Office Donegal, Donegal County Council.
Michael Tunney, Head of Local Enterprise Donegal said: "This programme fits very well with the objectives of both the Local Enterprise Office and the Food Cost initiative as well as the ambitions of the county to promote and develop more added-value food businesses in the county. We hope that many of the participants will identify new and innovative food businesses ideas with real potential for growth and employment." 
The Level 8, Higher Diploma in Arts in Food Product Innovation and Enterprise will commence this September and finish in summer 2022. It will be delivered 100% online allowing participants to complete this programme from the comfort of their own home. Those with previous experience in the industry can go through the Recognition of Prior Learning (RPL) process to gain access to the programme.
The programme will allow learners to acquire a new and comprehensive understanding of the strategic issues facing the food and drink industry through a series of structured experiences with Irish food producers and guest lectures from senior executives in the Irish food and drink area. If you would like to grow your ideas and learn how to excel in the food enterprise industry – then this opportunity is for you!
To find out more about this programme contact Head of Department of Tourism, Nicola.Dunnion@lyit.ie or visit https://www.lyit.ie/CourseDetails/D501/LY_RFPIE_G/FoodProductInnovationandEnterprise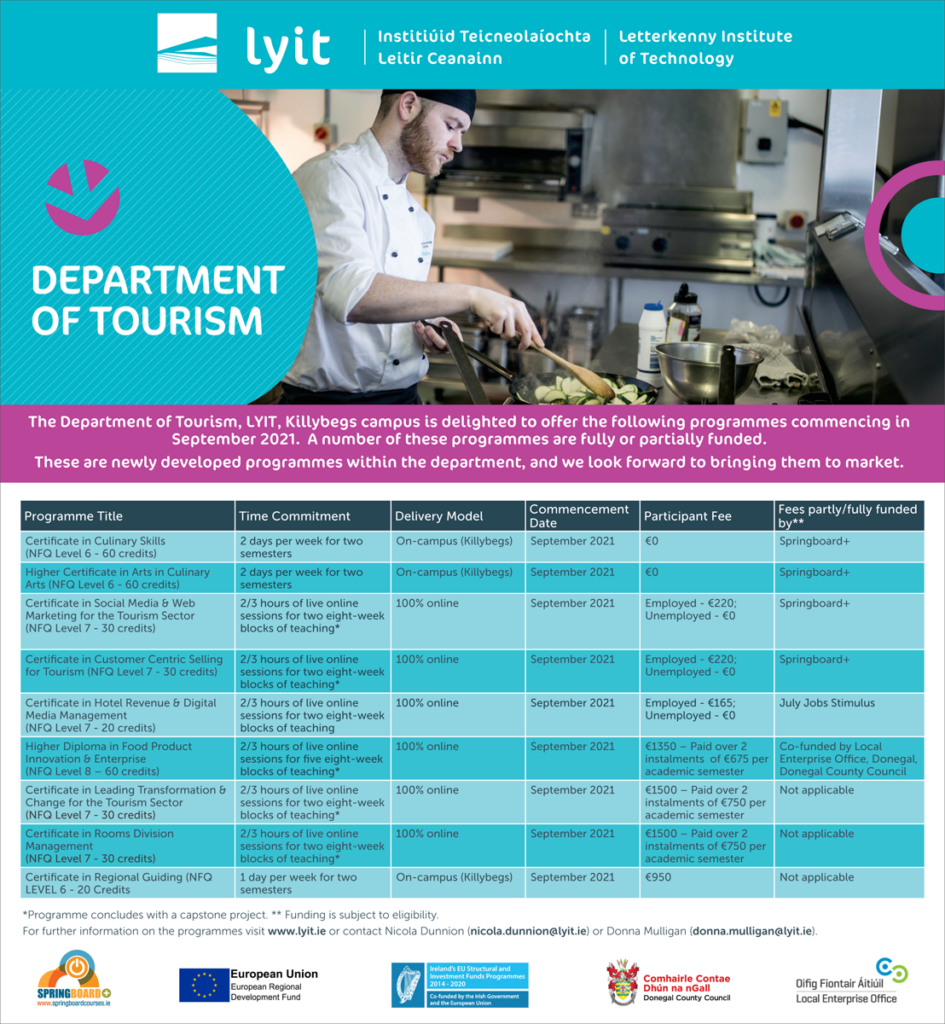 Tags: