Motoring Columnist Brian McDaid was driving in style in the new Porsche Taycan 4S electric sports car…
I have this recurring dream that I've had all of my life which goes something like this: In the everyday walk of life out of the blue someone asks me to go on a journey which will always in some way have me doing the driving. That can be anything from a forty foot articulated lorry to a 53 seater coach, something that I have never driven but relish the challenge.
From the time in the dream that I am asked to carry out this task time seems to drag as I wait for others that will be going on the journey to get organised be it loading up a lorry or if they are passengers on the bus. Any fall out with them will result in me not being required to take the wheel on the journey.
In my mind this dream seems to last all night but the end result will always be the same. As soon as I go to get behind the wheel and go to pull away I will always awake from the dream!
On Tuesday morning this week I awoke from my sleep knowing that I wasn't dreaming through the night and later that day was going to take up the offer to have a drive in a 2021 Porsche, a car that I never drove before but was relishing the challenge.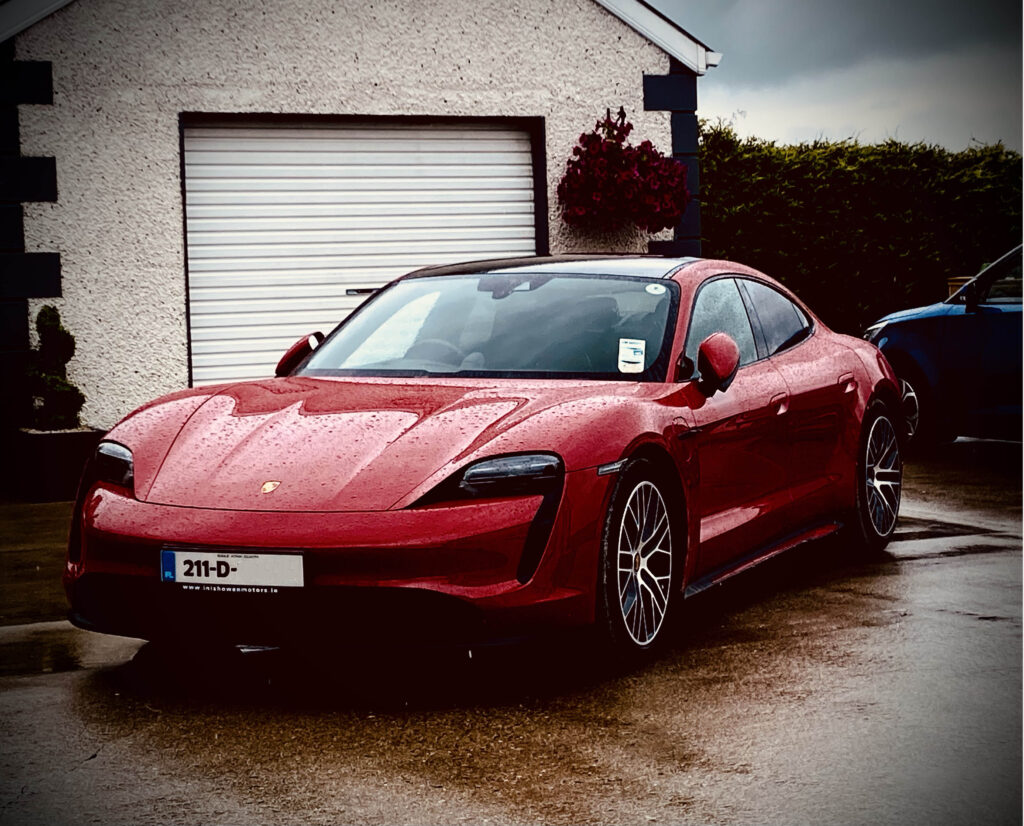 Some say its nose is more Ferrari like, especially in red, we made the most of a wet and weary Tuesday this week. It was in fact a Porsche called a Taycan which is the German's giant move into the all electric race. Everyone I met on the day I had this beautiful Porsche will bring the Tesla brand into the conversation when they talk about electric supercars and like most, including myself, very few have ever driven a Tesla but on Tuesday I drove its biggest competitor, a completely new generation of new cars by Porsche. 
The invitation to have a look at a new Porsche happened at the rebranding of Inishowen Motors to iMotors in Malin Town a few weeks ago. This Porsche was purchased from iMotors in Malin by one of the town's businessmen Hugh Mc Gonagle. The Malin man was always very much into his cars, commuting to and from Malin to his business in Letterkenny every working day of his life. Hugh remembers every car he ever owned starting right back with his very first, a Fiat 128. His latest car, a Taycan, is the one that everyone seems comfortable to strike up a conversation about not because it's a Taycan, but more because it has the Porsche badge on it.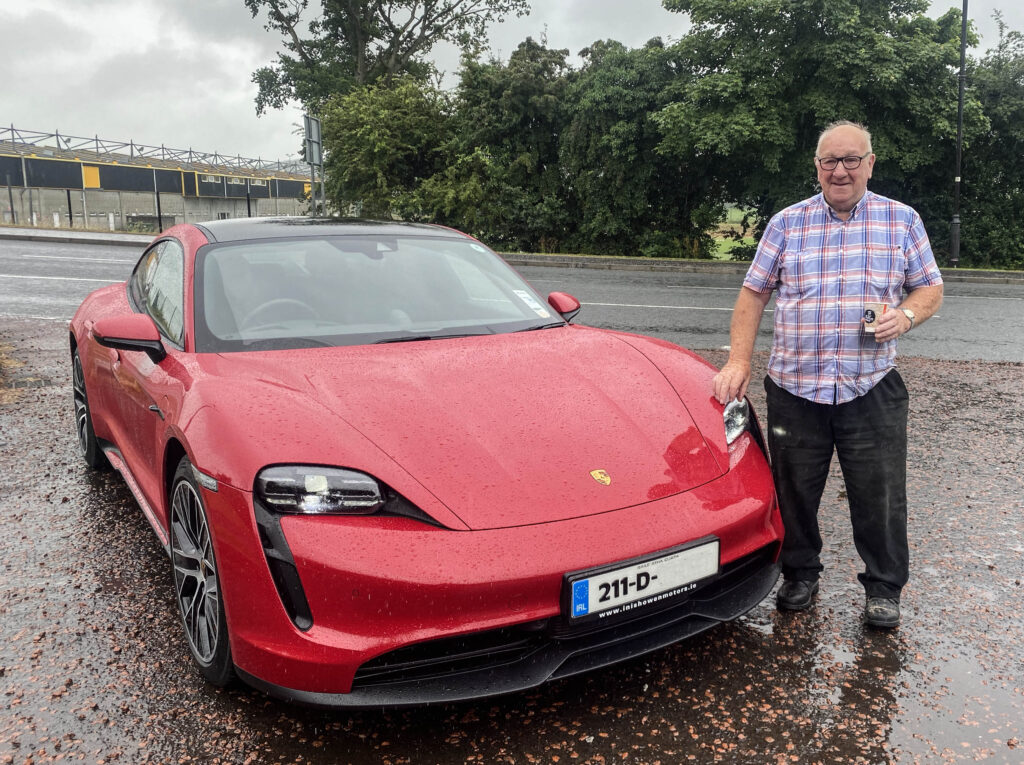 There is also the fact that it must be one of the most stunning looking all electric cars I have ever seen, it takes just 4 seconds to reach 100km and according to Hugh it averages in real time driving 360Km of a range between charges. 
The name Taycan refers to a young spirited horse which is in the very centre of the gold badge in the bonnet and again on the beautifully crafted steering wheel. On Tuesday morning I'm sitting in front of that very same wheel trying to merge out into the traffic from the Rossview Business park. I have 530 young Porsche Horses under my right foot, far more than a forty foot or a 53 seater combined and I'm waiting to wake up from my dream. Today I'll not be going too far but far enough to enjoy this new car that carries a lot of old sporting culture in its design. 
Calling with a friend of mine, Vincent who thinks right away that I have landed in his street with a Ferrari stirring the Italian blood in him. He is even more impressed when I tell him it's a Porsche he is looking at. 
"Put on a pot of coffee for Brian there," he calls into the kitchen, "We'll be back in a while, we are going for a spin in this machine. See the last time I was in one of these it won the Donegal International Rally Curley was driving. It was parked up the back of the old Ballyraine Hotel, Curley even let me sit in it.
"That was some yok" he recalls.
We head up Lurgybrack and the road is clear. We give it the gas and it pins both of us back into the beautiful leather seats before lifting before we hit the 100kph mark. We then tooter up the Ballybofey road and Vincent is the first to spot a speed van along the road side. "Watch sir there's a chip van" ( as he calls them).
A mile or so up the road we swing round at Kernan's in Drumkeen and head back down the road again We are only tottering down the road knowing that we had passed the speed van on the way up but everyone was our friend flashing the lights at us in this striking red racing car. Even when it's going slow it has the look of speed.
You sit so low in this Porsche as you imagine you should do in a car like this, you forget that this is all electric. I don't know where they have managed to hide the battery that holds the power for the two powerful electric motors that power this four wheel drive from rest to 100kms in just 4 seconds. Even with my seat well back there still plenty of room for two more of me in the back in this four door saloon. We're back sipping percolated coffee in Vincent's as his wife and wains do a wee tour out around the Porsche sitting in the driveway. 
Then I head off calling into the brother Cathal who works in Kelly's Mills, like myself he loves his cars and it's not long until he has the mobile phone out in the pouring rain to get a few photos of the Porsche which he captures perfectly in the contrasting background of his work hut.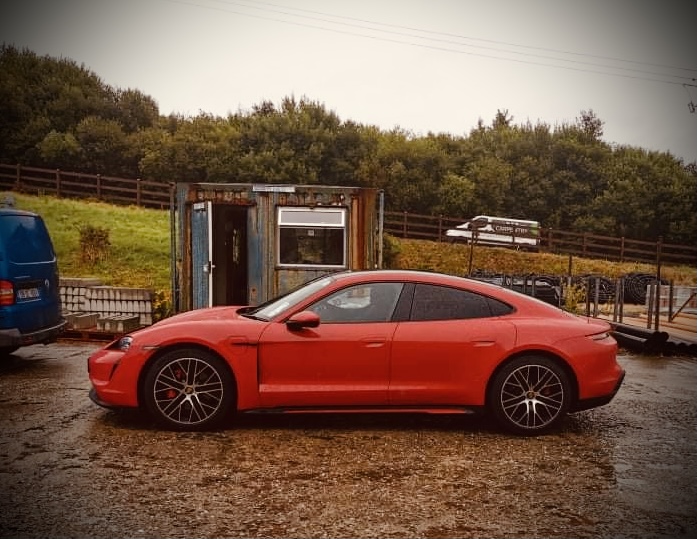 There is as much enjoyment watching people like my brother enjoying seeing a car like this for real as they are driving it.
A local farmer Alan spots this car, "You're driving in style today" he says as he takes a look around the red sports car.
There is a beautiful old analog clock like the stopwatch on a race track measuring minutes on the second hand which sits in the middle of the dash.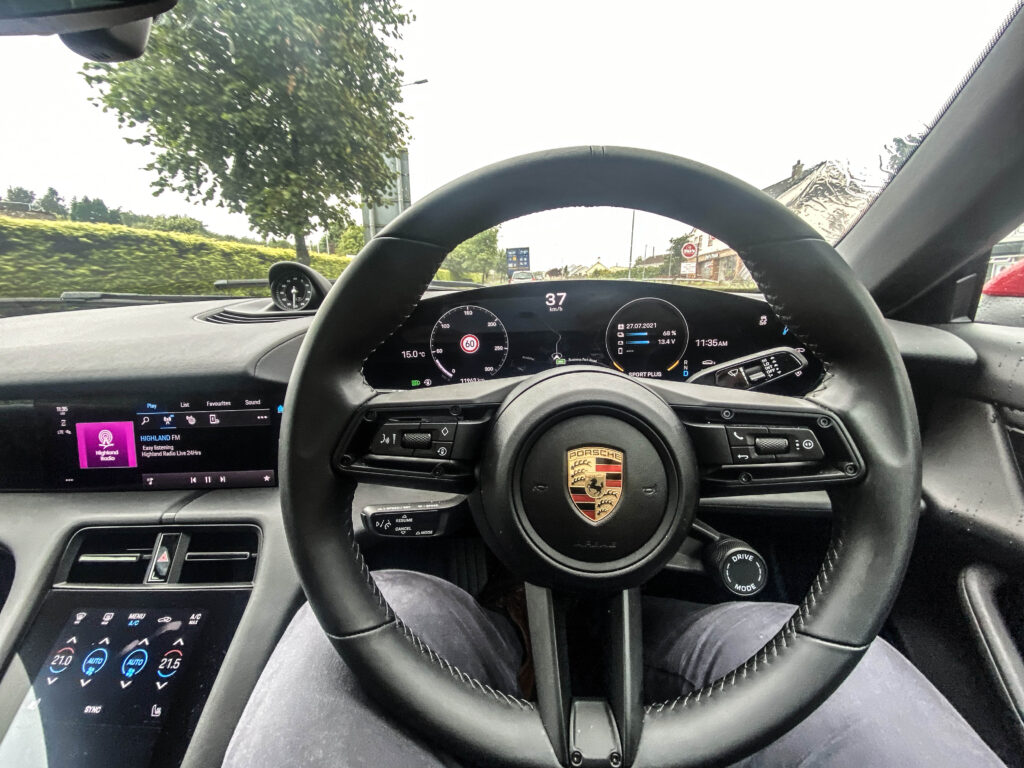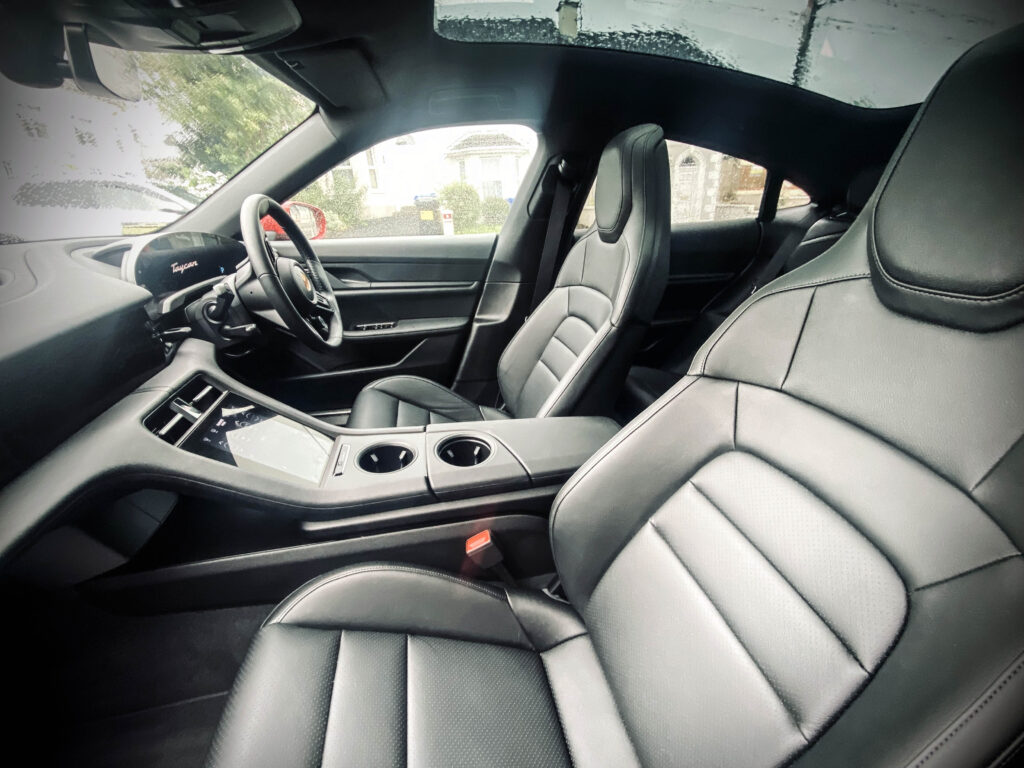 The Taycan will drop down on its ride height when pushed over a given speed, and the driving style can be changed from normal to sport to an individual preferred setting, one of which brings in a digital sound that makes you swear there's a flat 6 cylinder boxer engine somewhere in the back of this car. And yet it's as enjoyable to drive as normal with everything being automatic looking after the two speed on the rear wheels and the single speed on the two front wheels. There's a sharpness of connection in the feel that the big Michelin tyres give you as they grip the road.
Developed in Donegal 
As we would know that when Porsche were developing this new generation of Porsche in Donegal back a few years ago even though they had their car covered in a body wrap to try and confuse people to think it was a Mercedes or something.
Donegal people know a Porsche when they see one they have been watching them for years winning the first three Donegal International Rally. 
AUI 1500 came straight out of the factory and with no changes other than safety measures won the Donegal International Rally in the hands of Cathal Curley. The blacked out test cars in Donegal with painted in headlights were worth the German's effort to come here to polish the set up of their Electric Porsche which runs on an Air suspension system on the bumpy roads of Donegal. These cars take everything in their stride, you could say they were made for Donegal in Donegal, and this week thanks to the generosity of Hugh McGonagle I was able to enjoy the final product for me was a dream come true to drive and arrive back and park up this beautiful Porsche at the end of a magical mini journey.
Happy Motoring Folks 
Tags: