Four Masters powered their way to their first minor title since 2007 when they overcame Gaoth Dobhair at raid-sodden Mac Cumhaill Park.
Team captain Shay Travers opened the scoring for Masters in the 2nd minute from play and followed it with a free off the post and over in the 6th minute to give his team a good start.
Report by Charlie Collins
Two minutes later they had a remarkable let-off when Daithi Roberts free wasn't dealt with and it took two brillant blocks on the goal line to prevent what looked a certain goal.
Dermot Slevin added a third point for Four Masters after a 45 had been brought forward for encroachment by two defenders and just before the waterbreak on 15 minutes Cathal Burke got Gaoth Dobhair on the scoreboard with a point from play.
Shay Travers and Dermot Slevin kicked two quick points when play resumed and Four Masters led by four 0-05 to 0-01.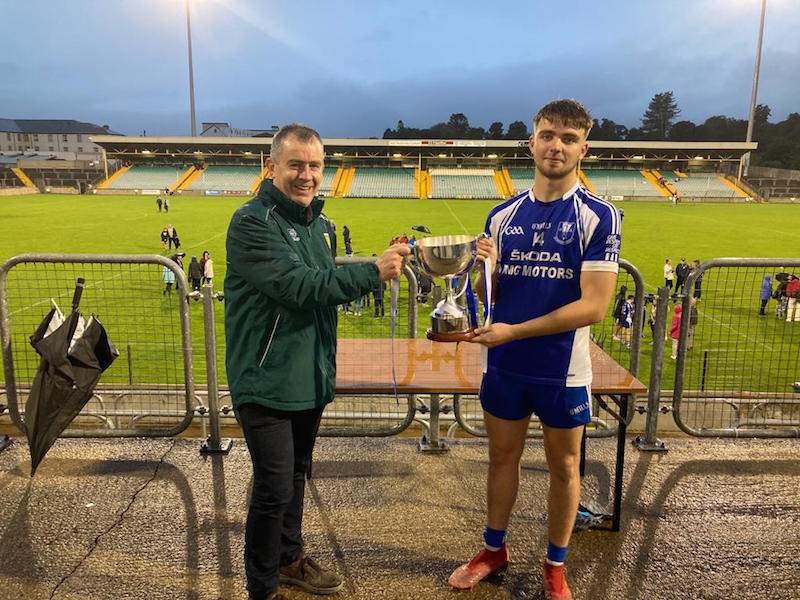 Eoin De Burca replied with a free in the 21th minute , and then Gaoth Dobhair were level with a Cathal Burke goal , once again Four Masters failed to deal with a high ball and this time after keeper Ethan McNulty had saved the first shot a goal Cathal Burke followed up to score from 3 yards.
Dermot Slevin responded with an excellent point from play and Shay Travers tapped over his fourth point from a free and at half- time Four Masters led by 0-07 to 1-02.
Daithi Roberts denied Senan Quinn in the opening minute of the second-half with a fine save and almost immediately Gweedore had a Aidan Walsh goal disallowed for a square ball after Jamie Doherty had set him up and play flowed from one end to the other.
But a goal did soon arrive, a flowing move by Masters was finished to the net by Conor Reid as his low drive gave keeper Roberts no chance and the lead was out to five points .
Michael Doherty pointed from play for Gweedore and at the second waterbreak Four Masters led by 1-07 to 1-03 Daithi Roberts converted a 45 to reduced deficit to three and a Eoin De Burca free two minutes later left just two in it with ten minutes left.
Four Masters hadn't scored since Reid's goal and finally got another one when Shay Travers converted a close range free in the 56th minute to lead by three points.
Dermot Slevin from play and Shay Travers from a free made it a five-point again in injury time, and Eoin De Burca last seconds goal came too late for Gweedore as Four Masters ran out worthy winners at a wet McCool Park.
Four Masters ; Ethan McNulty , Lee Murchan, Diarmuid O'Donnell, Ross O Keeney, Evan Gallagher , Darragh Geary , Senan Quinn. , Richard O'Rourke , Ultan O'Grady , Conor Reid (1-00 ), Joe Leape , Mark Jordan , Chris Gallagher , Shay Travers ( 0-05/3f's ) , Dermot Slevin ( 0-04/1f). Subs ; Senan Carr for Lee Murchan ( 51mins), Michael Gallagher for Jordan ( 56mins),
GAOTH DOBHAIR ; Daithi Roberts ( 0-01/45), Sean Noel McFadden, Eamonn McBride, Shaun Gallagher , Fionnan Coyle , Aidan Breathnach, Michael Doherty ( 0-01), Donal Mac Giolla Bhride , Stephen McFadden , Cian McBride , Eoin de Burca ( 0-02f's ), Ryan Doherty , Cian McEntee , Jamie Doherty , Cathal Burke ( 1-01 ). Subs ; Kyle Doohan for Ryan Doherty (40mins) ,
Referee. ; Sean McDaid ( Urris ).