A short-term 'Swim Restriction' notice has been issued due to pollution at a popular Inishowen Blue Flag beach.
The 72-hour warning was issued by Donegal County Council as a result of an 'increase in bacteria' found in bathing water samples taken on Wednesday. 
The warning and is valid until tomorrow (Saturday).
"High levels of bacteria are usually short-lived and most bathers are unlikely to experience any illness," the council's notice read.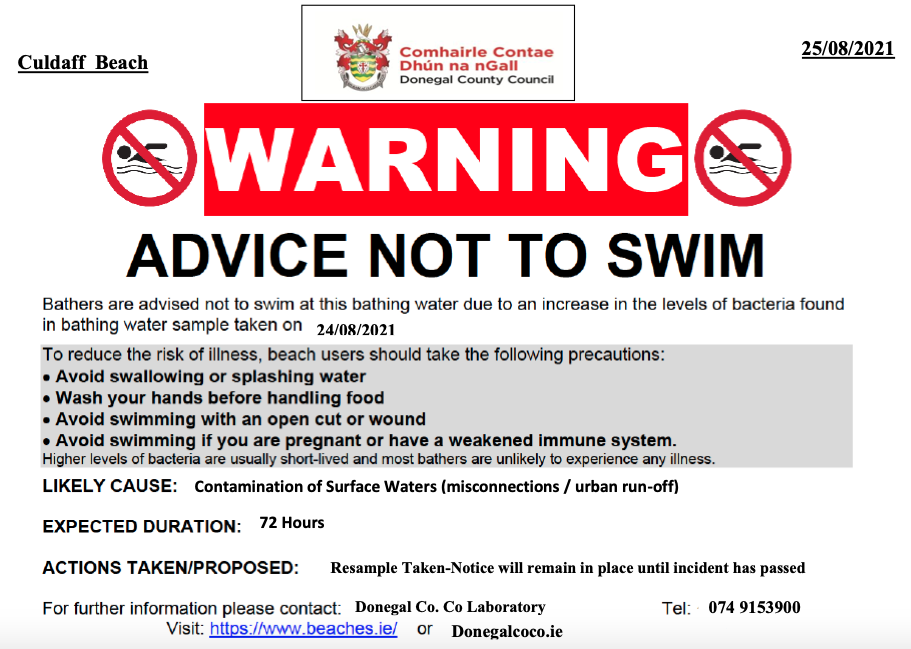 On the Beaches.ie website, run by the Environmental Protection Agency (EPA), the cause of the pollution was due to "suspected sewage discharge from waste water treatment plant/sewer network/CSO."
Culdaff Beach is classified as achieving Excellent Water Quality in 2020 based on the assessment of bacteriological results for the period 2017 to 2020.
It also achieved an Excellent Water Quality rating for the four consecutive years 2017 to 2020.
Annual water quality ratings are generally calculated using monitoring results over a four year period and are assessed against stringent bacterial limits to protect bather health.
Tags: