Former Coronation Street star Charlie Lawson is rowing in behind Mica families in Donegal.
The Fermanagh actor, best known for his portrayal of Big Jim McDonald, took to social media to tell his followers about the plight of Mica homeowners.
With almost 30,000 followers on Twitter, Lawson used his platform yesterday to shine a light on the crisis.
He wrote: "Folks, have a look at the housing crisis…. Literally homes falling down!! MICA in Donegal."
Lawson wrote that he was shocked by what he saw.
"I wish you well in your campaign people," he said.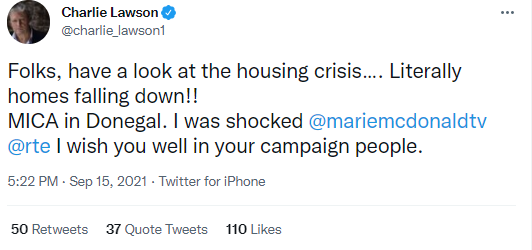 Lawson is one of many well-known people who have publicly backed the campaign and brought a boost to local homeowners.
Tomorrow is set to be one of the most significant days in the Mica Redress campaign, when the Defective Blocks Working Group will submit their proposals to Minister for Housing Darragh O'Brien.