Anrí Ó Domhnaill has just passed the half way point in his circumnavigation of the island of Ireland.
Today marked a significant milestone for the Carrickfin man in his finswim (swimming using fins) expedition.
The water challenge aims to to raise €100k for two worthy charities, Irish Cancer Society (ICS) and Water Safety Ireland (WSI).
Anrí reached Fastnet Rock, one of the most iconic lighthouses in Europe and most southerly point of Ireland today. It is the most southerly point of Ireland and lies 13 kilometres from County Cork on the Irish mainland.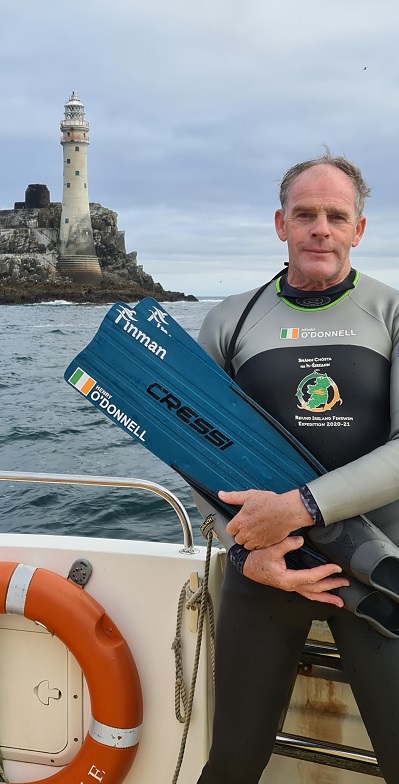 The 'Finman' achieved this phase of his mission and pioneering finswim with the support of an amazing land and marine operations team based in Donegal and Cork.
The team reached the half way point off the Waterford coast earlier this year raising €43K for the charities but unfortunately the event was seriously disrupted and suspended due to the Covid pandemic. Anrí continued training and planning and resumed his mission in September.
Meanwhile, Water Safety Ireland and the Irish Cancer Society, beneficiaries of the Finswim, have organised a Halloween Fancy Dress Party in Maggie's Carrickmore, St. Johnston to benefit the expedition team to help cover some of the expedition running costs. Prizes include: 1 week Holiday in Lanzarote – Accomodation for up to 4 adults, valuable Harveys Point voucher, Sliabh Liague Distillery hamper, KM Luxury Hous in Portsalon weekend away valuable hamper and other prizes. Music on the night by the Beautiful Alice Lynch.