Sponsored Post
The Donegal-based Muff Liquor Company is feeling festive again with the return of their Christmas Gift Boxes.
Perfect for presents or corporate gifts, the boxes contain all you need to enjoy a premium tipple at home this Christmas.
The limited edition festive cocktail creation, Christmas Candy, is out now and available throughout November & December. Order online now here.
The Muff Liquor Company was co-founded by Laura Bonner from Greencastle, who was inspired by her Grandad Philip McClenaghan, a potato farmer who made poitín.
Muff Irish Potato Gin came onto the scene in 2018, followed by Muff Irish Potato Vodka and Muff Irish Whiskey. The spirits have been scooping up awards around the world ever since.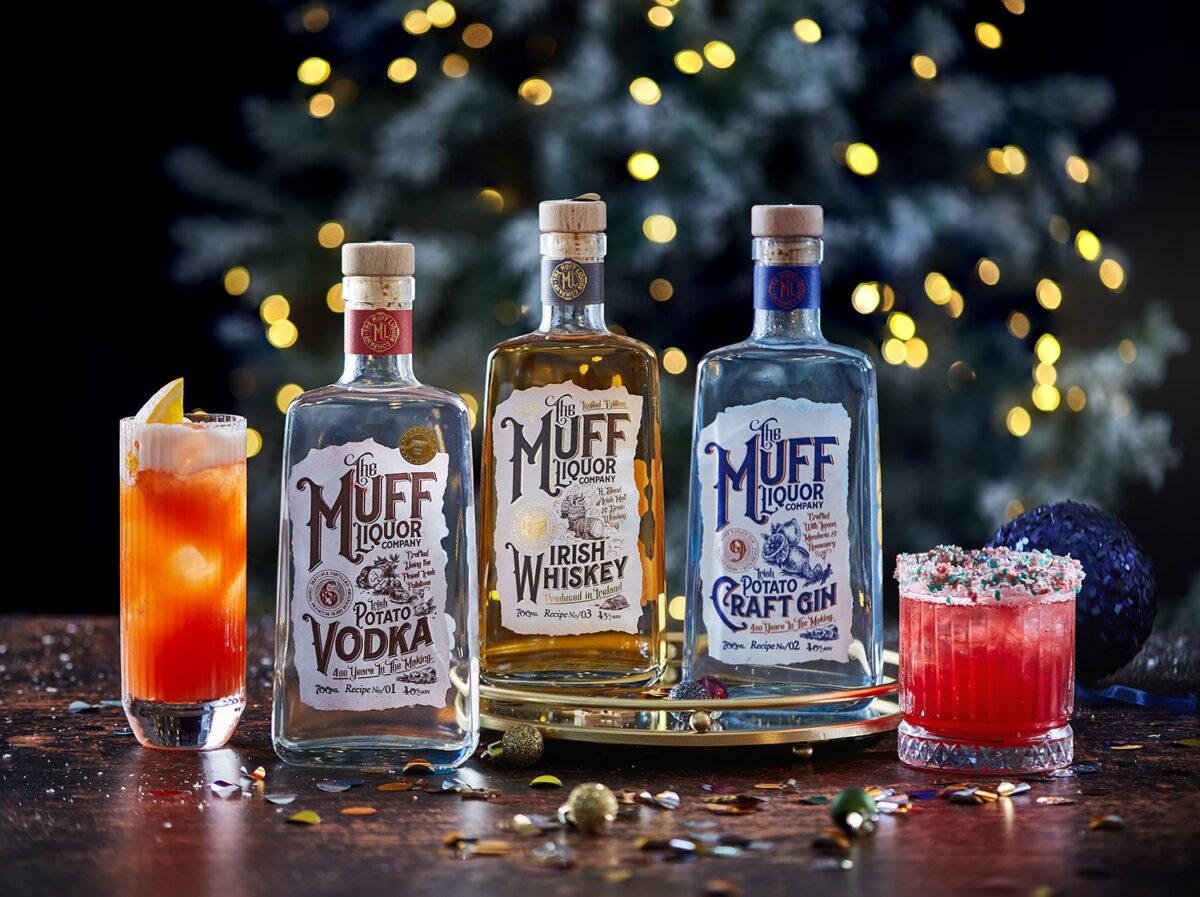 Muff Cocktail Boxes soon became a hit during the pandemic, as they allowed people to make cocktails in the comfort of their home. They have become great gifting idea for any celebration.
For the festive season, Muff Liquor have launched a Christmas Candy Cocktail Box and the 70cl Christmas gift box.  These can be purchased directly from the online shop at shop.themuffliquorcompany.com. All Muff products are produced and bottled in Ireland.
Rewarding your team this Christmas? Muff Liquor have discounts available across their range of Cocktail Boxes and 70cl bottles for corporate orders. Email info@themuffliquorcompany.com now to place your order now.
Not sure what to choose? Here's your guide to the Christmas 2021 collection:
Make a night of it with Muff Cocktails: Muff cocktail boxes contain ingredients and instructions to make 4 Muff cocktails in the comfort of your own home. They are prepared with fresh fruit and have a 10 day lifespan. Our cocktail boxes are the perfect gift idea, and can be personalised to include a message. The new Muff Christmas Candy Cocktail box, it is deep red, refreshing and fruity accompanied with the magic of a popping candy rim.  This box would contain the ingredients- Muff Gin, Monin cassis liqueur, fresh lime juice, sugar syrup, cranberry juice & popping candy rim. Order online now here.
Muff Irish Potato Gin: Muff Gin is crafted from 4 different types of Irish potatoes and a unique combination of botanicals including mandarin, lemon, rosemary and elderflower. Champagne extract is then added before bottling, finishing off this unique gin with a smooth and refreshing taste. Our premium gin is award-winning with global gin experts and is gluten free & vegan friendly. Order online now here.
Muff Irish Potato Vodka: Our Muff Vodka is crafted from a base of the finest Irish potatoes that is distilled 6 times to create a crisp spirit that is creamy and earthy to taste with a hint of vanilla. Inspired by traditional Irish potato – based spirit recipes and processes.  Our premium vodka is award-winning and is gluten free & vegan friendly. Order online now here.
Muff Irish Whiskey: Our Muff Whiskey is a premium 5-part blend of Irish Malt and Grain Whiskies, with each component put together to give a particular virtue. A unique & enjoyable whiskey combining light, sweet, and slightly floral notes with a smoky flavour and long finish. Order online now here.
Shop the Muff Liquor Co. online on shop.themuffliquorcompany.com
Tags: