A kind-hearted Letterkenny woman has launched her 19th annual Christmas fundraising draw.
Margaret Coyle from Glencar is no stranger when it comes to helping others in need and this year she is holding her annual draw for We Care Food Bank.
She is selling lines at €2 each with some great prizes up for grabs, such as a hamper and various vouchers kindly sponsored by local businesses in the town.
Margaret just recently completed an abseil from Smithfield Tower up in Dublin for Brain Injury Ireland and raised a massive €1,150. She said she would do it all again in a heartbeat!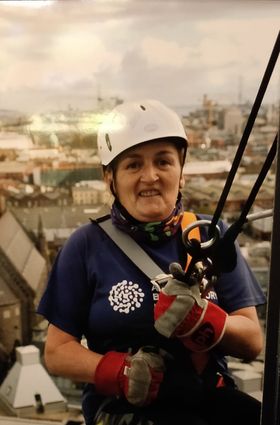 "A massive thanks again to everyone who supported me on this challenge," she said.
"All support towards my annual Christmas draw in aid of We Care Food Bank will be very much appreciated.
"None of these draws would have been possible throughout the years without the kind sponsorship of local businesses who have been so kind to me over the years, knowing you're helping others makes it all so worthwhile."
To buy tickets for Margaret's Christmas 2021 draw, visit O'Hehirs Bakery Main Street Letterkenny  or contact Margaret directly on her Facebook https://www.facebook.com/margaret.coyle.18