This Saturday the "The Helicopter Drop" takes place in Madavagh Pairc, Leitir.
To purchase a ticket and have a chance of winning a share of €32,000 in prize money please log onto go.rallyup.com/narossadrop before midnight this Wednesday.
There are 8 prizes consisting of 2 x €10,000 and 6 x €2000 will be won on the day.
All monies raised will go towards our new dressing rooms at the pitch in Madavagh.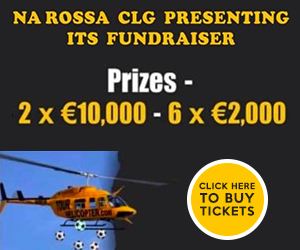 The club would like to sincerely thank all patrons who have bought tickets this far you have contributed to making the fundraiser the success it is .
We hope to see you all on Saturday.
The helicopter will be dropping the first ball at approximately 12.30 weather permitting .
Log onto the Na Rossa Facebook page to watch the draw live or go to go.rallyup.com/narossadrop