Concern has been expressed after an application for a telecommunications mast was lodged with Donegal County Council in the heart of Letterkenny.
The application by Cignal for the 27 metre mast was made for vacant lans at the Port Road.
A planning notice was erected at the land which is located between Foys and the Value Centre earlier today (Mon).
The application is in the name of Cignal Infrastructure Limited.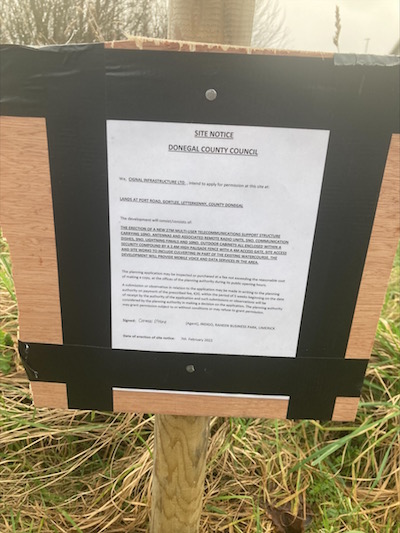 The notice includes planning for antennas and remote radio units, communication dishes as well as cabinets.
The notice also includes the erection of a security compound comprising of 2.4 metre fencing and gates.
The application is signed on behalf of the agents Indigo of Raheen Business Park in Limerick.
The planning notice also advises anybody who wishes to object to the planning application to do so in writing to the planning authority.