A Donegal author enjoyed one of the highlights of her writing career recently when a local school turned her words into an incredible art display.
Louise Flanagan from Letterkenny is the proud author of the Dragonterra series – a collection of six fantasy books penned during lockdown.
Louise's books have captured the imagination of children all over Ireland and beyond, but one group of classmates went a step further and brought the books to life through art.
The 3rd/4th class in Drumkeen National School created a magical display in their classroom for World Book Day. Their teacher, Ms Sarah King, sent Louise a photo of the display and a message about how much the pupils loved the books. Louise, who is a secondary school English and French teacher, was amazed by the young pupils' fandom and simply had to see the art for herself.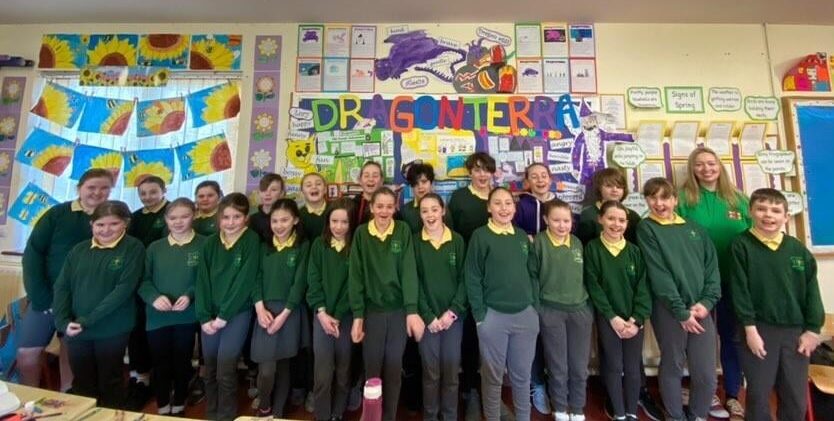 Louise said: "I was rendered speechless – the display is stunning! So I decided I just had to see it with my own eyes. I asked Sarah if it would be possible for me to pay a short visit to the school and we made arrangements from there. 
"As a teacher myself, I'm well used to the classroom environment, but it was my first time visiting a class as an author! It was such a pleasure to talk to the kids about the books, discussing our favourite parts and reminiscing on aspects of the stories together."
Louise said the reaction to her books has been extraordinary. She originally wrote them as a gender-neutral series for her daughter, Lucy, but the spell was soon cast among her friends too, who wanted print copies.
Louise enlisted the help of her uncle Paul Martin, a graphic designer, and Megan Armitage, an artist, actor and musician, to begin the publishing adventure.
She said: "I'm so proud of the books and I'm really glad I took the leap of faith to put them out there for kids to read."
Ms Sarah King, speaking after Louise's visit, said: "I started reading the books to my class for leisure a few weeks ago and the kids loved them. They started buying their own sets to read along with me and all the rest stemmed from there. I used Dragonterra as my theme for World Book Day and the kids did loads of little written works and activities on it. We were absolutely thrilled when Louise popped in to visit us. The kids were in awe! We are holding out now for series two!"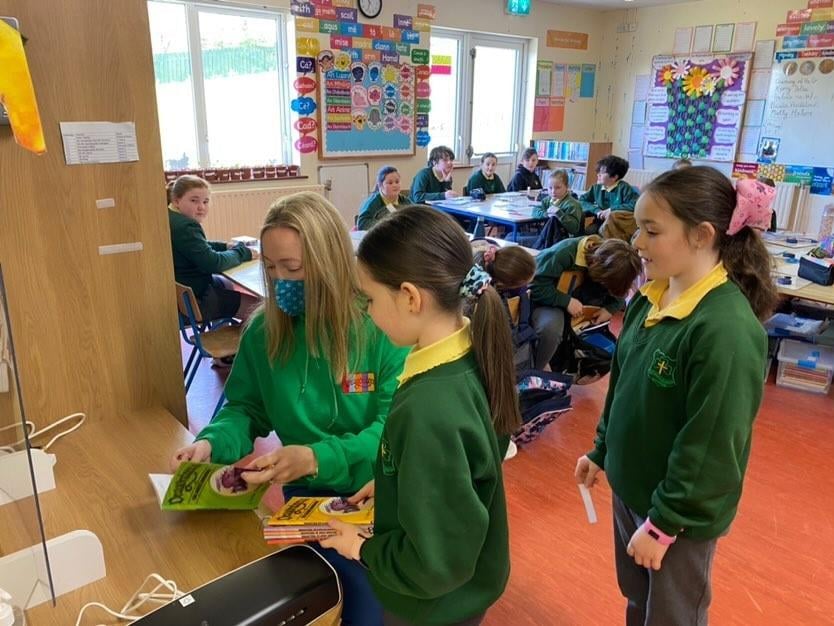 Louise also visited the 1st and 2nd class at Drumkeen National School. Class teacher Ms Cathy Haughey said: "I kept it a secret so it was such a lovely surprise for them all. They got to ask her questions, discussed their favourite parts and characters and even came up with scenarios for another book!!
"These books have excited the imagination of the children in my room, the egg finding tasks keeping them engaged from chapter to chapter. Wizard Snivard and his nasty tricks provided some tense moments along the way. Such a fabulous and enjoyable read!
"We in first and second class can't wait for another set of books. Hurry up Louise!!!"
Dragonterra books are available to order online at www.dragonterra.ie with free nationwide delivery.
They are also available in the following stores:
Letterkenny:
Bookmark Courtyard Shopping Centre
Bookmark Letterkenny Shopping Centre
Endgame Comics, Market Square
Sprint Educational, Main Street
ABC School Supplies
Dry Arch Mace
Simpsons Supermarket
Kelly's Centra, Mountain Top
They are also available to buy in:
Sprint Educational, Donegal Town
Four Masters Bookshop, Donegal Town
Alexander's of Ballybofey
A Novel Idea, Ballyshannon
Sinead's Creations, Clonmany
Doherty's, Carndonagh
Creeslough Supermarket
Wild Ireland, Burnfoot
Macs Bookshop, Buncrana
The Blue Goat, Ramelton
Coyles of Raphoe
McElhinneys, Ballybofey
The Cope, Dungloe
Wild Atlantic Crafts, Killybegs
C Divers Ardara
Harbour Road Bunbeg
Muck n Muffins Dunfanaghy
Ulster ( outside of Donegal )
Little Acorns Bookstore, Co Derry
By the Book, Co Cavan
Munster
Kenmare Bookshop, Co Kerry
Woulfe's Bookshop, Listowel, Co Kerry
Philip's Bookstore, Co Cork
Bantry Bookshop, Co Cork
Bookworm, Co Tipperary
Banner Books, Co Clare
Leinster
Village Bookshop,Terenure, Co Dublin
Cogs the Brain Shop, Co Dublin
The Crafty Rock, Blackrock, Co Louth
Driftwood Bookshop, Dundalk, Co Louth
Bookmark, Ashbourne, Co Meath
The Book Centre, Co Kilkenny
Midland Books, Co Offaly
Bookmark, Portlaoise ( both stores ) Co Laois
The Book Centre, Co Wexford
Just Books, Mullingar, Co Westmeath
Maynooth Bookshop, Co Kildare
Newsround Co Longford
Connacht
McLoughlins Bookshop, Westport, Co Mayo
Books at One, Louisburgh, Co Mayo
The Castle Bookshop, Castlebar , Co. Mayo
Charlie Byrne's Bookshop, Co Galway
Kenny's Bookshop, Co Galway
Newsround Co Roscommon
The Reading Room, Co Leitrim