Six social enterprises in the Letterkenny area have been awarded major capital funding grants to strengthen their services.
Grants ranging from €200,000-€110,000 have been offered by Donegal County Council to development projects at Cairde le Cheile, Letterkenny Community Development Project, Letterkenny Community Centre, Cara House Family Resource Centre, Congress Resource Centre and the No Barriers Foundation.
The total amount awarded from the Social Enterprise Capital Grant scheme is €1,006,574.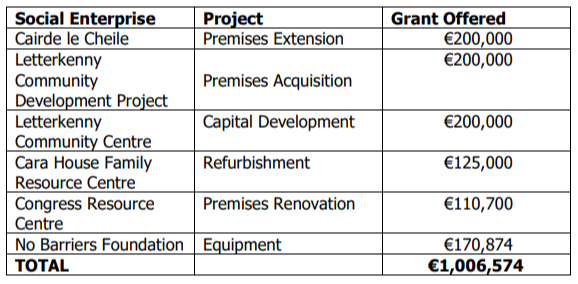 Letterkenny-Milford Mayor Jimmy Kavanagh said the support will enhance many vital community services.
He said: "This is great news for all the social enterprises concerned that will allow them to continue their excellent contributions to the community with confidence into the future, without the worry of financial pressures and paying for premises.
"I am delighted also that work can now proceed on the adventure sports and events project in Bernard McGlinchey Town Park, which is a project I have been involved with from the very beginning. It's a huge investment in our main park and will provide a great creative space in particular for young people interested in sports and the arts. Plus, the Vestry at the town park will also be allowed to develop and in doing so further enhance the town park and the services for Cairde le Cheile.
"Equally the funding to the No Barriers Foundation will allow them to enhance the fantastic service they provide, and others like the CDP will be able to establish premises they can call home, likewise Cara House, whilst the Community Centre can further develop their facilities and the Congress Resource Centre can carry out much-needed renovations."
Cllr Gerry McMonagle hailed the Social Enterprise Capital Grant as a 'fantastic scheme' for the successful groups. He said: "These are well-deserving recipients and there is no doubt that they will get the benefit of that investment."
Cllr Ciaran Brogan added that the grants have cemented the future of many of the organisations.
"It's going to be a real game-changer for so many, and for our council, it's one of the greatest things we can ever do as a local authority. I think it's a great day for this council," Cllr Brogan told the Letterkenny-Milford MD meeting on Tuesday.